I'm just done. I mean, what's the point? I'm sitting here at Denny's, laptop open, outline book ready to go, notes in the document, and the Scrivener project open and ready to use. I'm telling you, it should be perfect. But it's not. And so, I'll say it again. I'm not writing another word.
Let's give you some context to this. All day Thursday, I worked on preparing for Camp NaNoWriMo. I created my outline book from K.M. Weiland's Outlining Your Novel and Structuring Your Novel workbooks. I've had the spines cut off for weeks. I've even done a bit of work in them. But this was serious time. I made my cover and dividers, punched my holes, and spiral bound those suckers into one nice, fat book! WOOT. Right?
Of course, in the middle of working on it, #1 daughter shows up in a bit of a tizzy. Her accounting class had a project that she had no clue how to do. We tried everything. I sent her to #4 daughter who has taken the class. That daughter and one of the church pastors where she works worked with her. Still no help. We emailed a friend–"Facebooked" another friend. The last friend went in, figured out how to do it, and gave her a few helpful hints. She got 100% on her assignment. But, let's face it.
Didn't get much done in filling out that outline.
So, a friend and I decided to meet at Denny's for brainstorming and working. Mostly working, but we tend to ask each other a question here or there. Got maybe an hour into it and… BAH BAM! A gentleman at a table nearby asked if we were writing. I answered. I tend to do that. It turned into over an hour of conversation. My friend had to leave, and SECONDS after she did, #1 son arrived for help with his projects. Man still chatted for a while. Son waited. I despaired of ever writing another word. Yeah. That's when the idea hit.
Look, I've NEVER missed the 12:00:01 start time for a NaNoWriMo month. Ever. I ALWAYS type that first word the second the clock rolls over. Yeah. Didn't happen this time. I was elbow-deep in poetry and short stories written by my son.
By the time he left, it was 2:37 a.m. Whoa… we're talking a lot of missed hours. So why bother? Why stress out about it? So, that's it. I'm not writing another word.
Not on the book I'm supposed to start– Christmas Embers.
Not tonight.
Instead, I thought I'd share what I did today. Why not? I'm not writing another word, right? Not in Scrivener, not on this story. Not. Tonight. Most of the world will wake up and start writing. So, for once, I'll be just like them. Hey. I have to be normal sometimes–just to shake things up.
So… here's what I did. WHEW.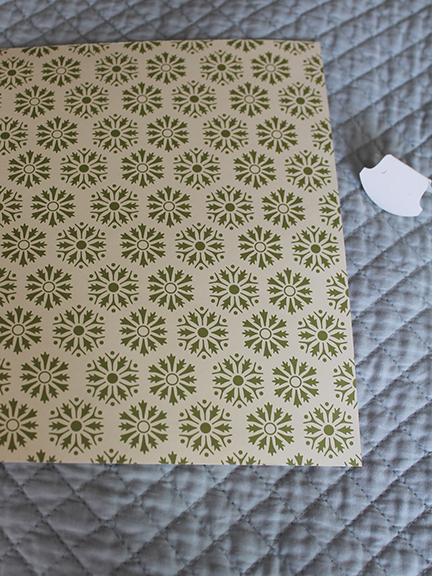 I used my corner chomper from We R Memory Keepers to round the corners of the cover and pages. This is because of that bag thing I mentioned. I mean, c'mon… my arm would be SHREDDED if I didn't. Those corners are SHARP.
See? Ain't it purty? At this point, I also run the thing through the laminator once more–in case the trauma o cutting and punching and chomping messes with the lamination. *whistles*.
Of course, I don't know why I'm bothering. I'm not writing another word!
Not. One. More. Word.
Until I get up anyway. Good night, world! See you in the "morning." THEN I'll finally put my first words of this year's Christmas novel to "paper." WOOT!