As if proof of my inconsistencies and hypocrisies, I've always loved the new. And the old. Like Anne Shirley, I love that tomorrow is a new day–"fresh with no mistakes in it." I love that the Lord's mercies are "new every morning." Nothing relieves me more than a "fresh slate" when I need one or knowing that I can just go start over in a new notebook or start a new book if I'm tired of the one I'm reading.
But when it comes to furniture, I love the old. Art? Old. Clothing styles? Definitely old. Music? If it's post-1965, I doubt I'll like it. There are exceptions, of course, but mostly… yeah. Not so much. Give me the Ames Brothers or Jo Stafford over Lady Gaga or… Oh, man. I can't even think of someone contemporary. And look, in case anyone wants to take me to task, I will absolutely admit that the Gaga woman can sing. I just don't enjoy almost anything I've heard her do.
With the new year come goals, dreams, plans. I have a new planner, new clothes, and new books to read!
Note: this post contains affiliate links and as such, I'll receive a small commission at no extra expense for you.
I also wrote one–just for the new year.
You see, I created this character a few years ago–Neal Kirkpatrick. He was a crusty guy with a chip on his shoulder and an unexpected soft spot when little Nathan Cox of Fairbury got hurt. He appeared again, blasting Fairbury's librarian for an impromptu worshipful moment.
So, with that reputation formed, is it any wonder that I decided to use him in this year's novella, Christmas Stalkings? There he was, the perfect jerk to keep the book hopping.
However, the more I wrote about him, the more I liked the grumpy curmudgeon. I mean, he made me want to slap him or at least dump Wendy's litter boxes on his front step, but he kept drawing me in. And by the end of the book, I understood why.
And then I had to tell his story.
Here it is–Neal Kirkpatrick's new slate–where he stays exactly the same, changes completely, and is shown for who he is in a whole new light. All at the same time.
One of the launch team members had this to say about him in this book.
Oh my–I think I have a new favorite book and definitely a new favorite character! Neil is absolutely the best, most honest, most gentle, most believable, and most kind male character ever. Is it crazy to love a guy who is a character in a book???
Neal Kirkpatrick? KIND? No one in Fairbury would ever believe that.
Look, I finished Christmas Stalkings, packed it off to the formatter for the collection, and considered myself done. But Neal wouldn't leave me alone. I kept thinking of all the things that would happen after that last bit about what Jesus had to do with Christmas trees!
The title came to me the moment I realized that Neal confronting Jesus would totally turn his life upside down. New Year's Revolutions instead of "resolutions." It so fit. And then I just had to write it.
I had no less than eight hours of audio notes on this one. One scene–I came up with FOUR versions of it before I got the one I wanted. Neal isn't perfect. He's a hot mess, actually, but aren't we all?
And on New Year's Day, of course!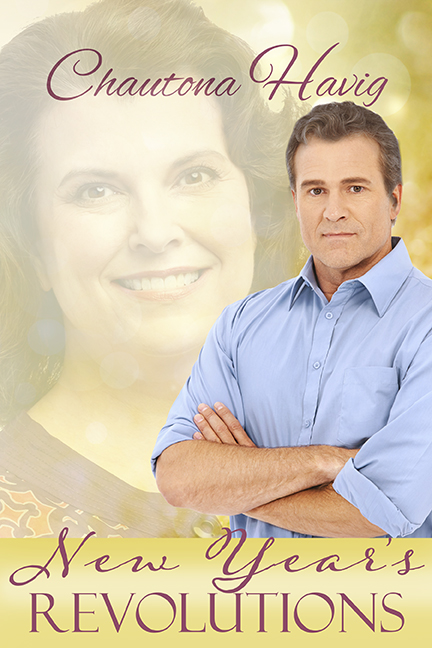 Once I came up with that title, releasing on any other day became insane. Who would do it? Not me! But that meant I had to write fast. And I did. I wrote my little heart out Wrote and enjoyed every minute of it. From showing Neal's perspective of things that happened in Christmas Stalkings to mini scenes to show how he became the man he is, this book explores one man's journey from local jerk to trying to understand this guy they call "Jesus."
I hope you enjoy reading it as much as I did writing it. If nothing, the kitten and tree scenes should make it worth your time. I reread them now and then to get a nice little snicker. No joke. I really like those scenes!