We're on the final countdown to the release of my book, Deepest Roots of the Heart, with Waterfall Press. To celebrate, I thought it might be fun to interview the other Waterfall Press authors and share a bit about their book releases from this year.
The problem came when I realized that we've all read the same interviews a million times. The Q&A format is the most common one for online interviews and rightly so, but it lacks the interaction between people that an in-person interview offers.
So, I decided to die to myself for the sake of my readers. I scheduled phone interviews with two of them. Alas, two of the authors couldn't afford the time for a phone interview, but we tried to get that same feel.
Then, a friend gave me a fabulous idea.
Why not interview the author–as her main character from her book! This had the double-blessing of learning more about the author AND her character/book. Win-win! Tammy graciously played along with the idea and got into "character" for me.
So, without further ado, let's talk to T.L. Gray's "Matt" from Mercy's Fight about his experiences as a character and his perceptions of her as an author.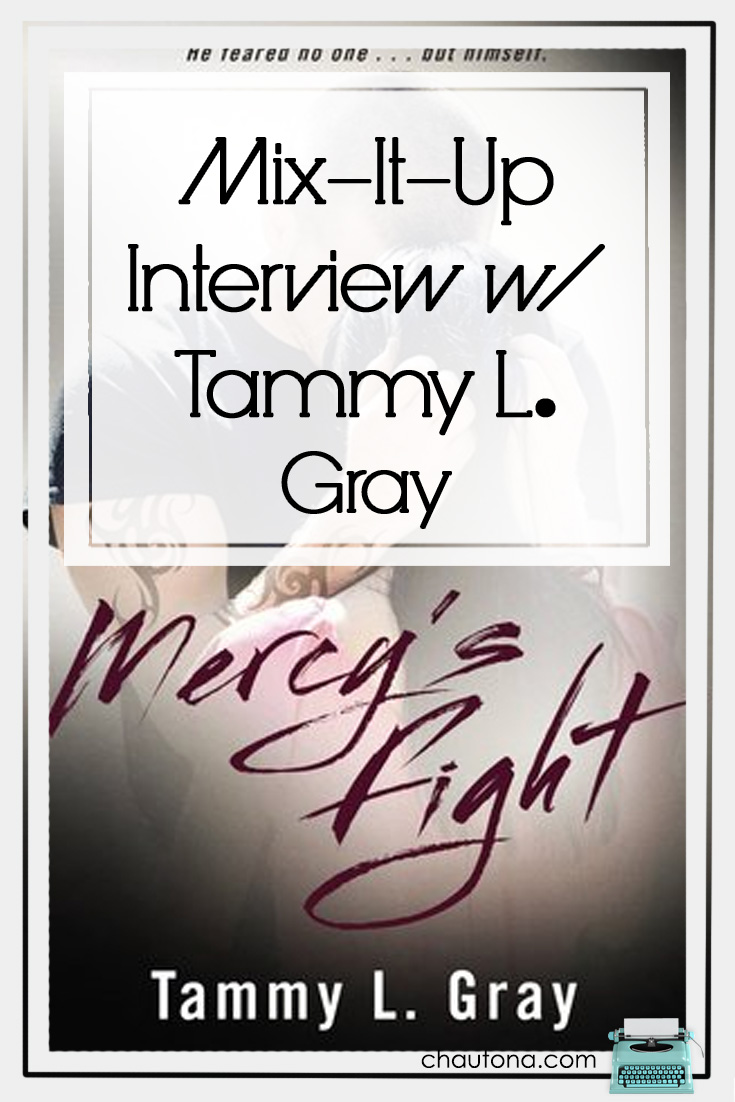 Note: Links may be affiliate links that provide a small commission at no extra expense to you.
Chautona: Hello, Matt! I've got this recording, so here we go.
Matt: Hi!
Chautona: So you don't have a preference for questions.
Matt: No, just go with what you want.
Chautona: Okay, I'm just going to skedaddle around the questions, and the first that comes to mind is, "Why do you think Tammy chose to publish Mercy's Fight with Waterfall Press?"
Matt: I think I don't fit into the mold of your standard Christian hero. I have a past, I'm a little edgy, and I still deal with some anger and recognizing the difference between who I used to be and who I am now. I'm a struggling Christian, and as much as I try to put God first in the things that I do, it doesn't always work out that way, so I think Waterfall Press is a great place to go when you want something different from the average Christian romance.
Or if you want something with a little more heat and a little more raw nature to it. And that definitely fits with who I am.
Chautona: I also love that you—Matt—are very much like my Matt. When I was reading it I was like, "They're so similar!" Cool.
Matt: That wounded hero; we all love them, you know?
Chautona: Right? Actually, you're a lot like my Leo too. If you mixed the personalities and life experiences of my Leo and my Matt, you'd get you—Tammy's Matt. It's kind of cool.
I assume this means that Tammy will use you again?
Matt: Yes, I am a secondary character in the second book; the main character in that book is Cody. Cody James is a kid in the first book [Mercy's Fight], and I taught him how to fight. So the second book takes place a year later and Cody is a senior in high school.
So it's about Cody learning how to stand up for what he believes in and taking the influence that I've had on him and learning how to apply it while letting go of the bullying and the past things that happened to him. So I'm still around. I'm not a main character, but I have a big influence on Cody throughout the second book.
Chautona: Awesome, so I guess you're kind of excited about that.
Matt: Yes! I'm very excited about that, although Cody does a few things that sets me off a little bit.
Chautona: Well that's good! I mean, a little tension is always good. So, I assume you've read all of Tammy's books. Which character do you wish Tammy had never written?
Matt: Well there's a villain who shows up in the Windsor Series in Shackled Lily who's pretty horrible and unredeemable in many ways. And he hurts Jake and some other people I care about, so I wish that character didn't exist.
Chautona: [laughs] Yeah, I haven't read that book yet, but you wouldn't be too happy about that. No one messes with the people you love.
Matt: Right. [laughs] You don't hurt my people.
Chautona: So… BESIDES Grace, because that would be kind of obvious, who is your favorite character?
Matt: Um, I had a lot of respect for Naomi. Jakes wife and love interest in the Windsor Series book three. She's a strong female; she knows how to stand up for herself. She was raised in a great family and had four older brothers who taught her self-defense and how to keep things from happening to her.
A big part of who I am is training people how to never be defenseless or helpless. And I love that Naomi isn't.
She is an example of a strong Christian woman who knows how to see beyond the surface and how to really take care of herself and others around her.
Chautona: I like that. I really like that. So she… I'm trying to remember, but she had a little to do with um fixing things with Grace and you, didn't she?
Matt: Not really fixing them, she was that stable friend for Grace. You don't really see her interfering, but she was just that soft place for Grace to land.
Chautona: Right, no. Not interfering, but the way that she interacted with you guys seemed to help and that was one of the things I remembered the most from the book because she did it in the "smart way," not the way that so many of us do.
We try to "fix" the problem; you know, we get in there and we do, we interfere—that's a good word—and try to fix it, and we usually tend to make things a thousand times worse. But she didn't do that. She helped you by being there, being available, being that steadying influence and not getting Grace or you worked up about what was going on.
Matt: Right. Yeah.
Chautona: That was just kind cool, and I remember admiring that about her, and I can see why you would admire that too.
So, Matt, what do you wish Tammy would do with your character after Mercy's Fight?
Matt: I would love a family. So, I'm kind of hoping if she references me in future books maybe she'll mention that Grace is pregnant and we have a boy or a girl. That would make my world complete.
Chautona: I can see you really wanting that family. Definitely. So, changing the subject a bit, where does Tammy write?
Matt: Either on her couch or she has a little desk/nook set up in her living room, which is right by double doors that lead out to her back yard. So she sits there and she has a pasture—kind of a greenbelt—that her house backs up to, and she can see way beyond it. So it feels like she lives out in the country even though she doesn't. She sits there and usually just look out the window and writes that way.
Chautona: That's a nice vision.
Matt: And then if her thirty-something back acts up, she moves back to the couch or the bedroom—somewhere more comfortable. The beauty of the laptop is you can pretty much write anywhere.
Chautona: No, I get that one! I tend to switch back and forth where I sit. I'm always happy to hear when people don't sit at a desk to do all their writing. It makes me feel better because I rarely sit at a desk. Although, I was at a book signing in November and they sat me on an oak deacon's bench with a TV tray that they covered with a tablecloth.
I wrote and signed there—sat there all day. I tell you what, I sat on that hard, wood bench the whole day, and I've never felt better. [laughs] I want that bench so bad!
Matt: [laughs] Oh, I'm surprised!
Chautona: Right? I couldn't believe it. It's obviously a perfect sitting height for me. There was nothing else about that bench that should have done it. You have no idea how much I want to go down there and beg them to let me buy it. If I had room for it in my house, I would have already done that.
Matt: That's awesome. [laughs] That's hilarious.
Chautona: Fun question. Do you get along with Tammy's muse?
Matt: Yeah, I think I do. Cause the muse she used to write my book was just a ten year old friend of her son who comes over to their house often. He doesn't come from the best of situations. You know, he's a loveable kid, but he has his moments where he's emotional or difficult or closed. And I'm probably harsher than she is, but I definitely think I would like that kid.
Chautona: That's a great story. I like that.
It makes you wonder, do a lot of her—totally off my list, but I don't care—do a lot of Tammy's characters have a real life inspiration—even if not actually like the person—but there's something?
Matt: I would say from my understanding, the first book in one of her series has a real life inspiration and then after that things are really character driven, so to keep it authentic, she just tries to let the characters do what they would do and not try to force the characters into a setting.
Chautona: I love it when authors say that! Because then I don't feel so stupid because my characters—you know, did you ever hear growing up or before you started writing—did you ever hear the old thing about how the author can't make her characters behave and do what she wants them to do?
Matt: Yes. [laughs] I used to think that was absurd, but now I understand.
Chautona: Yeah! I was like, what the heck? I don't get it! [laughs] This doesn't make any sense. You're the stinkin' author, make them behave! I mean, I make my kids behave, why can't you make the dumb character behave, but no. They have minds of their own, and they tell you, "No, I would never do that or say that, so I'm not doin' it.
Matt: Right, and you know when you do take 'em out of character, it gets you—it bites you with the story, it bites you with beta readers. Yeah, no. I agree—or so Tammy says.
Chautona: Isn't that funny? It still blows my mind after all the books I've written. So, um…What dream does Tammy have that you wish you could make come true?
Matt: I think her biggest dream is not book sales, although they lead to it. It's just I think she really wants to touch people in a way that isn't being done right now in Christian fiction. Or, if it is being done, it's done on a smaller scale to what she desires.
She wants to [use books like Mercy's Fight to] bring a real level of raw authenticity as an arm of Christian fiction where people who read for inspiration or read non-fiction primarily can get a non-fiction message through a fiction story.
So they can read about struggles that aren't often even tackled in Christian romance, which tends to be a little more… careful. So, I think more than anything, she wants be a trailblazer—wants to push people out of their comfort zones and make them think about things they maybe don't want to think about.
To help them look at things from a different perspective, which is why she writes a lot of times from non-Christian points of view. So people can see what they judged on the outside is very different when you look at it from the inside of their heads.
Chautona: Which people would do with you, Matt. They would do that with you—judge like that.
Matt: Absolutely, well and even like her first book. Her secondary character was a wild, alcoholic person. And her second book was about that character, and people told Tammy after the first book, "I don't know how I can even like her. She did nothing but cause problems and she's just this crazy character, but as soon as they saw her history and got in her head and saw what her mistakes did to her and how they hurt her, all of a sudden it was like walking in someone's shoes and that judgment goes away.
And I think that's what Tammy wants. She wants to get rid of that judgment. You know, she just doesn't want to create Christian fiction where all of the characters are perfect.
Chautona: Yeah, that doesn't do well for me, and I don't write—or usually don't write the edgier stuff—but Tammy did edgy, I thought, very well. Because I am a total prude, I'll admit it. I'm not really ashamed of it, though I'm not really proud of it either.
I just am. So when Tammy was talking at the summit in Michigan, I was like, "Well, I hope I can get through this!" [laughs]
Matt: [laughs]
Chautona: Because it sounds really… um… well, when you talk about it, it sounds really risqué almost. And yet, when I read it, Tammy handled each scene so well that I never felt like she went too far. You know, because sometimes authors dance really close to that line and they make you—or people like me—uncomfortable?
Matt: Right.
Chautona: You know, Tammy could have been dancing back and forth across it! But the way she did it in Mercy's Fight did not make me uncomfortable. Which I thought was some seriously amazing writing. Because I get uncomfortable really easily.
C'mon, I still look away when couples kiss on screen. I'm 44 years old and I still look away! In fact, in one of my most popular series, I had readers emailing me going, "I think there was supposed to be a kiss scene there, but I missed it." Because I was that discreet in how I wrote it. So you can see, someone like me who is a total prude—and I know it sounds bizarre to have 9 kids and be a prude—
Matt: No, no and I think it's good that there's a wide range of books out there and there are people who really don't want any romance at all in their stories, and it's good that you guys can offer them that.
But I think it's also good if Christian fiction could offer, for those that want more romance, an option for that too. I'm glad that those who aren't super romancy weren't offended.
Tammy certainly doesn't want offend anybody, but I do know that she wants her work to feel a little more general market than typical Christian romance. That's what she's trying to do.
Chautona: Right! And I thought she did that really well because she didn't make me uncomfortable, but I can see that some people do want to feel like they're there and be a part of it—and Tammy managed to write those details that I probably could never do. And she did them with a grace that shows a Christian hand without being preachy, without tossing her faith aside either.
Because it would be really easy, I'm sure, for some authors to say, "Yeah, I'm a Christian but this is how someone feels so I'm gonna write it all out there." Tammy didn't cross that line. She did it—I just thought she did it really well. Because that line is very literal for me. It's right there, and I never felt uncomfortable, but there was definitely more to it than I would have ever imagined. I just thought she did a really good job.
Tammy interjects: Well thank you. That is a true compliment coming from you and knowing how you feel about it, so I really appreciate it.
Chautona: It's like Nicole's book—she wrote in first person and I was dreading first person, and I really don't care for first person. And Tammy's was first person too, wasn't it? From two different perspectives. Right?
Matt: Yes it is. Tammy's never tackled third [person]. I don't know why. First seems to fit her better. I think it's the emotional stuff.
Chautona: Yeah, emotional does work really well with first person. My only first person in print is definitely a much more emotional and almost lyrical type than I usually write, so I think you're right there.
But what I thought was so amazing about Nicole's—and I think Tammy's did it a bit because of the alternating perspectives—because first person usually drives me crazy, and neither Nicole's nor Tammy's did. Which was nice. [laughs]
Matt: [laughs] I'm glad.
Chautona: I love it when I read a book that isn't my usual preference—I mean like Hunger Games. First person present is my absolute least favorite style. I despise it. And yet I loved Hunger Games. So it can be done. It's not like I hate it and won't touch it. Tammy's I liked, and as I said, I think it was the alternating perspectives. Then I'm not just saturated in one person's head and emotions.
And with Nicole's, I actually forgot after a page or two that it was first person. I don't know what she did, but it was done so well that I didn't even notice the first person anymore. That takes some serious skill.
Matt: Yeah, she's a really talented writer.
Chautona: She's a sweetheart, let's just face it. I just thought that was absolutely, totally cool. Now let's see, Matt. What else do you have for me? What is Tammy's worst habit?
Matt: uh…
Chautona: It can be a writing habit; it can be a personal or eating habit—doesn't matter. Whatever. So what's her worst habit?
Matt: Worst writing habit… let's see… Well, she tends to get bored towards the end of the book. Has to really struggle to the ending. She has been accused by readers of dropping the ending too much, and every time she's had a book edited, she's had to go back and add to it.
She's like, "come on, let's get going." I think some authors are too descriptive and put too much in a book, but I think she suffers from the opposite. Sometimes she's almost too fast-paced.
Chautona: Kind of a laundry list at the end.
Matt: Yeah, so she can sometimes have us doing more than humanly possible in one chapter. But I know she's working on that, trying to add more description and more setting of scenes so that it slows it down just a little bit.
Chautona: Yeah, that makes sense. I do a similar thing at the end of the book, but my reasoning is opposite. Um, I don't want it to end. And so, about the last um… I don't know, twenty thousand words or so of a book, I tend to slow way down in my writing time. I just don't want it to end. So as soon as I learned that about myself, that's when I started giving myself permission to do a sequel [laughs] so that I could just finish the book.
Matt: [laughs]
Chautona: And then half the time, of course, I don't, but if I give myself permission to do a sequel and take it further—give myself an idea—it gets me excited again and I finish so I can start that new one. Of course, sometimes I don't start that new one, but it fixes the "I don't want it to end" thing. It's so weird. I find it interesting that Tammy has the same problem but from an opposite reason.
So what does Tammy have planned for 2015?
Matt: A LOT. She definitely wants to get book two of the Set Apart Series published. Not quite sure when that's going to happen yet. Hoping to know this month for sure.
And then finish writing book three. She also has a super-secret fun summer project she's working on right now. So that will publish in June. She also has plans for a novella sometime too, and depending on what happens with book two and three of the Set Apart series, that'll determine what that novella looks like.
Her goal is to get two novellas and a full-length novel published in 2015. All three of them will be very different and unique and she's pushing herself and trying different genres and hopefully getting better and better as a writer and storyteller along the way. So, those are her plans… and just keep on writing while trying not to get distracted by real life. [laughs]
Chautona: I know, right? Leave me alone! Let me get back to my imaginary world! [laughs]
Matt: [laughs] Right…
Chautona: So does she have travel plans or conference plans or anything like that?
Matt: Well, since ACFW (American Christian Fiction Writers) will be in Dallas, this year, she does plan to go to that one. And then RT (Romantic Times) is in Dallas and she may go to a day or two there, but other than that, not really any conferences so to speak.
As far as vacation, this is their "easy year." They did a huge, big time Disney World vacation in September, so her family is on the "off year"—the saving year—so they'll be just "stay-cationing" it if they do anything. Maybe a weekend trip to some fun places in Dallas or something, but it's a pretty light on the travel year which is good. Last year was pretty heavy travel.
Chautona: Last year was a lot for me, too! Went to Minnesota for a wedding, North Carolina for my annual retreat, and of course, Grand Rapids!
Matt: Yeah, right where you and Tammy and the other authors were!
Chautona: Right. I had so much fun. It was so great to meet all the Waterfall authors. Well, I know you have to go—Tammy's dragging you off to pick up her son, so it was great to talk to you.
Matt: Happy writing!