The email came out of the blue. Could I look over a new Austen retelling and give some input?
Um, duh!
I'd read Barbara Cornthwaite's George Knightley Esquire books, her Christmas story about Edmund and Fanny from Mansfield Park in The Very Austen Christmas anthology, and a few other non-Austen works, but never had I seen her do anything with Elizabeth Bennet and her beloved Darcy.
Double, duh!
Shocker of shockers, I loved it. She had an unexpected twist that took the story to new heights of fun. Mr. Darcy as a clergyman? (and not in a Freaky Friday-like mashup with Mr. Collins?) I mean, come on…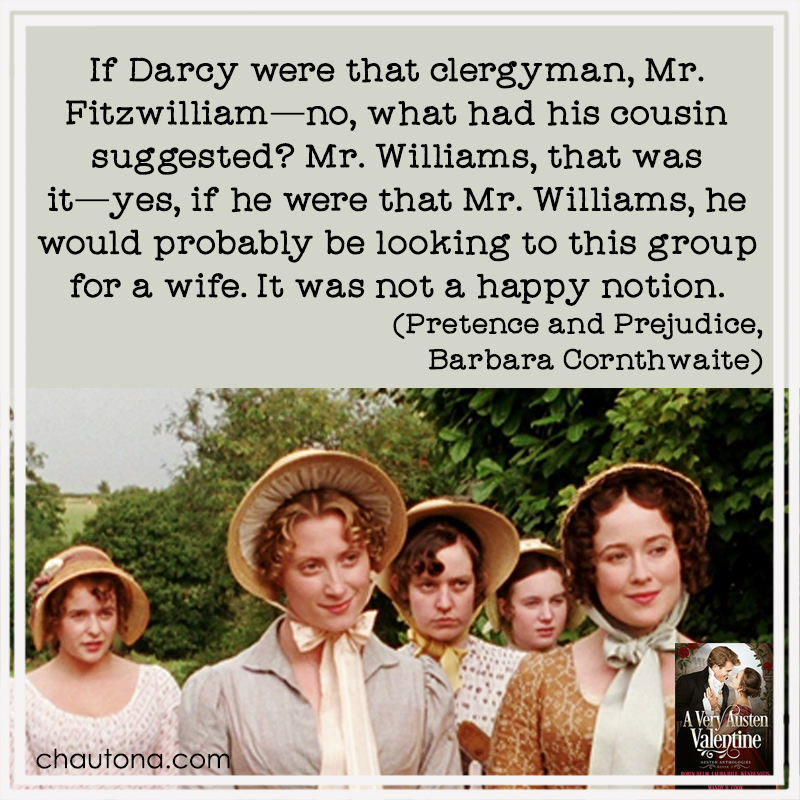 Then I was given the opportunity to join the blog tour for the anthology that Pretense and Prejudice was slated for, A Very Austen Valentine. I jumped at it. Valentine's Day and Austen? Who could resist?
But then the date came. My day… January 6th. My sister's birthday. At first, it felt a little like listening to Christmas music in the middle of October—you know, something you have to do on the sly or your #4daughter might just string you up and force-feed autumn leaves down your throat until you embrace a bit more of fall!
Then it hit me. Even #4daughter wouldn't say October was too early for Christmas novels…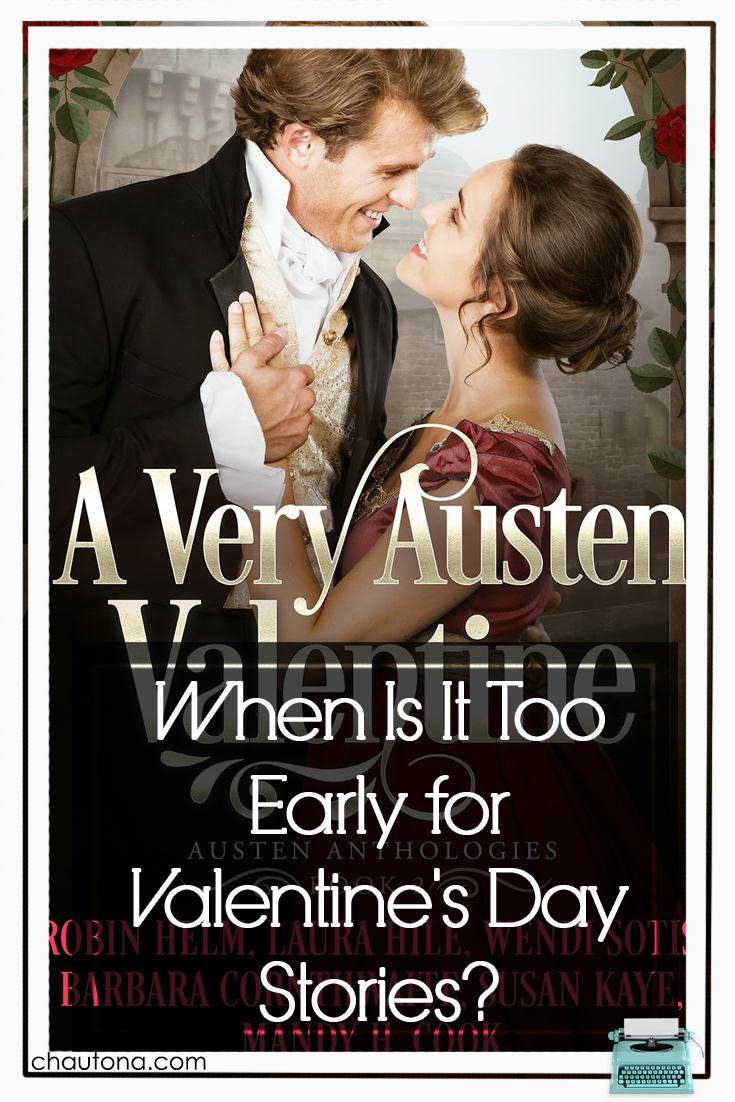 Note: links may be affiliate links that provide me with a small commission at no extra expense to you. Additionally, I was provided with a review copy and chose to leave one.
When Is It Too Early for Valentine's Day Stories?
How about never? No, really. I mean, who cares if we read about them in January, February, or July? Valentine's stories in September? Sounds good to me!
Especially when you're talking about Austen inspired stories. And this anthology has them all. Anne & Frederick? Check! Elizabeth Darcy's daughter and the son of a beloved character in Sense & Sensibility? Check! Sir Walter Elliot & Lady Catherine de Bourgh? Check, check! Lizzie & Darcy? Check-Check-Check!
That's right, every other story in this exciting collection includes Austen's most popular couple and most in new and unique ways. Most of the authors did not deviate from the characters' personalities we all know and love, but where they did, it was to a purpose instead of because they didn't know what they were doing. That made it nice.
The writing, diction, and syntax—excellent.
Okay, there were a couple of spots where modern phrases might have been used back then, but they felt crazy modern–ankle-biter, for one. But none of them were things I didn't think WOULD be said. I was also too lazy to look them up. Just bein' real here.
The plots and twists and characterizations… also excellent. I have my favorites, of course, and one was a bit of a surprise.
First, there was Laura Hile's excellent Sir Walter Takes a Wife. Oh, goodness but that man's ridiculousness shone. He was exactly who he always has been. Lady Catherine de Bourgh was exactly who she has always been. And yet, somehow, you enjoy this story and root for the ridiculous. Only Laura Hile could pull that off.
Then there was Barbara Cornthwaite's Pretense & Prejudice. Prevarication rules the day as Darcy and Elizabeth face off in a battle of wits, intrigue, and a bit of sleuthing. I loved seeing every bit of each of them who we know them to be while making us feel as though we get to see more, too.
Barbara has a particular talent for it that I've noted in the past. (I really need to move that review over here!)
And my unexpected favorite (although I enjoyed them all, even more than the last collection) would be Susan Kaye's The Lover's Ruse. In this retelling of part of Persuasion, Ms. Kaye gives us who Anne really is. In all honesty, I didn't like it at first. However, it wasn't long before I realized that I flipped the pages faster and faster. Yeah. It's good—really good. It's nice seeing what should have happened come into play.
Recommended for Austen lovers everywhere.
My only caveats are regarding the first book (which I really did love. If it hadn't been for the first caveat, it might have been my favorite).
First, the book is much more sensual than I'm accustomed to reading. While the author, Robin Helm, doesn't actually cross the line into actual sexual activity, she does flirt shamelessly with it, so to speak. Also, while this story is about married Elizabeth and Darcy, it was… a bit much, and some readers may take issue with it.
Note: none of the rest of the books are so overt in case other prudes like me were concerned.
Second, parts of the story lapse into the dreaded first-person/present tense. Ugh. Not my favorite.
Still, it's a delightful story and an important one, I think. It emphasizes a lesson wives need to remember and with excellent writing skills (despite that present tense nonsense. 😉 to boot!
Laura Hile has also blessed us with a bit more about it all.
Here's to Love, Happiness, and Friendship!
"Love Makes the World Go Round" is a song I sang as a very young girl—before I learned that singing in public was not the thing. And yet, how very true this message is! Romantic love is what Valentine's Day is all about. But there is also friendship love. And friendship love is at the core of our A Very Austen anthologies. These books are built because of friendship.
As authors, we come from diverse backgrounds (and continents—Barbara lives in Ireland!). Even though most of us have not met in person, we are brought together by our love for Jane Austen and the Regency world of her novels, and also by our shared Christian faith.
The novellas in A Very Austen Valentine are based on Jane Austen's characters. I find it remarkable that there is such variety. Robin's is pure romance, as adorable Elizabeth seeks to recapture her too-busy husband's interest. Mandy's is a sequel to Pride and Prejudice, combined with characters from Sense and Sensibility. Wendi and Barbara take our beloved Darcy and Elizabeth through "but-what-if" misunderstandings and adventures. Susan turns back the clock for Persuasion's Anne and Captain Wentworth. And my novella? Oh dear, what can I say? I bring two of Jane Austen's worst snobs together in a laughable Valentine mash-up.
I should add that the A Very Austen anthologies can be enjoyed by most readers, from teens to grandmas. Our objective is to entertain and delight. I think you'll enjoy our book.
Thanks, Laura for that neat little summary and insight into the collection!
Psst…
I'll have a novella in the next Very Austen collection… Charming Miss Dashwood. I think it's time for Miss Margaret to grow up and be Miss Dashwood, now that her older sisters are married with children of their own, don't you? And… I can't wait for you to see who introduces her to Mr. Thayer. 😀