About six months ago, I got an email. I can't recall the exact wording, but it went something like this.
Hey! I just finished A Forgotten Truth, and at the end, it said there'd be book five in 2016. But I can't find it. Can you tell me the title?"
I fired back an apologetic reply assuring him that, yes. It was in the works. I also apologized. Um, because, well… I'd forgotten that I put a date in there. Oops.
Had that been the only one, I might not have gotten as panicked as I did over the next few months. Another one came. Then two more. Five more. More… and more.
September became the goal. Yeah. Not going to happen. I'm still catching up from last year's work—four months behind on Ties That Blind, actually. Eeep!
Now, before I get started, I need to do a few things.
Finish two Christmas novellas—maybe three.
Reread the whole series so I can make sure there aren't any lapses in information—untied ends, so to speak.
Find my audio notes for book 5.
Or come up with a new idea altogether.
I have all these ideas. I need to continue the series. Obviously, someone at the end of book four is trying to figure out what's what.
Confession. I had no idea what I was doing with that. Fortunately, I just found my notes on it so I have something to work with. But I don't have all of those notes. Sigh.
Additionally, I want to do an "Early years" series starting with Mark coming up with the idea and running with it. When Keith joined—the works.
And finally ( or so I can dream), I want to do a "West Coast Files" with Paris and Henry.
Sigh, even as I type this, I came up with a cool new one. A Christmas one. Oh, dear.
So… that's why I've put out a poster here:
Note: links may be affiliates that provide me with a small commission. Doesn't cost you a cent more.
Wanted: Readers Who Love the Agency Files & Will Help Me!
If the Agency Files book five is the next non-Christmas book I do, then what do you want to see? Should it actually be book 5? Should it be the first book about those early years? Maybe it should be about those West Coast folks.
There's a tie-in with The Agency and another Agency in Rockland. That's been simmering out there ever since Speak Now was published. What about that?
Look, I have a dozen synopses just in the regular files. Things like
Flynne finds something off and ends up accidentally providing protection.
Someone needs protection but can't leave his or her real life.
A prisoner bus is rammed off the road and a prisoner taken. By the Agency.
The dictator of a small (fictional) country requests protection from another Agency insisting he needs protection.
One of the Anastas takeover folks got in over his head. They have to protect the guy long enough to get him into federal custody.
So what can you do?
Tell me what you want. I already had the folks over at The Write Chatterings on Facebook (join us! We have fun!) vote and the next book is Agency Files. But I can't write it without a title.
And I can't come up with a title without choosing a plot. So… early files? West Coast files? One of the above? And if so, which one?
What do you want to see?
Also, if you haven't read any of The Agency Files, starting with Justified Means is your best choice
If you want to know more… here's a synopsis: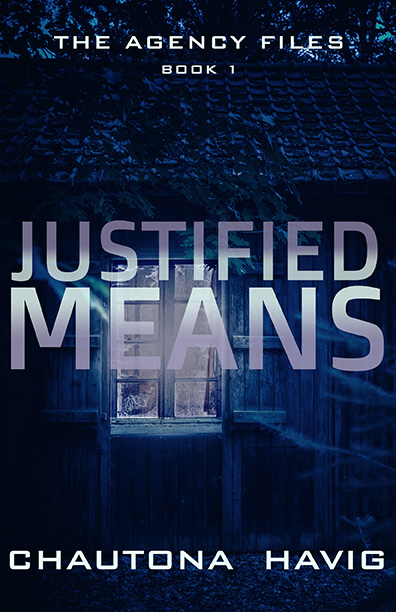 "You steal me from my house, drag me out here bound and gagged, hold me at gunpoint, and you're worried about getting the tape off me gently? You've got some nerve!"
More info →
If you want to learn more, HERE's an "interview" with the head of The Agency, Mark Cho.
Thanks, all. I could really use the help.