We looked at each other, the Bible verses, and back at each other. Kevin sighed. I wanted to cry. And to be honest, I regretted ever diving into studying that particular theological position. If we acknowledged and embraced it. Our lives would change forever.
Hours later, in the darkness of our bedroom, we talked. It's been over thirteen years now, but I remember that conversation. "We'll have to leave the church."
"Yes."
I tried again, hoping he'd argue with me. "I mean, the kids will say something, and that'll confuse the other church kids."
"Yeah."
I ached for him to tell me we were wrong. It was just some mix-up. If we'd only looked at xyz verse, we'd have the whole counsel of the Word. Yeah.
He didn't say it.
"I don't want to go. And we'll lose our family. My mentor—gone."
My husband doubled his word response. "I know."
"We have to do it, don't we?"
"Yeah."
And it happened pretty much as I expected.
The call that came. "If I hadn't neglected you, this wouldn't have happened."
What? I couldn't believe the words. The call, yes. Those words? Not at all. She'd never neglected me. She'd been there for me during morning sickness, child training woes, and trying to navigate that unpopular but so beautiful Biblical principle—submission.
But because we'd embraced "heresy," it had to be because she'd neglected me.
They turned away from us when we were at the store. They still do. Our children lost the only "grandparents" they saw on a regular basis. And some of the emails we received were brutal.
Look, I'm not saying we handled it right. We probably didn't. But we tried to do it well—to be considerate of what we knew they believed. We withdrew because our children would talk to theirs. They would consider our taking communion to be wrong. It would put them in a terrible position. Deny us? Allow us to drink to our damnation?
To them, it probably looked like we just jumped ship and went in search of shallow waters.
You know, I never resented them for doing exactly what I expected. Yes, it hurt. But it's why I didn't want to embrace a change that I couldn't deny. I knew they would violate their consciences if they didn't "shun" us, so to speak. With their understanding of Scripture, they had to take a hard line.
But it still hurt.
And you know, I'm not the only one who has wounded or been wounded among God's people. Yes. I've wounded. Anyone who thinks he or she hasn't is an idiot. Now, usually, it wasn't intentional. Nearly always it wasn't. But I won't pretend that I haven't looked back on things and realized, "Ouch. That was deliberate." Ugh.
So when Celebrate Lit gave me the option of reviewing Wounded in the Church by Beeson and Hayward, I knew I wanted to read it. Perhaps someone had finally written a really good and balanced book on a very real problem in today's church culture (and I suspect every generation has had the same problem in some way). Perhaps someone would be able to address the ugliness we sometimes wield with the grace and tact of a troll in a dungeon and our propensity to see offense and abuse where none was intended or demonstrated.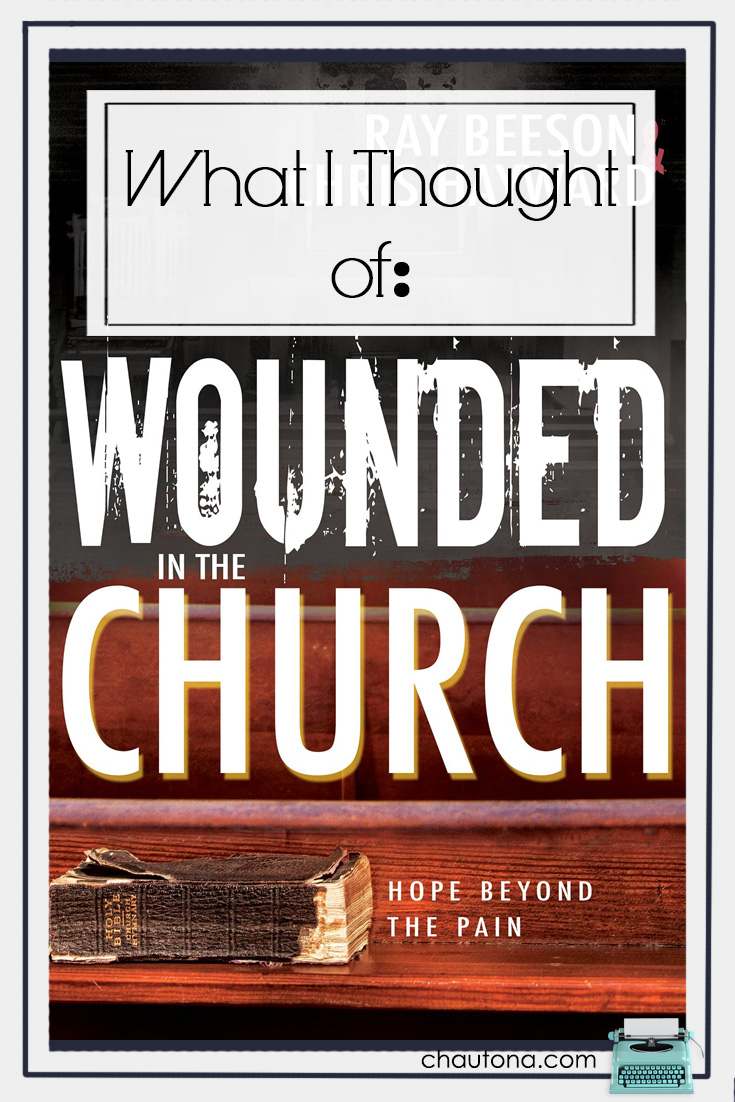 Note: links in this post may be affiliate links that provide me with a small commission at no extra expense to you. The book reviewed was provided at no cost and with no requirements or stipulations as to the content of my review.
I opened this book with cautious but optimistic curiosity. By the time I finished, I was left a bit confused. But before I get into that, I think it's important to share something that is stated on page 181. It shows where the authors are coming from in this book:
"Keep in mind that God does speak to people, but they are never to manipulate others with that information."
There's nothing in this statement or the anecdotes shared to imply that they mean speaking through the Word. And because I firmly believe that's how God speaks to us (otherwise we'd have to be adding everyone's extra Biblical revelation to the canon of Scripture—not possible or wise), I felt it necessary to make specific note of that before going into my review.
Things that bothered me:
While I do not disagree with the idea that we can use extra-Biblical requirements and self-righteousness to beat down one another in the name of Christianity, I found the sections on having a "religious spirit" difficult. Primarily, because I didn't see a whole lot of Biblical support for the concept. On page 41, the authors state:
The religious spirit is an agent of Satan assigned to prevent change and to maintain the status quo by using religious devices, namely, manipulation, domination, and control."
Okay… but where is that in the Bible?
Jesus spoke of Pharisees who did things like that. But I don't see anything about a "spirit of religion" in the Bible unless you count James' admonition as to what "pure and undefiled" religion is. (To visit the fatherless and the widows in their affliction and keep oneself unspotted by the world). There's more about this around page 155, and on page 156, I think it's important to note that they do qualify their words. They aren't speaking of "demonic oppression" or anything. They say:
However, there is a real difference between an actual demon spirit and a person with a religious spirit or religious attitude. A person with a religious attitude often operates as if they were the Holy Spirit directing the church."
And here is where I take issue. Had they begun with "religious attitude" I might not have objected as strongly. It's a more accurate description (although it, too, ignores James' definition that demonstrates that not all religion is inferior). Why they couldn't just say Pharisaical attitude, I don't get. By throwing "religious spirit" in there, it adds a bit of an ominous tone to a very matter-of-fact thing.
We're self-righteous jerks sometimes.
Yes, I'm one of those awful people who likes spades to be spades, and I don't think you have to "club" someone over the head to do that. 😉
Pages 162-164 go into detail about what these "religious evil spirits" do.
Additionally, there was an entire chapter on shame that goes into personal, generational, inflicted, etc. Aside from "inflicted" where we become "shamed" by others (presumably in the church), I couldn't figure out what it had to do with the church damaging one another.
In what to look for in churches, they assert that caring people won't "gasp or stiffen" at your words about different things. Talk about a weight to put on people!
I may stiffen if you mention your rape to me.
It has nothing to do with my rejection of you, but those kinds of claims assign motives to my actions that aren't there. People gasp and stiffen for many reasons—some of them wrong. But if we're urging people to look for that behavior, we're also urging them to take offense where none may be intended. And at that point, people shut down and close off before the "offending party" can possibly hope to apologize and demonstrate the care they really do have.
And that's kind of my problem with

Wounded in the Church

as a whole.
I knew the authors would have to demonstrate the ugliness out there to show that there is a need for healing. In fact, I would have been upset if they hadn't. What I didn't want to read was a treatise on the evils of the modern church and how we have to accept all accusations as fact without acknowledging that sometimes those accusations are the first rounds fired at an "innocent" assembly of believers.
I can't say this book did that. Unfortunately, I can't say it didn't, either. The anecdotal evidence felt forced most of the time. And just saying that makes me feel like a horrible person.
But aside from my theological differences and from the disappointment of them not having written the book I wanted them to write (*snickers at self*), my biggest frustration is that the book felt more like a commentary on the modern church. Really, much of the book seems to fall more under how not to be influenced by the misinterpretation and/or misapplication of Scripture rather than how to avoid wounding others and heal from situations of spiritual attack within the church.
So, does that mean I didn't like anything in the book? Not at all!
What I liked:
One of the first things I marked was this line:
Many are told that Jesus died for their sins. However, what they are not often told is that Jesus also died to destroy the effects of sin—not only the sins they committed personally but also the sins others have done to them."
I think this is a really important distinction when discussing the issue of pain in the church. When someone hurts you, it hurts! When they deliberately wound you, that wound is THERE. However, Jesus died for both. When you wound others and when they wound you both are sin. Both are covered by the blood. Forgive your brother. Work to restore and prevent a recurrence? SURE! But forgive.
They also discuss the negative effects of isolationism in the church. While I was concerned about where this could go, they did a great job of pointing out that when we as the church hole up in our little bubbles, we become ineffectual not only at sharing Jesus with a world desperate to know Him, but we also extend that isolationist bubble from our local congregations to our small groups, to our families, and finally just ourselves.
Good stuff there.
And in their shame section, there was a FABULOUS part where they talk about those who have been sexually abused or attacked. It says:
What is washed away by Christ's blood must stay gone… Those who don't know God's heart, wil always see this person as an ex-victim. Keeping a victim a victim, because they were a victim, is an attitude God hates. There is a new identity and purpose in Him for all who believe in Him."
Now while Scripture doesn't specifically state, "God hates people trapping others in a victim status" I believe the principle is there. I thought it was beautiful.
Additionally, I do have to give them credit for sharing "the other side" of stories. One, in particular, went into great detail at how a pastor had been blackballed by two members of a church, leading to a very ugly split. But what they did so well was to show that the pastor saw there were things he might have done to try to mend things before they got that far. Don't get me wrong, it sounded like the guy did an amazing job of not retaliating or showing bitterness. But adding that bit about what he could have done really blessed me.
Unfortunately, it was also one of those places where God "spoke" to someone.
Specific words about that specific situation. I know others disagree with me, but I have to note it for those who don't. It's in here enough to need to be noted. I also found it interesting that they noted something important—that in one instance, someone told someone else that "God" had told her about illegal drug use. It was a lie. They do show that this claim of the Lord's word in someone's life isn't always true.
Favorite parts?
One of the BEST things in this book is a list of questions for the wounded and those who wound. It points out to both sides that perception isn't always truth, that motive trumps bungled attempts, and that there is a Biblical process to restoration.
Chapter fourteen has a whole section on wrong cliches and confusing statements that we need to recognize and reject. I thought that was really helpful.
But the latter part of chapter fifteen is chock full of really good stuff. From "What attitudes should I take to church" to "What should I look for in a church" or "What Doctrines should I believe?"
That's a tough one. I seriously have problems with the extra-biblical revelation sections, and frankly, as a book directly related to the title, for the most part, it doesn't measure up. As I just told my husband,
It's as if they wanted to write a book on the modern church but needed a more "relevant" topic so they wrote the book they wanted and added wounded anecdotes to make it all apply.
But there's a lot of good stuff in here as well. Particularly in the latter chapters, it really just gets into what do we need to do to be the church and to serve one another. How do we keep ourselves from being led astray by "every wind of doctrine"? Those kinds of things. And that is really good.
I wanted to give this book four stars so badly. But, I just couldn't. I didn't "like" it enough. It's just "okay." But where it is good, it is very, very good.