My husband has this thing about soccer. He says, "It's the 'sport of the beast'." Okay, under certain eschatological positions, he may have a point. After all, it is a "one-world" sport, so to say. Whereas, American "football" is pretty much ours. I don't know if anyone else in the world does it quite like us. There's "rugby" but… yeah. Not the same. My apologies… to rugby. And it might be partly why the Super Bowl is evil.
Well… I say, all sports are evil. It starts with my opinion on baseball and goes from there. And, because I'm a hypocrite, the Olympics are the exception. Love. Olympics. Just sayin'.
So, why am I whining about sports now? Did "my team" lose the Super Bowl? (and just an aside… WHEN DID I GET SO OLD THAT I AM SEEING SUPER BOWL 50 on the screen!!!!!!!!!!!!!!!!!!!!!!!!!!!!)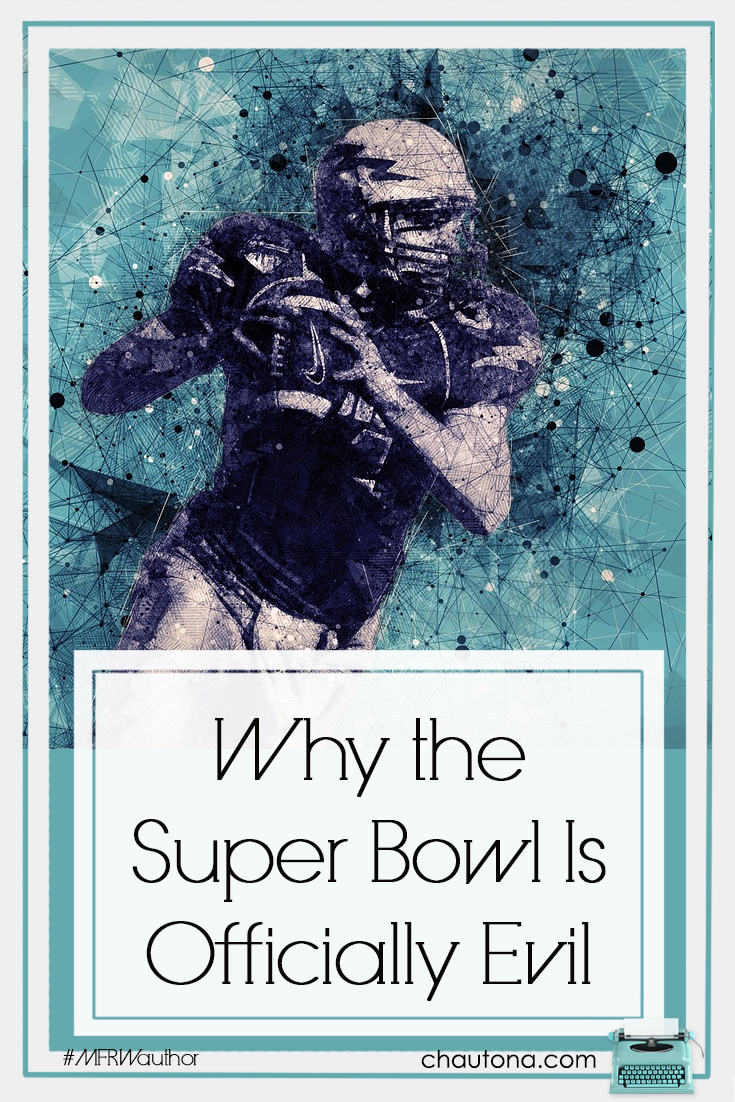 The Super Bowl is evil, but not because "my team" lost.
Anyway,, while the rest of the world dashed home from a sermon that ran over (and while they repented of their impatience at the minister's lack of compassion for their need for the last "fix" of the season), I blithely rode over to a fellow writer's house… with another fellow writer. You'll meet April someday. Yes. Yes, you will. Can't wait to share the mystery she's writing with you. A.W.E.S.O.M.E. Hint… Shakespearean artifacts and fountain pens appear in it. HOW COOL IS THAT?
Back to the story. So we drive up to C.R. Rowenson's apartment and are shown inside. His lovely wife was getting ready to go out–probably to one of those evil Super Bowl Parties–and the dogs let us know in no uncertain terms that they were glad to see us. Or, at least, that's how I'm taking one's half-raised muzzle and the other's incessant (or seemingly-so) yapping. He was fine after I petted him… for half an hour or so. (hyperbole–thought you oughtta know).
We went over C.R.'s work in progress and really hammered out everything he wanted to address. The guy is a workhorse and has AMAZING skills for seeing flaws and figuring out how to fix them. He is also phenomenal at figuring out what YOU are trying to get from the book. If you're not crazy about something or whatever, he's good with that.
Then, it was my turn.
Still riding a high for finishing Madeline in record time, I pulled out the few things I wanted to address and started asking questions. That's all it took. C.R. came alive. He asked questions, listened to what I was wanting from the series, asked more questions, and then he said it. Just two short sentences.
"You need to split book one into two. The electrical scheme should go in the second."
I want it noted that when we left C.R.'s apartment, he was alive and well. Need proof? I have a witness.
So, I left for his house at 1:00. Got home between five and six. Note: I hadn't had anything but two large cups of water to drink and nothing to eat. I ate a "little smokie" or two and zipped a FB message to my husband. "What are we doing for dinner?"
He never responded. I went to bed.
At ten o'clockish, I woke up, grabbed my stuff, and went to Denny's. By that point, I HAD no blood sugar. So, I told the server to order for me. She got me the sirloin with broccoli and smashed taters. I ate almost every bite. Yes. Yes, I did.
And as I did it, I chopped my pretty, all-done book. Into two. Then I sent Ashley a pouty, whiny, grossly immature email about how my done book now needed to be rewritten.
She asked if book 2 would be done in February as well.
Note. She is alive and not buried in rubble or some other evidence of my internal explosion. *whistles*
For the record, I also wrote–a lot.
Not as much as a couple of times last week when I did 8700 and 7500 words respectively, but I'd say 5906 isn't too shabby after spending HALF THE NIGHT CHOPPING MY BOOK IN HALF!
And, if you really want to commiserate with me, we can talk about the email I got today. The one where she said she wants me to fix book 1 and finish book 2 in February and then finish Aggie in March. Um… do you KNOW what that does to my beautiful plan? I have it all written out.
It looks like this:
Yeah. March is SUPPOSED to be Webster's. I'm thinking I should sic my friend Adrienne on her. Yeah…
What are the odds I can finish Aggie, AND rewrite Madeline in what's left of February… oh, and with us being gone from Thursday-Sunday for my niece's wedding? *blush*
So… will I obey Ashley er… MEGAMIND or will I be bold? Daring? Rebellious? Will I write whatever tickles my literary fancy?
Time will tell, folks. Time. Will. Tell.
And for those of you who don't get what this has to do with sports and evilness? C'mon. What day did it happen? What day? It's all the fault of the ball. I'm tellin' you! It can't be C.R.'s fault. He just made a good series better.
That leaves football. Just sayin'.
That's my "logic" and I'm stickin' to it.