Spiral bound. College ruled. Black cover. Seventy pages. I don't know where I got it, because I didn't like spiral ruled notebooks. The jagged edges when you pulled paper from them made my nerves do the jitterbug and my teeth itch.
But I had one. And I distinctly remember the day I drew my first goofy heart face in it. It looked a lot like this:
I know that, because they all looked like that. Different colors and smiles… ears and no ears. Ruffled collars that Queen Elizabeth I would have loved and bow ties to please The Doctor (long before he ever said they were cool), I had them all. When I needed to rest my brain, I'd pull out that silly notebook and draw even sillier faces. By the time we moved (and we always moved from some place), I had filled it. My hand hovered over the packing box.
Keep or toss?
Eventually, I moved it over to the left and dropped it in the trash can. I guarantee that wouldn't have happened if it had been any other kind of notebook. Even a basic composition notebook would have been preferable.
But something about filling that notebook full of those silly faces sparked something within me. Journals. "Blank books" we called them back then. They weren't as inexpensive as they are now. Not to a kid whose entire allowance wouldn't buy one. I used to dream of the kinds of cheap journals you can get today.
And of course, today I love journals that are a bit pricier. Oh, the irony.
Note: there are lots of affiliate links today. It doesn't cost you anything extra to use them, but I receive a small commission, and a couple of them give you a generous discount, too!
People ask me, "Why do you have so many journals? What are you going to do with them?"
Well, I kind of hope I'll… you know, write in them. That's kind of the point, right?
Yeah, I know. What they mean is, "What will you write in them?"
I've collected five links for you—ideas for using those beautiful "blank books" that you may or may not have collected over the years.
Personally, I have several journals started. They are:
Writing Collections. If you've ever studied bullet journaling, you know the idea for keeping similar ideas together—in "collections." Well, I created a book of writing "collections" that have everything I may want to remember for writing. There are pages for why I write, character names to try, books on writing to read, word count lists, blog post types, writing process reminders… and I'm only about 1/5 of the way through the thing. I expect it to be a reference thing for me for years.
2018 "daily journal." Sometimes I catch up after a few days off, but I have an entry for every day. In it, I record thoughts, events, ideas, things I've learned, dreams… everything. Some days I just add a quote that inspired me. I tend to make those "pretty."
Workshops. I use journals to plan out writing workshops that I give. It's a bit convoluted but it helps my brain work some of those things out, and that's kind of the point, right?
Commonplace Book. This is just an old-fashioned name for a book of quotes. My daughter bought me a lovely little blank book when she went to Poulsbo, WA. I kept it on my thread cabinet for ages until one day I realized that each page was a perfect size for me to do pretty lettering for one quote. So, I turned it into my Commonplace Book. This is a practice that people have enjoyed throughout history. People like John Milton, Thomas Jefferson, and even Jane Austen had these little books of quotations that they copied down. Ronald Reagan did it as well—on index cards!
Character plans. It's just a notebook where when I get an idea for a character who doesn't have a story, I write him or her down. Everything I "know" about that person goes down, and when I reread it, if I think of anything else, I add it!
Future ideas. I don't want them in a regular journal where they might get lost. My usual planner pages work great if I know it'll be done in the next few months, but what about the rest of the year? Can't do that. So, I have a "someday" journal for ideas I have that I don't know where else to go.
Brain dump. We all have those times where we need to get ideas out of our heads. I like to use this super cool system explained by Vinny Le Pes.
Course Notes. Whenever I take online courses, I fill up a small notebook with the information.
It feels like I have more, actually.
But maybe it's just wishful thinking. LOL. For a while, I did a kind of bullet journal instead of a planner because I really needed to take the time to write WHY I do what I do.
So if I had to go buy groceries, I'd write, "Grocery shopping—because aside from the criminal aspect of refusing to feed my family, I love them and want to demonstrate it by not making them forage for themselves." If I had a deadline looming, I might write, "Finish chapter 27 because people have been looking forward to this book and not finishing it now is rude, unkind, and a waste of time and creativity. I like my readers. I need to show it by giving them what I've promised. In other words, I need to keep my word and my words."
Thankfully, I don't have to do that anymore. It was beneficial for me, but it took a lot of time. I like the simplicity of getting my stuff into neat boxes and moving along.
So, what kind of notebooks do I like?
SOOOOOOOOOoo many. Seriously, I've got issues. But I pulled out "a few" to show you and give you a few ideas for what I'd do with them.
First. I'm a huge fan of dot grid journals, so you'll see a lot of them. Still, there's a place for lines, too! I like good paper and lots of it. For why dot grid is my favorite, I have this video.
While Moleskine seems to be a huge favorite with a lot of people, they're not my top choice. I have one because it was designed as a project notebook, but I ended up using it more like a regular A5 (half sheet) notebook like a Leuchtturm or a BondiBook. I also have a super cute little one that looks like a cassette tape (including impressions all over it to make it look and feel just like one. Squares on the ends of the spine that we used to pop out so no one could record over the cassette, etc. Oh! And I have one Moleskine I got from my dear friend. I have plans for that sucker. Hee hee.
In no particular order, some of the journals I own.
I have several colors of both. I did a comparison of the two in this video, but the point is, they're basically the same book. The Bondi to me looks a bit more classic and/or masculine.
The Leuchtturm has both lots of colors (often preferred by women) and is kind of sleek, so you can easily decorate the outside if you want to make it "pretty." However, in the more neutral colors, it has a modern, minimalist vibe that looks very masculine as well. So, for what it's worth…
I love these little things. I keep one or two in my wallet (which is a traveler's notebook cover with an insert I made to hold my credit cards and cash) at all times. One is always a calendar, and this year, I created my own because I own so many of these notebooks that I decided I HAD to use one up instead of buying their annual agenda. It was a lot of fun, too!
I also have one that I use to keep my meal and menu lists in. It's a way to help trigger menu ideas when it's time to go shopping.
Note: they're having a sale today for National Notebook Day. 40% off!
While these are basically the same size and purpose, they're night and day in execution. The Erin Condren is bright and colorful, and you can get it with an undated calendar option. I use mine for keeping track of series and other cool things like that.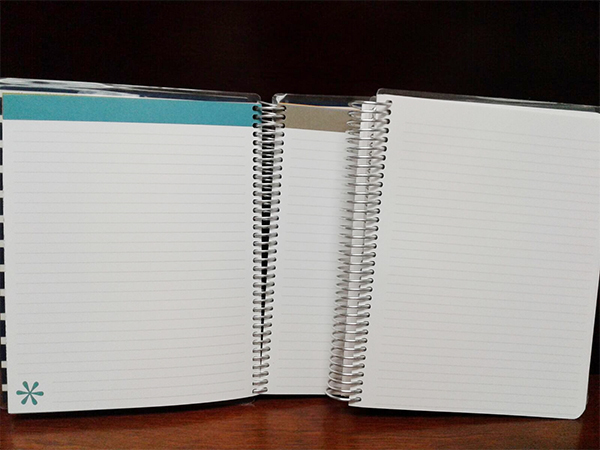 The Plum Paper has the most wonderfully thick and smooth paper. They now even have dot grid. My heroes. No, seriously. It's awesome. It's actually so awesome that I haven't even written in it yet. I don't want to mess it up. No joke. *rolls eyes at self*
Note: if you use my Erin Condren link, we'll each get 10.00 off our next order. Win/win for all.
These little notebooks are between the size of a Midori Cahier Traveler's Notebook and an A5 but in hardbound. These are awesome for those online courses I was talking about. It forces me to make sure I get the most important things down without overwhelming me with space.
I also think they'd be awesome as a commonplace book. You can get these from the company or from Staples. And that makes it nice. 😀
Baron Fig (slightly smaller than A5 size):
I have to admit, I have a bit of an obsession with these notebooks. They offer them in their regular "Confidant" colors at all times, but then they also have "limited editions." These limited editions always have something special about them.
They're slightly smaller than a Leuchtturm but not much. They feel wonderful in the hand.
The first I bought was the "Raspberry Honey" that had bees embossed on the cover and came with a short story in a booklet.
The second was the "Lock and Key" which included a cool maze, and if you bought a pen to go with it, you could decode a secret message. SO COOL.
I just recently received my third one—the "Show and Tell." This journal is like those old composition notebooks we had as kids where the top half of a page was blank for drawing and the bottom had lines. My #1daughter (who's big into Charlotte Mason education and has a YouTube channel where she'll be sharing them) wanted some for the kids' nature notebooks, so I ordered four more. That's how cool it is.
I've kind of gotten obsessed with trying to figure out what's next!
Note: if you purchase from Baron Fig using this link (or any but the specialized ones above) we'll each get $10 off. Just in case you need a great Lock & Key set for your father or husband for Father's Day. 😀
Here's the thing. I am a paper snob. And not all good paper has to be expensive. Just sayin'.
For good journals at a more affordable price for the average Joe or Jen…
Exceed:
From Walmart, these journals look and feel almost exactly like the Leuchtturm 1917, but they're six bucks instead of twenty. No, the paper isn't as good, and they're slightly smaller, but they're a good alternative if you go through a lot of journals or if you just can't swing the cost of the "better" ones.
They're also a tiny bit taller and narrower.
Markings:
Also from Walmart (or Amazon or their website), you can get this awesome 3-in-one, spiral-bound notebook. I seriously love this thing. The first section has lined paper, the middle, graph, and the last is all blank. I use one of these for an Encyclopedia of Madeline. It has all the information I have on her and I keep adding more all the time.
Now this wire is the flimsiest wire I've ever seen on a notebook, especially one of this size, but I just recoil with my sturdier plastic ones I have for my punch and it works great. The cover, however, is super sturdy and tolerates being toted around in my bag without being any worse for the wear.
Piccadilly:
There are a wide variety of these suckers, but the smaller notebooks run three for six bucks at Barnes and Noble. Lots of cover varieties and fountain pen-friendly paper make them a great choice. I use mine for keeping track of writing hours.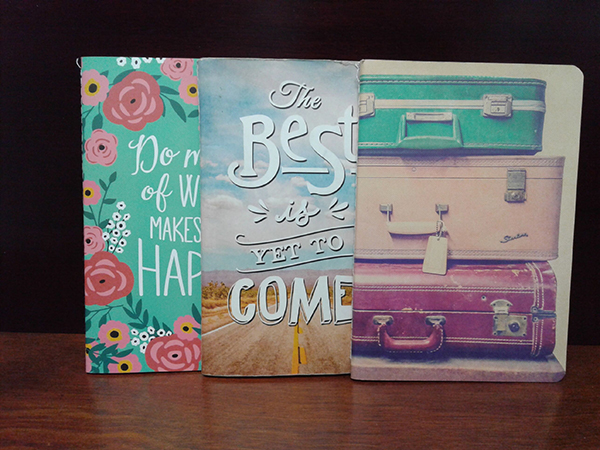 TJ Maxx, Marshall's, Home Goods:
These stores carry a wide variety of journals, and I've found some awesome ones there. The sewn spines are the same size as the Piccadillys, but with white paper. They accept fountain pens with grace and no bleeding. SCORE! I also got a couple of other ones there and love them.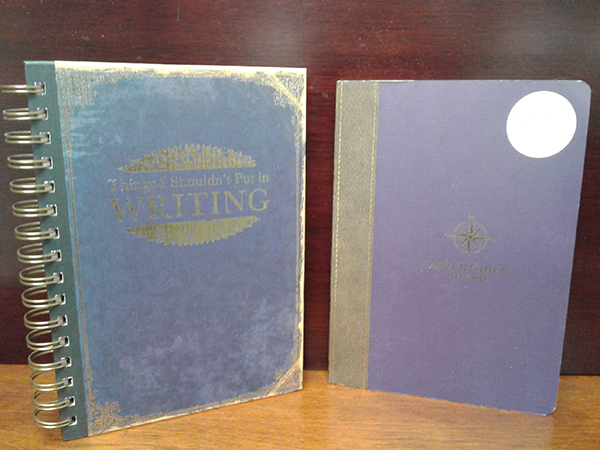 Clearance: Check clearance racks everywhere you go. Trust me, you'll find gems. I found a ton of these Smashbooks at Joann Fabrics once. Two bucks a piece. They're perfect for Commonplace Books, don't you think?
How to choose a notebook?
I can't tell you that. We all have our favorite things… thick paper. Thin (for reasons I can't fathom). Lines, grid, dot, or blank. One of mine even has diamond shapes! Size… you name it.
However, if you haven't ever really used one and want to now, I recommend checking quite a few out before buying. Figure out if you like soft covers or hard. Do you like spiral or sewn? And do you like a wide variety of sizes and colors and prints… or will you be happiest if you can pick a style and all of your other notebooks then match?
Just give it a bit of thought, and you may find that you are more likely to use something you just really love. 🙂 (Like this super-cool bullet journal I found at The Lighthouse one night. Amazon has it, too!)
Well, there you go! Happy National Notebook Day! I hope you'll take a few minutes, grab a notebook, and USE it. I know I will. Gotta catch up on my journal anyway. Squee!
I had planned to have a giveaway for a Baron Fig journal in honor of the day, but I'm not going to. Another paper and pen lover, fellow author April Hayman, lost her house (and all pens & stationery) to a fire two weeks ago, and I've decided she gets the "giveaway." I'm rigging it before I even post this post, and she won. Done. She can pick what kind of notebook she wants and she'll get it.
Because you can never have too many notebooks, and it's time to start loading her up with them again.
Meanwhile, tell me. Are you a journal hoarder um… collector? What do you use your notebooks for? And please, do give me ideas for using up some of mine. I've only taken a picture of maybe 1/3 of my "collection." Ahem. Like I've admitted before. I have a problem.