A few years ago, I saw something happening in homeschooling circles. I saw people excluding others because they weren't "godly enough." I saw people withdrawing more and more from the world around them until they became isolated mini-clusters.
Look. It's appealing to people like me. I like being alone in my own little bubble. But I also know how dangerous it is. And the more I looked, the more I saw the pain this kind of isolation would produce.
I wrote a blog post on my old blog and called it "Fellowshipping with the Mirror." With it, I hoped to remind people that the whole "not being of the world" thing didn't mean tossing James' admonition not to be preferential in our treatment of one another out the window. Few people ever read it, but it was cathartic to write.
I see this trend returning.
Churches splitting into groups of "pro" or "con" ___ (insert social or cultural trend here). Homeschool groups deciding that they can protect their kids from corruption by refusing alumni to participate in activities after graduation. Families deciding that those weird people who only wear skirts or only read KJV aren't welcome because they don't want to feel judged.
Okay, I know. It never really left. But it's more obvious to me right now. So… I wanted to share my revised version of that post.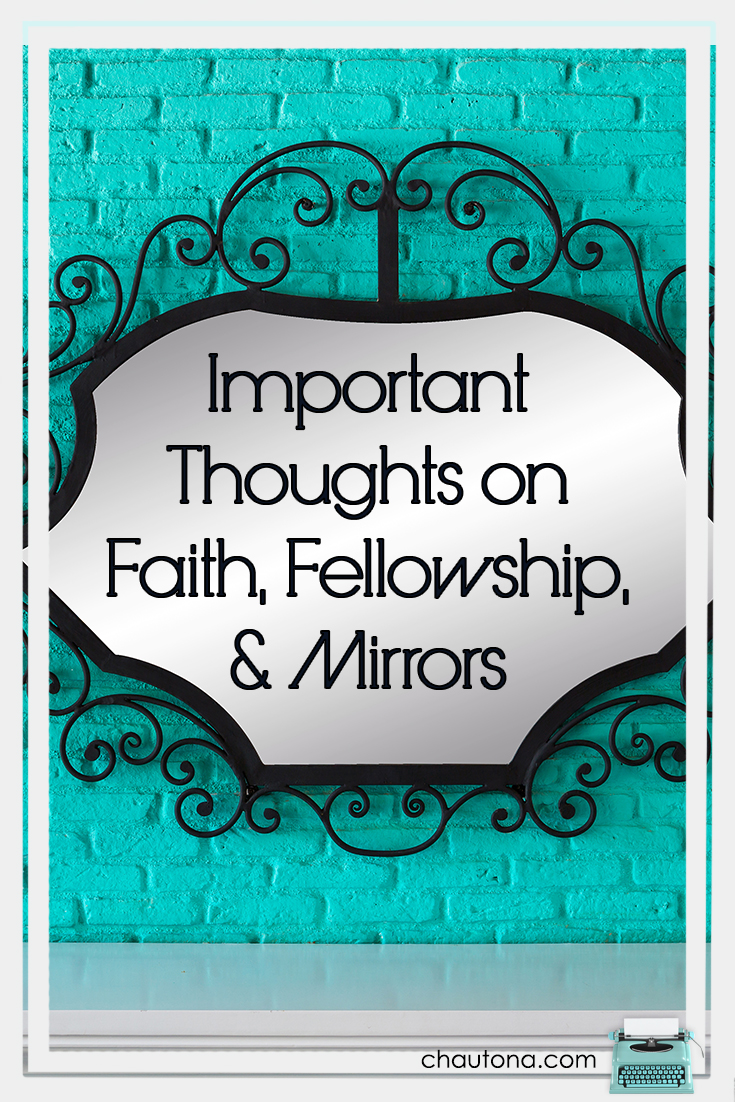 Important Thoughts on Faith, Fellowship, and Mirrors
I hear a lot of talk about likemindedness. Some call it likeheartedness. The theory seems to be that if you find people who share your personal convictions it'll produce perfect fellowship.
Look, I understand the premise, and to a certain degree, it is wise. Time spent with people who hold dangerous theological positions just begs for confusion—both for ourselves and our children. And let's face it, people who are antagonistic to the choices you've made for your life aren't exactly conducive to friendship and harmony.
And, I will admit that it is logical that we seek people with whom we have something in common. I mean, c'mon. The Amish do not spend hours upon end hobnobbing with the Kardashians (or whatever you call 'em). Both would be incredibly uncomfortable and it would probably require a compromise of their understanding of Biblical standards by the Amish.
The same is true of incredibly diverse friends (and by diverse, I mean lifestyles and beliefs, not colors—hate that I even have to clarify that. Ugh.).
They may be good for short visits but a close acquaintance who is antagonistic to your life isn't likely. This is only a natural course of life. It's kind of like cats and mice. Rarely are they best buds, you know?
However, if you look at the disciples, you see a wide variety of people.
Just how likeminded were they? Their occupations were diverse, their theological training hardly comparable, and they disagreed like roosters in the chicken coop. They held basic beliefs in common but had different priorities for their lives. (Peter and Paul are about as opposite in lifestyle and education as you could get!)
What if homeschooling families only interacted with other homeschooling families who use the same curriculum, were of the same "social status," and had the same goals for their families?
Other families would be deprived of knowing some great people, the family might find out that there is a curriculum out there that would solve most of their homeschooling headaches, and they might just begin to understand why others hold differing beliefs or personal convictions.
What a concept.
Don't get me wrong. I'm not for sending our three-year-olds off to preschool to be "salt and light" to their peers.
You'll never see me recommend that we send our elementary students to Vacation Bible School at a church whose doctrine is so far removed from ours that it borders on heresy and will confuse our children.
Trust me. You won't hear me suggest that our teens attend rave parties to preach to the lost. I am certainly not for sending struggling stay-at-home mamas to constantly be influenced by those who appear to have an easier life of no diapers, declarative sentences, or dinner.
We need encouragement by people who understand our lives.
Preferably by those who have run the same race we're running and know how to get over the peculiar hurdles that our race holds.
I firmly believe that when we don't look for that kind of encouragement, we get beaten down and "grow weary in well-doing."
However, too often I hear families decrying that there is no one in their denomination that holds every one of their personal convictions or standards. No one to fellowship with.
WHAT?
Must we have carbon copies of ourselves before someone is worthy of our fellowship? How sad. Honestly, if we find carbon copies of ourselves, one of us is redundant and unnecessary.
Actually, this is one of the issues I addressed in HearthLand… and for this reason. Kirk Patrick (yes, I had fun with that name. Sue me–no don't. Please.) wanted a "likeminded" or "likehearted" community of only people holding similar if not identical personal convictions. And Ralph said no. I think Ralph was wise, although I have to admit. There were times I wanted that very thing when I was raising my kids.
Still…
If you want someone to fellowship with who is just like you… perhaps you should try a mirror. Mirrors don't argue, they hold identical personal convictions, and any hint of disagreement withers at a glance. How much more perfect can it get?
Look, I don't want to pretend that it isn't wise to spend at least some of your free time with people who have the same core values and hold the same basic Biblical understanding you do. It absolutely is.
But if you're always looking for someone just a bit more like you before you invest in a relationship, are you really looking for fellowship or is it time to just go buy a mirror?