Another Ever After Mystery was ready to release when I got the word that the hero of When the Pilot Falls had gone missing. I mean, seriously? With everything going on, we now have to go hunting for this guy? Well, I did what any reasonable author would do.
I made a graphic. #becausereasons
Isn't it cute?
There we had it. All set. Everything should go on just swimmingly, right?
Yeah… not so much. Sandy, our publisher, put out a call. ALL authors needed to be on the lookout for Hugh. Great. Just great. I've got books to write, people. I've got this Marine recruiter over here who needs to convince a recruit's sister that he's not sending her little brother to his premature death if the brother joins the military.
This is tough. Especially when that sister has a fiction-influenced, over-active imagination. But, when a fellow author needs help, you do what you've gotta do. I just had no idea where this thing would take me!
A Bear, a Tardis, and a Blue Ox Walk into a Great Mystery
It all began with a blue police box—no, really, it did! I was in a little gift shop with all kinds of odd curiosities as well as the typical souvenirs and tchotchkes. They even had a few fun antiques like an old spinning wheel, red satin ballet slippers, and these funny clamshells on a string.
But right there in the middle of the room was this enormous, blue, police box just like you'd see in a Doctor Who episode! Yes, I confess, I even looked at it sideways a few times, just wondering if David Tenant or Matthew Smith would step out of it—or maybe race out chasing some odd-looking creature.
Instead, this hulking, bear of a guy stepped out and shook his head at the store owner. "It's too small."
I couldn't help myself. I said, "You know, I've heard some of them are bigger on the inside."
He gave me a look that would have quelled anyone who didn't have the power of his story in her hands. That's when my grin went from a seedling in my heart to a truly scary display of teeth. "Gotcha."
Apparently, this guy wasn't a Whovian. Poor soul.
Turns out, he was looking for something to turn into a "little free library." And this was too small. I wanted to ask if he knew how many books could fit in that thing when I noticed just how big he was. We're talking a mammoth dude! Hadn't April Hayman been complaining that her character kept escaping from the pages of her book, and she couldn't find him anywhere? Hadn't Sandy insisted we find him!
Look, guys. April and I live in the town. I don't know if Liz really saw him or not, but you have to admit that it's pretty suspicious for me to just happen to see this huge guy fitting April's description at one of our local gift shops. In a police box, no less. Considering she's writing about the 1920s, it's not a far stretch to wonder if he was trying to get back to his own time or something.
I guess I must have stared for too long because he started acting weird. Really weird. So, to keep him from bolting, because I'm sure that's what he was about to do, I kind of accidentally-on-purpose knocked over a tall bookshelf full of glassware.
Hey, it's the only thing I could think of. I mean, it blocked the door and everything!
Apologizing up one side and down the other, I promised the store owner that I'd pay for everything and went in back to "call a clean-up crew." Sure, I'd get one out here, but first I called April and told her that I'd nabbed her guy and that she needed to get here pronto. Then I called in my kids.
Look, when you have a bunch of kids, don't expect them to do daily or weekly chores anymore, AND still pay their car insurance, you get to call in favors. This was one of those times.
Alas, when I hurried back out to reassure everyone we'd be set in no time, the bookshelf had been righted and the guy was gone.
"Where'd he go?"
The still-stunned owner blinked twice and said, "I think he said something about finding that blue ox." She looked over at me again. "He meant, box, right? He'll be back to buy it?"
I suddenly had a sneaking suspicion about two things.
I was about to become the proud owner of a Tardis-looking little free library and
April's character had just taken off to Minnesota, land of Paul Bunyan and his blue ox, Babe.
I hope she finds the guy. April needs to get him back in the book where he belongs before readers get to his page and find it blank!
As you can imagine, the authors of the Ever After Mysteries are excited to announce the release of…
In 1923, there aren't many pilots, but Willie Labeau didn't let that stop… her.
A bear of a man, Hugh Taylor, needs a stunt plane pilot, and despite their rocky introduction, Willie sets off for golden California and a new life as his pilot. There's just one little thing she has to do in addition to flying.
Leave his past alone. Period.
When the flame of her own curiosity becomes fanned by encouragement from Willie's sister, the feisty pilot can't help but do just a little investigating.
And Hugh vanishes.
Friends rally around her, and with all the information she can find in hand, Willie sets off to rescue Hugh and battle the evil family holding him hostage.
A fierce air race, a sincere act of humility—are they enough to free Hugh and give Willie a chance to be with him… forever?
Find out in this next book in the Ever After Mysteries, combining beloved fairy tales and mysteries. When the Pilot Falls offers a retelling of "East of the Sun, West of the Moon" that will keep you gripped to the edge of your seat as you watch hearts soar and daring dos.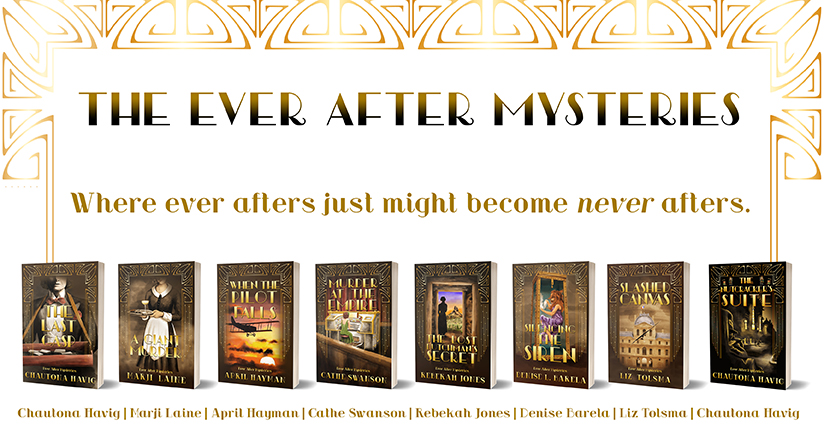 You definitely want to visit all the other authors and see what Hugh's been up to.
(and get entries in for giveaways!)
Celebrate Lit Publishing (Sandy Barela) 9/9
Chautona Havig (ME!–9/11 note, the rest of the links won't work until "their day")
And here's where you get those entries in!