"You have no personality. Please return and take the test again at another time."
That was the result of a very intensive "career advice" personality quiz I once took. The thing wasn't some bogus Facebook quiz with ten questions that determined how you tick by asking if you like the picture of the watermelon or the garbage heap best. A solid twenty or more minutes of agonizing over questions, not pictures of varying shades of blue.
It was put out by a reputable financial ministry whose name most Christians would recognize if I shared it. I won't. I wouldn't want to give them the reputation of name-calling. Besides, it's not their fault that their algorithm says I'm as flat and one-dimensional as a Mary Sue in a cheesy novel. Maybe I really am!
But after I finished all that work, to be informed that I have no personality and needed to redo it–harsh! And yeah, so not going to happen.
But you've all been there, I'm sure. For a job, a ministry, or just curiosity, you find out about a legitimate quiz. So, you click.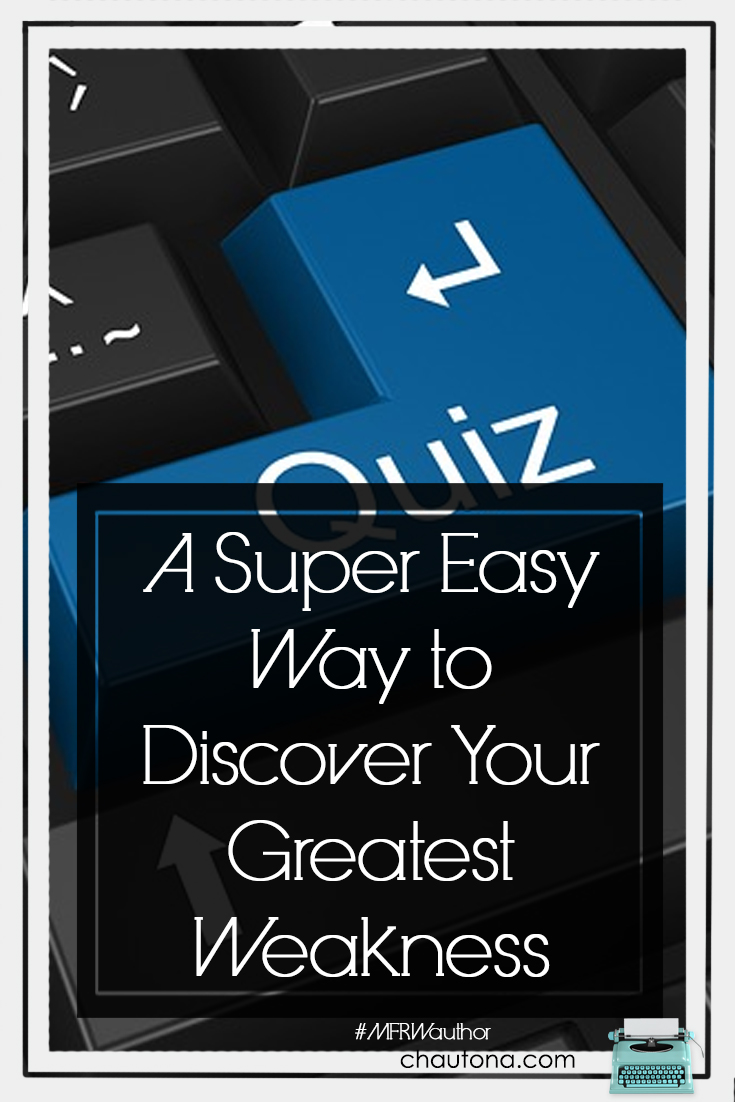 Note: links in this post may be affiliate links that provide me with a small commission at no extra expense to you.
The torture begins.
One question follows another. You know, things like: "Do you prefer to socialize in the middle of the room, or do you stay near the edges?" Or: "When you paint your toenails, are they purple or green?"
Why does no one ever ask, "Do you prefer to die a slow poisonous death to give you time to say goodbye to your loved ones, or would you rather get it over? Short and snappy?" And who wants purple or green? Why not have both and look like you banged up your fingernails in a desperate attempt to get out of that social room?
Yeah. I'm kind of a shy introvert. How'd you guess?
But no, that's not my greatest weakness.
Still, taking those infernal personality tests is one way to root it out–if it's a good one. Why? I'll tell you. I'm accommodating that way.
All those questions tossed at you, one after another until you feel like your head will explode. Heart pounding, head swelling, it becomes a race just to finish–or until you close out the browser and walk away blissfully unaware that as far as that website is concerned, you have no personality.
So, to make the blog challenge gurus happy, I stared at this week's prompt, "What is your greatest weakness?" and tried to answer it.
Just like last week… clueless.
Until I saw another one of those handy, dandy little personality tests on a friend's Facebook wall. It looked real. The answers didn't seem like they were generated in a fortune cookie factory.
So I clicked.
Five questions–ten–twenty–fifty? It felt like five hundred. I don't know how I made it to the end, but I was exhausted. But it was worth it because, for the first time, I got a result that actually felt like me. Sure, there were a few things that were 100% wrong. Apparently, folks that fit into my little box don't care much about rules and traditions. Once again, I defy convention in my unwillingness to defy convention. How very Madeline of me. 😉
But every time another set of questions appeared–just when I was sure I was finally done, you understand–I really did become almost paralyzed. I so wanted to click out, and if they hadn't written such a fascinating copy for my friend's "type," I would have. And that's when I also discovered my greatest weakness.
I shut down when I'm overwhelmed.
Talk about inefficient! But it's true. All, too true. For example, I wake up, cheerful and happy, ready to greet a sunshiny… afternoon and click open my email. Five hundred new ones flood the inbox.
That right there can shut me down for hours–all day. It took me years to develop a coping skill.
You see, some would say, "Just delete the spam and move on."
Well, I happen to have an excellent spam filter. Almost every email that makes it through is one I want to read. Unfortunately, I do not have time to read everything I want to. So, I sit there, eyes closed, and think of which informational email I most likely can live without this week. There are some who send several a day. Those are the ones I target.
Hint: I never look at the list of unread emails. Instead, I hit Control + F.
Find. Search email with any name I can think of. See six from that one place. Delete (and yes, I say that, aloud, and with the robotic tone of a cyberman. Because that's how I roll.)
I lather, rinse, repeat. The blogging guru? Sorry. Delete. The book launch guru–de-leeete. Delete. DELETE.
And then it happens–my greatest weakness kicks my butler in gear.
All by accident, of course. My brain goes, "what about the stuff sent to me from chautona.com? I mean, that's where reader questions usually come from. With a few types of the keys, bam! Twenty-five instead of four hundred twenty-five questions pop up.
I can handle twenty-five emails. I can do this thing.
But for some ridiculous reason, if I try to start there… without deleting some of the other stuff just waiting to suck every second out of my day? Yeah. I can't function.
And that's what is so cool about weaknesses. You can't always overcome them, but you usually can find a way to trick them.
And that's my super easy way to find your greatest weakness.
Ask yourself. What do you avoid most?
When I realized that I avoid things that tend to make me overwhelmed, I got suspicious. When I wanted to take a test and resisted… suspicion theory tested.
When I nearly backed out after wasting time on a really interesting test–suspicion confirmed. When overwhelmed, I shut down.
I've had people tell me that this isn't a weakness, per se. It's a coping mechanism. I disagree. My way of handling it is the coping mechanism.
Kind of like that weakness I talked about the other day. It's related, you know. When my house starts to fall apart around me, it's overwhelming. I shut down. So, I play those mind games I was talking about in that post.
I should confess something. Another weakness of mine is over-analyzing everything.
And you know what? If you can't figure out what you avoid the most, go take that personality test. They have a whole list of lovely weaknesses for your type. I guarantee one will fit you. It might not be your greatest weakness, but it'll be one. And once you've identified that one, who knows?
You might just find a dozen or two more! WOOT! ???
But there's a better way, of course–to find your greatest weakness, I mean.
It's just not super easy. And well, sometimes we need that super easy for the short-term. But the Bible, of course, gives us the best way–the most powerful way to know for certain what your greatest weakness is. Because, of course, then you can look to the rest of your Bible to learn how to overcome it. Meanwhile, here's where to go to learn how to find it.
James chapter 1 verse five. I don't know exactly what kind of wisdom James was talking about, if he even had something specific in mind, but I suspect that it's wise to see where we're weak and ask the Lord to strengthen us there. It'll take longer, but it'll be sweeter and more rewarding.
Growing in Jesus always is.
And then, because I love reinforcement, beauty, and the book of James, I created THIS!
And I'm giving it away both for current subscribers (just forward your latest newsletter) and NEW subscribers! New Subscribers get both the FREE short story collection and this. The short story collection is delivered automatically, but new subscribers will need to forward their confirmation email to me to get the coloring pages. Just hit "reply" and ask for it! I'll be happy to send it to you!
Even better, I did it in both the ESV and the KJV. You'll get both!
If you want to help spread the word:
share this image on Facebook, Instagram, Pinterest, or wherever you like to socialize on the web!
Printing tip: if your printer doesn't' do a "full bleed" printing, tell this to print at 95% in landscape mode.