I'll never forget that evening. It was in Fillmore, California on Mountain View Street. I was four.
We all sat around the dinner table, and Dad had just poured milk. I'm pretty sure he was about to stuff some cornbread in it. Thought you oughtta know.
I'd spent the day with my cousin, Julie, and she'd told me all about this amazing guy—Santa Claus. He made sure you weren't a brat, and if you weren't, he brought you cool presents on Christmas morning.
Complete honesty here? I figured I had this one in the bag. In my four-year-old mind, if Julie managed to eke out presents from this old dude in a velvet suit, then I could. I didn't get in nearly as much trouble as she did.
Except while I was at her house. But that's a story for another day. Suffice it to say, every evil cousin needs a scapegoat. Just call me Billie.
Not that I was bitter or anything.
So there I sat at the table, just going on and on about the amazingness of this Santa dude when my dad lost all patience. He slammed his fist down on the table, milk spilled all over the place, and he almost shouted, "There is no Santa Claus. I am your Santa Claus."
And so the dreams of yet another child were destroyed by the truth of Santa. For what it's worth, I suspect I had the shortest running "faith" in the jolly old elf of anyone in human history.
I couldn't wait to tell Julie that she got it wrong. That's when my "revenge" withered. While Dad mopped up milk and explained why parents told the Santa lie (his words, folks) to their kids, he also informed me that it was not my job to correct Julie. I was not to tell her that Santa wasn't real.
Okay, I might still be a bit bitter about that. Just kidding. Mostly.
Years passed, and I had my own children.
We didn't "do" Santa Claus with them, either. You see, no matter how I might have felt that December night in Fillmore, my dad was right. They could not have told me Santa was real and then later told me he wasn't. I was one of those kids who would have lost all faith in their word if they'd done that. It's who I was.
Not all kids are that way. Yes, there's hurt and disappointment when they figure out the Santa myth is just that—a myth. But many (if not most) kids get that it was something their parents did to add enjoyment to holidays.
I wouldn't have been.
And I was not about to risk that with my own kids. Confession time: I was tempted—really tempted. Trust me, it's easier to just follow along than to be a lone ranger on these things. I spent years trying to teach my kids not to ruin it for others. I'd say, "Just tell them that Santa isn't invited to our celebrations. It's true, and yet it doesn't spoil for them what their parents have chosen."
Frankly, I know I created a few self-righteous little snots about it. I'll go further and admit that I sympathized.
Any way you look at it, Santa is a touchy subject. But what does all this mean? What's the point? Well…
Note: links may be affiliate links that provide me with a small commission at no extra expense to you.
How a Silly Santa Story Exposed My Hypocrisy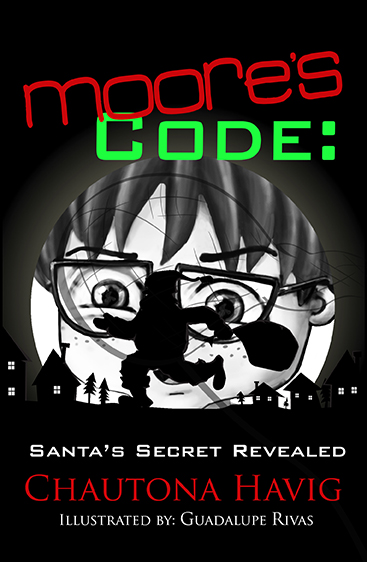 Back somewhere between 2005 and 2010, I was sitting in my sewing room, working on orders, and singing along to The Brothers Four's Christmas album. They sang "The Night Before Christmas."
A line appeared. I stopped sewing. Skipped back. Tried again. And again. And again.
What was the line?
"And what to my wond'ring eyes should appear but a miniature sleigh and eight tiny reindeer."
If it had been a movie, all kinds of crazy memories would have exploded on the screen. "Jolly old elf…" Things like that.
"Santa Claus is tiny. All the books and movies get it wrong. He's tiny!"
I'm pretty sure a kid said something like, "He's also not real."
The hypocrisy began right there because I'm pretty sure I said, "Who cares? He's tiny!"
The story emerged right away. A precocious, bratty kid who was accustomed to getting what he wants and smart enough to do something with that. And a kid who wants all the presents to himself, of course.
Hypocrite much?
Let me be a bit "on the nose" here and point out a few things.
I can't stand bratty kids—in fiction or in real life. I've very little patience with them, and the child I wrote is awful. My kids looked at me like I'd lost my mind when they discovered what a little tyrant I'd created.
I wrote a book about Santa Claus.
My book about Santa Claus doesn't even hint at the real point of Christmas! Jesus isn't even mentioned.
All three of those are things that would make me run from the book if I saw it in the store.
But I wrote it. And, while I'm baring my soul to the world here, I should confess that I had fun writing it.
I like the silly little book.
As a general rule, I don't talk about it much on my site here. Why? Well, it's a Santa story that takes place at Christmas and features nothing whatsoever about the goodness of God. It doesn't fall under my "Christian fiction without apology or pretense—lived, not preached" motto, you know?
However, as they say, confession is good for the soul. So I'm confessing. I wrote it. It has cute pictures and silly fantasy elements including a few fun elves and an evil cousin to Santa, Scrooge. You'll find catapults that fire "snow cones" at the enemy. For the uninitiated, "snow cones" are pine cones with snow packed around them.
I'm curious: Who can tell me why I named it "Moore's Code?"
For the offended, please forgive me. Meanwhile, HERE'S why I usually write Christmas books–ones where Jesus is where He belongs.