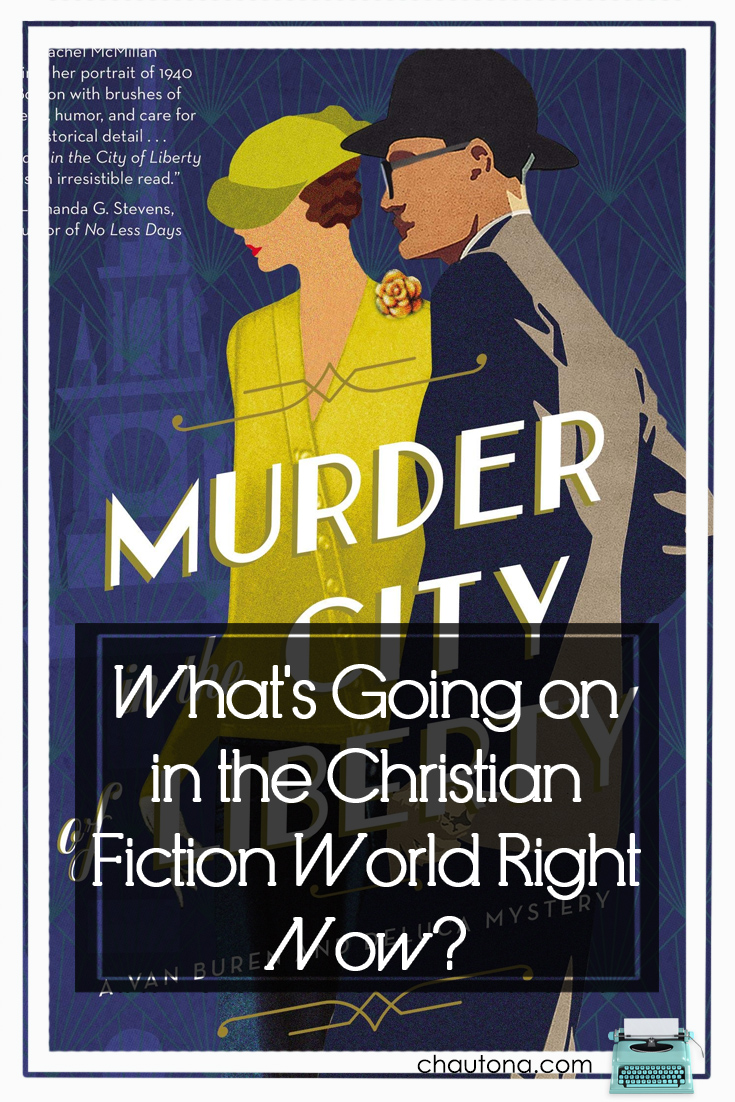 In January of 2018, I wrote a blog post about where I thought Christian fiction would be going in the next few years.
One of my "predictions" is already becoming obvious—and not in the way I thought.
I said:
But what is weird is a new (but age-old) attitude of "I'm okay, you're okay" in it…I think we're looking at an even bigger split in the Christian fiction market because of it. More people will be "crossover" writers. We'll lose our "clean" fiction writers who make sure to include a prayer and giving God the glory. They'll just drop the rest and write clean fiction for the masses."
Yep. I was totally right and totally wrong.
Because you see, I thought this would be a predominately Indie author thing. But seriously, I'm seeing it hugely in one of the biggest Christian fiction publishers out there—Thomas Nelson.
I've had niggles before, but then the book I reviewed a few days ago gave me fits because I didn't know how to handle a few things.
And guess what? I just read another one from Thomas Nelson Publishing that has my head spinning. Even more than the last one, the faith element of this book is so subtle it's almost not there. Certain statements can be taken with the lens of the Gospel or the world's philosophy.
Like this one:
Why don't I forgive you first, and then you at least have some forgiveness until you can catch up, huh?"
Seriously! That was one of the sweetest scenes I've ever read. It's beautiful. But since I think we're supposed to assume that the character spoken to is a Christian (after all, he sought solace in the North Church of Boston…), I don't think she's the first to forgive. That would be the Lord.
Nitpicky? Perhaps.
I won't pretend it isn't possible. But here's the thing. After reading a book in which the only characters who seem to have a true faith at all are Jewish… it does make one wonder.
Then again, many of the things that were said could be taken on a deeper, spiritual level if the reader knew to do it and understood the subtext—assuming we should read into what's there.
Look, it could happen to anyone anywhere. When my publisher was trying to write the synopsis for one of my books, I could have ignored it when they added the line, "…the importance of following your heart." I could have!
But I didn't.
Because see, I don't believe following the heart that Jeremiah says is deceitful and wicked above all else is something we should follow! Sure, I could have left it and trusted that readers would just automatically know that I meant that Jesus is in my heart so I'm talking about the importance of following Jesus.
Sigh.
Here's the thing. We all know I hate preachiness in fiction.
I don't care if it's a historian droning on and on about some historical fact, if it's someone going on and on and on about some minute Biblical thing until your eyes cross, or if it's a mathematician explaining… something mathy. Once it becomes a sermon without benefit of a preacher, it gets old fast.
Show me the sermon. Don't preach it to me.
Look, when I requested a review copy of Murder in the City of Liberty, I didn't know anything about the series (or that it was the second book. Oops!). I just liked the sound of the story and the chance to find a new author.
And I did—like both of them. But coming on the heels of a few others like it, I'm confused. I decided to write this out there so future reviews would make sense. I'm going to have to point out if they are weak on the faith issue, but my star ratings will have to do with how much I enjoyed them if read through the lens of Biblical truth. But I'll point out what's missing in the review.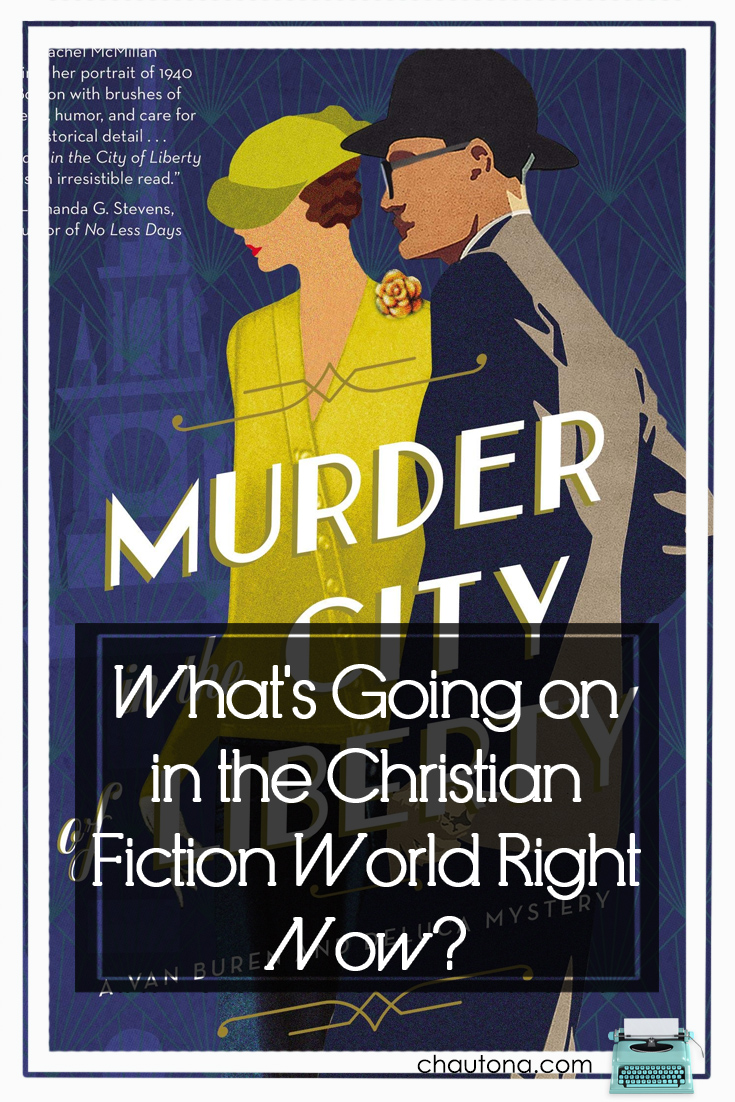 Note: Links may be affiliate links that provide me with a small commission at no extra expense to you. Additionally, I requested a review copy of this book and chose to review it.
What's Going on in the Christian Fiction World Right Now?
I'd say a whole lot of good stuff. Seriously. Despite my frustration with this new trend of "Christian fiction" that has very little spiritual encouragement, if any at all, there's a whole lot of great stuff coming out right now.
And part of me really does appreciate that authors (and their publisher) are giving me credit for having a Biblical lens with which I read things.
Okay, here's the deal. When I recently fought and struggled with what to do about star ratings on a Christian book that, on the surface, had things in it that screamed borderline heresy… something kept coming to mind.
While I firmly believe Christians have an obligation to warn one another of potential issues in fiction or nonfiction books—in anything outside the straight Word of God—I also believe in Matthew 7:12. I Corinthians 13.
I am a Christian. I don't pretend to be anything else.
If that's the case, and it is, when my words seem to imply something that my life and my admission of faith would say otherwise, then I hope people will assume the best of me until I've given them a reason not to. Until they see me write or hear my say something that revokes my previous statements of faith, I hope they'll be merciful. Kind.
So that's what I'm going to do with Murder in the City of Liberty (and the one I read a few days ago).
Murder in the City of Liberty is a well-written, engaging book with fabulous characters. I seriously had so much fun with them. You have no idea. Quirky, interesting, consistent but not predictable all the time. And, of course, my favorite. Flawed. Thanks to a character arc that is going through the series, I suspect there'll be even more.
And actually, thinking about that. The character arc could explain the lightweight faith elements. If they don't have much yet, maybe it's because something is coming… An interesting thought.
The mystery isn't one you've never seen, but seriously, with the characters, the setting, etc—it made it seem new and fun.
Though I haven't read the first book, I didn't have any trouble getting up to speed. Rachel McMillan did a fabulous job giving us the past without dumping it on us or giving us too many spoilers. It all feels like stuff we'd likely figure out early on reading the other book—okay, a couple of minor things we wouldn't have known but nothing that will ruin those stories.
I spent the entire book on tenterhooks about everything!
It wasn't that Murder in the City of Liberty was that suspenseful. Instead, it was more like it was that delightful. You just knew something fun would happen every now and then—something bad—something unexpected.
With every element that a solid mystery needs—red herrings, fun detectives, means, motives, opportunities, and more than just the mystery driving it… this Van Buren and De Luca series promises to be a whole lot of fun.
Meanwhile, I'm off to buy the first book. 🙂
About the Book
Book: Murder in the City of Liberty
Author: Rachel McMillan
Genre: Christian Fiction, Historical
Release Date: May 21, 2019
Hamish DeLuca and Regina "Reggie" Van Buren have a new case—and this one brings the war in Europe dangerously close to home.
Determined to make a life for herself, Regina "Reggie" Van Buren bid goodbye to fine china and the man her parents expected her to marry and escaped to Boston. What she never expected to discover was that an unknown talent for sleuthing would develop into a business partnership with the handsome, yet shy, Hamish DeLuca.
Their latest case arrives when Errol Parker, the leading base stealer in the Boston farm leagues, hires Hamish and Reggie to investigate what the Boston police shove off as a series of harmless pranks. Errol believes these are hate crimes linked to the outbreak of war in Europe, and he's afraid for his life. Hamish and Reggie quickly find themselves in the midst of an escalating series of crimes that seem to link Boston to Hamish's hometown of Toronto.
When an act of violence hits too close to home, Hamish is driven to a decision that may sever him from Reggie forever . . . even more than her engagement to wealthy architect Vaughan Vanderlaan.
About the Author
Rachel McMillan is a keen history enthusiast and a lifelong bibliophile. When not writing or reading, she can most often be found drinking tea and watching British miniseries. Rachel lives in bustling Toronto, where she works in educational publishing and pursues her passion for art, literature, music, and theater.
Read the excerpt
Boston
April 19 40
There really never was a good time to drown. But this particular April had been unseasonably cold and promised spring long in coming. The slosh of the Charles River warmed by ribbons of June sun would have been preferable to the crusted sludge of leftover ice rimming the harbor, or so thought Reggie Van Buren as she bobbed up and down like a buoy.
A New Haven Van Buren ought to have perished an old, wealthy woman, tendrils of snow-white hair falling around a satin pillow, comforted in the knowledge that she would be interred in the family plot, her soul destined for paradise—not with water up to her nose, choking as it lapped in and out like a tide over her chattering teeth. But a New Haven Van Buren also might have had the propriety to insist upon the use of her given name and not the "Reggie" she so preferred. The Reggie she was just hearing now in a rather frantic yet familiar voice.
"Reggie!" Hamish DeLuca's panicked voice reached into the hollow dome of her cement cave. "Reggie!"
"I was st-stupid. I s-slipped."
She treaded poorly, her arms feeling like gelatin, her form rather lacking the swimming skills she had learned informally alongside her family's schooner on Regatta Day. Reggie strained to rise above the lapping water. She took turns treading and raising herself as high up on her toes as she could. Rotating and wondering why she failed to complete the ballet classes her parents enrolled her in as a child.
Standing on tiptoe might have added inches to her height and allowed her to clear her mouth of the water. As it was, her calf muscles strained. She said something that came out in a series of bubbles before glugging, rising upward, and noticing for the first time how the fog from her icy breath rippled over the water. If she couldn't understand herself, how would he?
"S-slipped," she said again, trying to make him out in shadow. "H-Hamish." She tried again. Funny, usually he was the one with the stutter. Hamish DeLuca with the stutter and the bit of a handshake and that one pesky dimple and those big blue eyes. Her own eyes fluttered. Maybe she would never see him again. She would just slip under the water and rest her heavy eyelids. She blinked until a stream of torchlight buttered the dark walls, crystallizing the percolating water drips around her, and then the figure of her rescuer, whose blue eyes looked even more brilliant than usual in the eerie glow of the flashlight.
Hamish dropped to his knees. "Take my hand."
"This didn't turn out as I expected," she chattered.
"Reggie, we don't have much time." His voice rippled as he looked frantically at her and then over to the grille she had stared at since she got into the mess, watching the water level rise and fall and rise and fall until it made her dizzy. She clung to his hand a moment.
"We should have gone with plan B."
Hamish growled. "We didn't even have a plan A."
"You're my hero, Hamish." She patted his hand with her icy one. "It was so nice of you to come."
"Reggie, just take my hand."
"I'm stuck!"
"What?"
"M-my shoe."
Hamish said something she was altogether certain she had imagined in her half-frozen and very soggy state. And then, of course, he recklessly jumped in to get her.
Blog Stops
Just the Write Escape, June 11
Simple Harvest Reads, June 11
The Power of Words, June 12
amandainpa, June 12
As He Leads is Joy, June 13
Fiction Aficionado, June 13
Through the Fire Blogs, June 14
Carpe Diem, June 14
Mary Hake, June 15
Moments, June 15
The Christian Fiction Girl, June 16
Have A Wonderful Day, June 16
Cordially Barbara, June 17
Rebekah's Quill, June 17
All-of-a-kind Mom, June 18
Hallie Reads, June 18
Bigreadersite, June 19
Connect in Fiction, June 19
Blogging With Carol, June 20
Truth and Grace Homeschool Academy, June 20
For Him and My Family, June 21
Remembrancy, June 21
Pause for Tales, June 22
Debbie's Dusty Deliberations, June 22
Godly Book Reviews, June 23
Texas Book-aholic, June 23
janicesbookreviews, June 24
A Reader's Brain, June 24
Inklings and notions, June 24
Giveaway
To celebrate her tour, Rachel is giving away a grand prize of both book in the series!!
Be sure to comment on the blog stops for nine extra entries into the giveaway! Click the link below to enter. https://promosimple.com/ps/e513/murder-in-the-city-of-liberty-celebration-tour-giveaway