Ocean breezes mingle salt spray with the distinctive scent of Coppertone. Beneath an umbrella and a two-inch layer of said Coppertone when you have skin that pleads with the sun to lobsterize every half-exposed toe, she sips iced tea from an In-n-Out cup. With the gentle undulation of waves lapping the shore for ambiance, she turns the page… again. And again.
Record scratches.
Yeah. I haven't had that scene since I was THIRTEEN and living in Ventura, California. Aaah… Ventura.
I digress.
No, since then, I've (mostly) been back in desert places. California's high desert, low desert, the town of Mojave. The Eastern Mojave Desert. Yeah. All the deserted desertness.
I'll admit it. One summer while the kids were napping, I went out, created my own "lounge chair" and improvised umbrella…(I think it was a blanket draped over the shortened free-standing basketball hoop thingie). Then I grabbed my book (probably a Dee Henderson) and settled in. Drink to one side (probably tea… PREGNANCY tea), and ready for comfort. I'd DO this beach thing again.
So, once all comfy, I plunged my feet into the water and jerked them right back out again.
For the record…
The Pacific Ocean is much cooler than a kiddie pool in mid-summer in the desert. I'm not saying I scalded my feet. No one, including myself, would believe that. But I am saying that when you expect refreshing coolness and you get very warm water instead, it FEELS like they should be bright red and in need of aloe.
I tried the hose.
That actually DID burn my feet.
Frustrated, I went and cleaned out a squirt bottle. After an hour in the freezer, the water was cold enough (and frozen in the tube, of course), that once I defrosted the squirt tube under hot water, squirting myself out in the makeshift "beach" was mildly refreshing.
Except that I was exhausted and the kids were waking up.
So much for a beach read.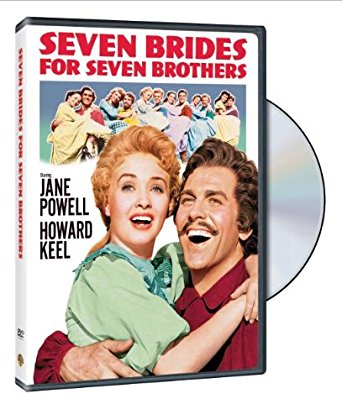 I'm pretty sure I came inside, put "Da-da-dum-dum" (Seven Brides for Seven Brothers) on the VCR (remember those things?) and curled up in the corner of the couch to drown my sorrows… in that book.
It better have been a good one. I don't even remember. I think my scalded feet really did a number on my brain.
So these days, I have a new way of enjoying my summer reads.
On my bed, fan blasting, squirt bottle with a tiny bit of salt in it…
No, just kidding. But I do curl up in bed with a good book in summer. Why?
Note: Links are affiliate links that provide me with a small commission at no extra expense to you.
3 Reasons I Need an Inspiring Summer Reading List
Adulting is hard.
No, really. This thing we call adulthood with all the bills, the dirty toilets, the dealing with ineptitude in every aspect of our lives… it's hard. Sure, there's great stuff in the middle of it, but parts are just plain hard. Reading also soothes the pain of damaged relationships when you see how others (even fictional characters) work to repair and restore their friendships and family dynamics.
It's my contention that even as adults, we need that feel of a "summer off" the pressures of life, right? A lazy summer read does that for me.
Escaping into a book is how my brain and body work to relax and inspire me.
Seriously! When I see how another author writes a beautiful line of description that encompasses what most would take a page to write… I'm inspired. Sometimes, it's a nugget of truth that pierces my heart and works it way deep into my soul. That inspires me. And other times just seeing where an author takes something when I would have gone a different direction gets my creative juices flying!
Not to mention, once in a while, I get a cool idea to make a new shirt or a card, or some other odd bit of craftiness. Creativity is an amazing thing!
It is a cheap vacation.
No, really! I mean, I'd love to visit all kinds of different places… New York City, Appalachia, Ventura (hey, it's a weakness of mine), or even England, Germany, or Greece. But let's face it. It's cheaper to buy a $14.95 book for each escape than it is to even pay the tax on a trip to one of them.
And, when you're home, home calls to you. But… it's hard to let the guilt of a backyard that needs a good raking (not that I'm that person or anything) get to you when you're reading about verdant meadows, sandy beaches, or even city streets.
Yep. Cheap vacation and days off from household chores. Win/win!
So what am I reading this summer?
Oh, have I got a list for you! I tried to keep this list for NEW books, but a few I just heard of and I can't wait for them. So… here goes! My top 10, gotta-read-or-I'll-go-crazy list for 2018.
Author: Ace Collins
Micro Synopsis: What does a car have to do with the recovery of a kidnapped child? Well, I'm about to find out in this novel that takes place before WWII (or so I think the synopsis says).
Whee!
---
Author: Charles Martin
Micro Synopsis: Two broken people must work together to overcome the troubles of their past until the past rears a second ugly head to smack them down again. Sounds light and fluffy, no?
Well, it takes place in Florida… total summer read right there.
---
Author: Grace Greene
Micro Synopsis: A marriage of convenience becomes heart-wrenchingly inconvenient—or so my daughter claims.
It's a beach book. What's more summer than a beach book?
Did you READ the stuff up there about how I made a fake beach? Just sayin'!
---
Author: Karen Barnett
Micro Synopsis: From the publisher's synopsis, "…Stunning Yosemite National Park sets the stage for this late 1920s historical romance with mystery, adventure, heart, and a sense of the place John Muir described as 'pervaded with divine light.'"
Look. I visited Yosemite for the first time the summer I turned 12. Therefore, what is a better summer read?
---
Author: Pepper Basham
Micro Synopsis: What happens when you combine a reclusive academic, an agent whose heart she broke, and a missing brother over German-occupied France? This book.
It's Pepper Basham. I'm gonna read it. I mean, duh! *fires up the freezer* (See why, HERE)
---
Book:

No

Less

Days
Author: Amanda G Stevens
Micro Synopsis: When a man can't die, there's only one thing to do. Open a used bookstore!
Oh, and find some more people who can't die.
Gotta do that, too.
---
Author: Denver Evans
Micro Synopsis: One man befriends a mermaid and begins a crusade to right injustices.
C'mon… mermaids? Maybe if I love this it'll redeem me with my dear friend, Marla, who loves all things Little Mermaid and I can't really stand her.
*blush*
---
Author: Louise Penny
Micro Synopsis: While this isn't listed as Christian Fiction on Amazon, book 13 of the series WAS in the best selling list in the Christian Fiction category. So I'm going to try this. Because author April Hayman loves this gal. So I will, too. It's a mystery. Someone's gonna die. Someone's gonna find out who did it and why. That's good enough for me!
---

Book: The Theory of Happily Ever After
Author: Kristin Billerbeck
Micro Synopsis: "…the search for happiness may be futile–because sometimes happiness is already out there searching for you."
---
Author: Joanna Davidson Politano
Micro Synopsis: A young woman continues her father's serial novel after his death in debtor's prison.
Mystery ensues.
---
If you could win one of those books, which would it be?
I ask because I was curious about which one appeals to more people and it came out as a giveaway before I realized what I'd done. But I left it.
Because I roll that way. I'll draw a name on June 14. It's my husband's birthday. 😀