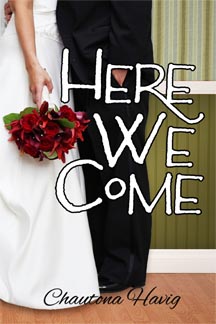 I am thrilled to announce that I made my goal and Here We Come was published on February 29, 2012! It's already showing on Amazon, although the "see inside" isn't there yet and Kindle is still uploading. From the numerous times I've attempted to get it loaded, I'm not sure HOW on earth it'll EVER get done. Wait, that's how I felt about the book a month ago– maybe it's not so impossible after all!
The pre-release was a success, thank you all, and I have a shipment on the way. If you didn't get your copy during the pre-release, never fear, I always keep extras on hand. Just shoot me an email, click the order button on the book's page, or mosey on over to Amazon. It'll take a couple of weeks to hit Barnes and Noble, so if they're your store of choice, you'll have to wait a little bit. Sorry.
I'm a little sorry to say goodbye to the Sullivans and Stuarts, but I do have plans for a book about Vannie and Laird, so that'll keep them from disappearing all together.
Meanwhile, I'm pounding away on the keyboard, determined to finish Everard in March. WOOHOO! I wanted him done in February, but I knew the chances were slim to none. March, however, is absolutely doable.