The first wince came. Because I have a gift (or curse—depending on your perspective. Just call me Monk) for being able to see both sides of an issue, I decided to assume it meant what wasn't actually stated. Because, as we all know, Christianese sometimes uses phrases that are metaphoric.
You know, like "breaking bread" together… when everyone's on a gluten-free diet and there's nothing bread-like at the meal at all!
The second time it was more of a punch to the gut. I wanted so much to like this book, and the initial good impression was beginning a slow, downward spiral. The third… nothing too horrible, but I found myself zipping a message to a friend. Line by line, I shared my concerns.
But I kept reading.
The concept for the book really was wonderful. I wanted to love it. And page by page, little things hinted that I wasn't going to.
Can I just say now that I'm glad I kept reading?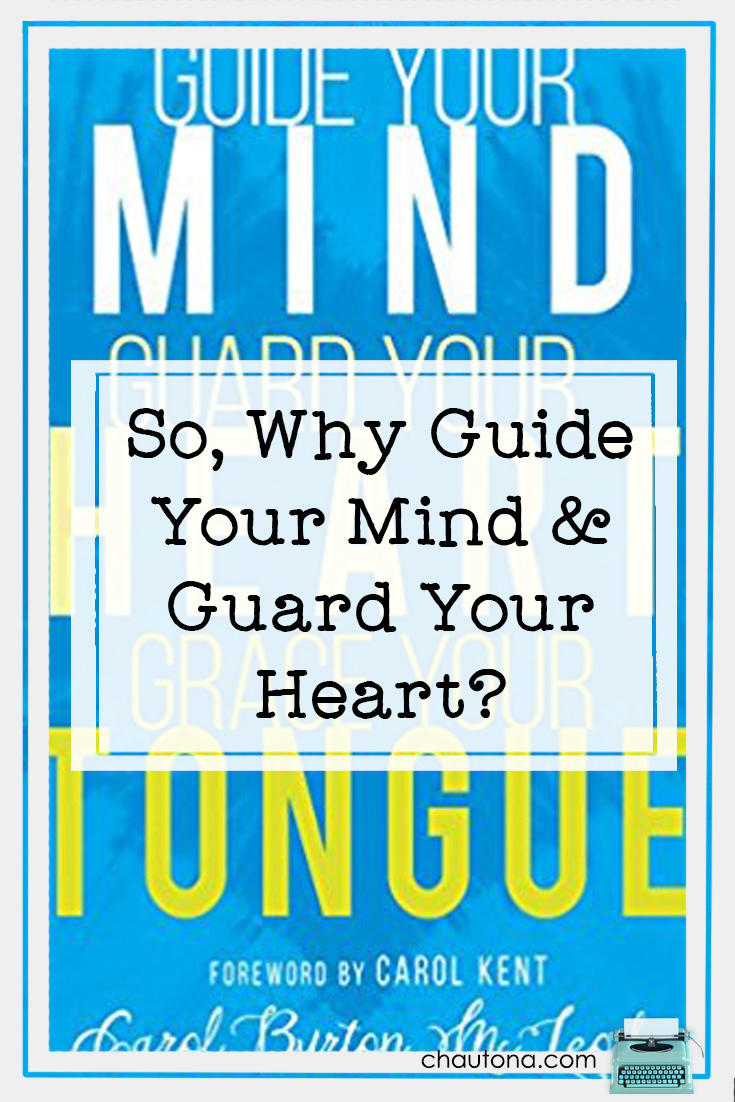 Note: links may be affiliate links that provide me with a small commission at no extra expense for you.
Because like this book reminds us, those are things Scripture commands of us. The Lord has told us again and again how we are to have a clean mind. While reading this book, it occurred to me that maybe that's so that we're able to love the Lord God with all of our "minds."
Guarding our hearts. If the heart of man is wicked and deceitful above all else, and then Jesus washes all that away… why wouldn't we guard it from the filth that we so easily allow back inside if we're not vigilant? It's just common sense!
Gracing our tongues? Well, let's face it. I didn't memorize James in the 9th grade for nothing. You kind of can't read James chapter 3 without knowing what God thinks about not being grace-filled with our tongues.
So, with a rocky start like that, why did I like the book so much? Oh, I didn't tell you that I did? Well, I did. For a short while there, I told that friend of mine that if nothing else, I'd rip out a few really amazing pages and toss the rest of the book. Fortunately, I don't have to do that.
Well, here are a few tidbits that I got from it.
Ms. McLeod tells the story of a friend of hers who gets "historical" about a perceived slight that supposedly happened AGES ago. Apparently, it gets dredged up on a semi-regular basis, and despite apologies and assurances of love and value for the woman, she keeps rehashing the attack. Now the lesson was on mindsets and how they affect how we see things.
But I couldn't get the image of God in heaven out of my head. I imagined Him up there and me dragging up all the things I've messed up over the years. How I keep bringing them up again, and He's still gracious and kind despite having forgiven me for those things LONG ago.
If we're going to speak truth to ourselves about everything, then… well… I need to speak truth to myself about the fact that between us and God, once I've been forgiven, I've been forgiven!
If I mess up with a friend, and that friend forgives me, she's going to get sick to death if every time I talk to her, I beg forgiveness. AGAIN. Why wouldn't I show the same courtesy to the Lord. Be grateful, yes. But seriously…
It wasn't what Ms. McLeod meant to teach me, I don't think, but she did. Thanks!
But one of my favorite parts was so great that I'm just going to quote it here:
"It must be absolute truth alone for you to spend any time at all thinking about it. If you don't know that something is fundamentally true, then throw it in the trash! If you can't verify and justify a certain piece of mental information, then do not spend another millisecond letting it rest in the recesses of your brain. If a thought is not true, then it does not pass the litmus test of belonging in your brain."
Were there any? Yep. But I'll be honest. There aren't as many as I expected after the first few. I kept expecting it to get "worse," and it never did.
What were the problems? Well, here you go. These were a few things that really alarmed me:
First, she wrote as if she expects God to speak to us, outside His Word, and we are to speak those words to others. The way it is described sounds very much like extra-Biblical revelation.
However, later reading on that did make me think that she meant God speaking the Word to us. Then, later on, an anecdote she used about God speaking to her mother could not be her using "God speaking to you" as "Remembering what God said through His Word about this type of situation."
Regardless of which she means most of the time, you have to be careful "who" you're listening to when you start expecting to "hear from God." If it's not in the Word… watch it!
Additionally…
Her section on how with the Holy Spirit, we can think like God does, understand "just as Jesus does," and have "divine creativity," is what nearly made me put the book down. They may have been written with different ideas in mind, but I couldn't help but feel like I was hearing Satan in the garden assuring us that we can "be like God" et cetera. I understand the reasoning behind why she would say that, but I couldn't swallow it.
And finally, her use of miraculous is rather loose to me.
The rest, however? Surprisingly and delightfully excellent. While I wouldn't give this book to a new or immature Christian without some warnings (above), this is one of the best books I've seen on these topics. Most of what she has to say is sound, and I will be going over the above in the Word, with the Scriptures she shared, and I'll be comparing it all to context, the Greek, and what I've previously understood to be truth to be certain that I am not wrong! Because I never want to pretend that I've cornered the market of Biblical understanding!