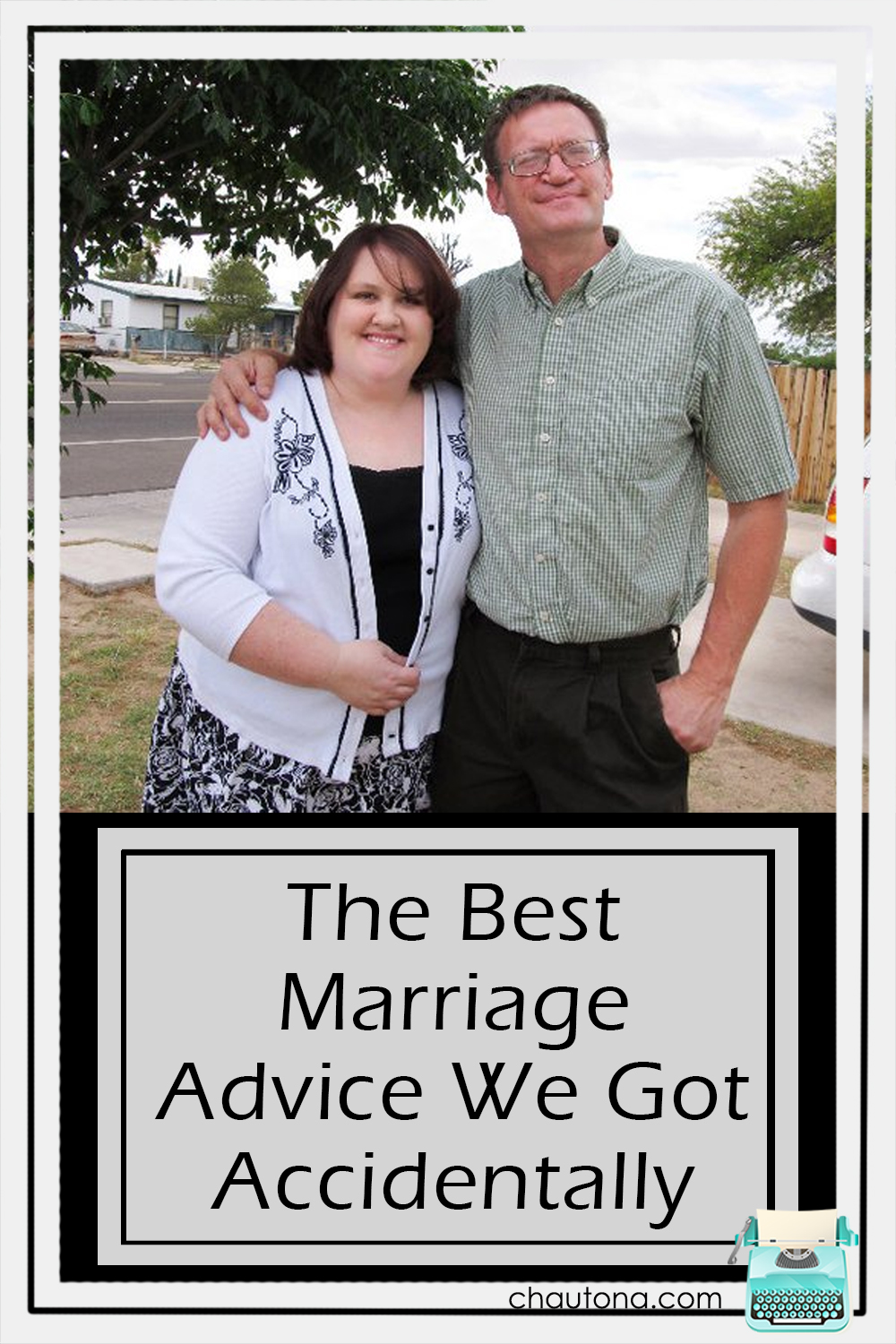 "You guys have something going for you."
I don't know if my fiance said "What's that?" or just looked at him waiting to hear what our genius thing was, but he continued.
"You were friends first. You've got something to hold you together if the romance dies."
Little did he know he was talking to the most unromantic guy on the planet who was marrying the most unromantic gal. But when Kevin told me what our friend had said, it resonated with me. See, I really was marrying my best friend. Did I love him? Definitely. Was I "in love" with him?
Well, I thought so. Or, perhaps a better way to put it was that I didn't realize you could "love" someone without being "in love" in the same way other people talk about it.
Hint: You can. I found that out a couple of months later when my now, husband, broke my jaw in a car accident six weeks before our wedding. Yeah… we're kind of weird. Never could do anything the way we were supposed to.
Our friend just made a casual comment that day–a wistful one. But what I didn't know is there was some serious advice under there.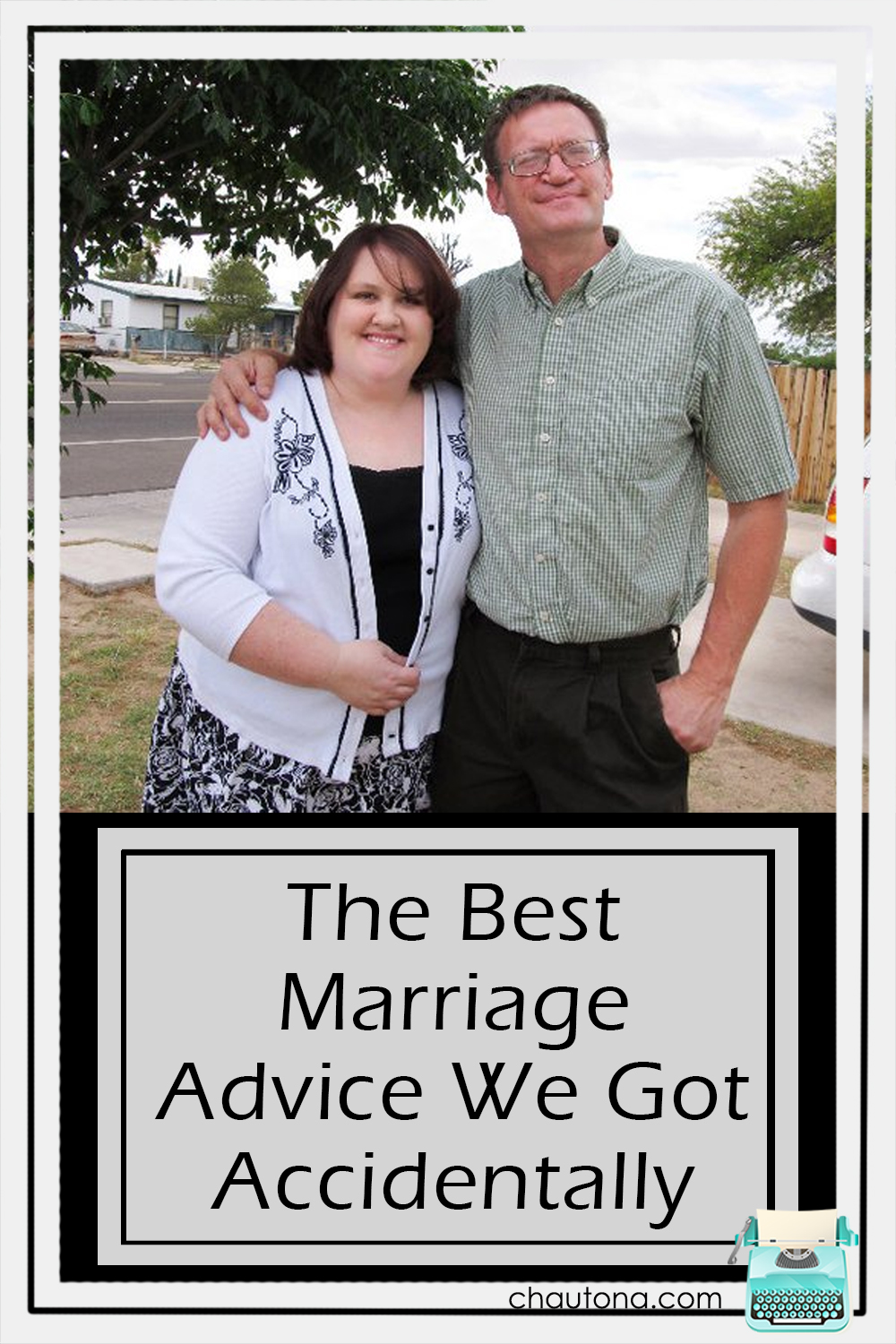 Note: links may be affiliate links that provide a small commission at no extra expense to me.
The Best Marriage Advice We Got… Accidentally
I've thought a lot about it over the years, and it really was unintentional advice. Be friends first (and that counts even after you're married).
The thing is, I've had people teach me that my husband should be my "only" friend. I disagree with that. If I have to choose him over someone else? No question. But while I'd argue that your spouse should probably be your best friend, having a girlfriend (or a guy friend for him) that you can go to now and then… Priceless.
Let's face it. Life fills you with a lot of junk. If I dumped every bit of that junk on my husband in my attempt to sort through and process it, he'd get worn out. I don't want to pile all my junk on him until the poor guy is overtaxed with all my stuff.
Looking back over the last thirty-two years, I see a pattern wiser friends and the Lord have taught me.
First, I deal with issues between me and the Lord.
One of the most important things for me is to work out issues I'm having between just me and the Lord. I find most things are my problem, and if I can get over it without involving anyone else but the only One who is truly equipped to deal with my problems… the better. So, if I have a bad attitude about someone, I take it to the Lord. I talk myself down. I ask myself:
Did he mean to dismiss my concerns?
Did she mean to treat my time as worth less than hers?
Did they intend to rebuke me for something I didn't do?
Did she mean to make me feel like I can't do anything right?
99% of the time? The answer is no. And when you know someone isn't trying to "get your goat," it's easier to move along. But if I'd dumped all that on Kevin? Well, he'd have a lot of baggage to help me sort. That's just not right.
Second, I take things that might concern him to my husband.
If I can't get past it, and it involves something he can help fix, I go to Kevin with it. When we were first married, there were a couple of times I had to dump on him about family issues. Occasionally, it's a friend and I need him to urge me to set up some kind of boundary. Once in a while, it's just that I need someone to vent to who will tune it out when I'm done. He does that well. If it's an issue with something at home, I'll likely bring it to him.
Otherwise, I like to keep things that would weigh him (and therefore us) down off his plate, so to speak.
Everything else, I take to a trusted friend.
Once in a while, this might be my bad attitude about something in my life. Other times, it's a problem I need to solve. The fact is that sometimes women "get" us in a way a guy can't. They claim women talk up to as much as four times as much as men. I've seen studies that both support and refute this, but here's the thing. In my personal life, I see a pattern. Most wives I know say they talk more than their husbands. I know exceptions, of course.
But seriously. If I can unload a lot of those thoughts, ideas, frustrations, etc. on someone who gets me and doesn't feel pressure to "fix it" for me like my husband wants to do… I'll do it.
Am I advocating my process for everyone? Is THIS my marriage advice?
Nope. Not at all. Every wife knows what either is or isn't best for her marriage. If what isn't best isn't this, sure. Try it. If what is best is not doing things this way… then don't! But I do think that tiny bit of advice we accidentally got matters.
Keep your friendship with your husband alive. Because our friend was right. Sometimes all those warm fuzzies just don't come out to play. But if you're great friends with the man you call husband, well… you've got fertile soil to grow in. And if you need help in the "How to wife" department, well, I recommend THIS book.
So why the marriage advice?
Today is the release of my second (technically third) Independence Islands book– Bookers on the Rocks.
Now, these books are supposed to be contemporary romance novels, but… well… this one ended up being more romantic women's fiction. That might have something to do with the fact that my couple is married. I mean, duh!
Tessa and Ross have been married for twenty-five years. They're both happy, they don't argue, no one is having an affair or even considering it, and yet…
Their marriage is on the rocks.
Tessa hates romance. Her idea of romance (like mine, actually) used to be dishes, dinner, and diapers–the triple D. The terrific trifecta. The golden… yeah. You get the point.
In Bookers on the Rocks, I explored what would happen if "the way we've always been" just wasn't enough anymore. Was my point that every couple needs to infuse their lives with sappy romance?
Not hardly.
It was more that we don't want to assume that just because things were great this way 20 years ago means it'll always be great. Sometimes, we need… more. And I explored how that might look and what might prompt it.
Bookers on the Rocks is available… TODAY!
$9.99
eBook:
$4.99
Audiobook:
$12.95
Book 2 of the Independence Islands Series, Bookers on the Rocks takes place on Elnora Island and is a twist on the "On the Rocks" romantic trope.
More info →
I don't know if you can see it, but um… Bookers is available in print, on kindle, and AUDIOBOOK! SQUEE! So excited. It'll take a couple of weeks for it to be available on Audible–they're crawling with the approval process these days–but still. It's ready and it's SO perfect. Christa DelSorbo is AMAZING.
And today is day one of seven celebrating the release. Every author will have a day this week when they will share their best marriage advice. I just get to be first this time. 😀
To enter to win cool prizes, go from blog to blog each week. Every widget is different and offers different prizes. Here's the list:
Get those entries in!