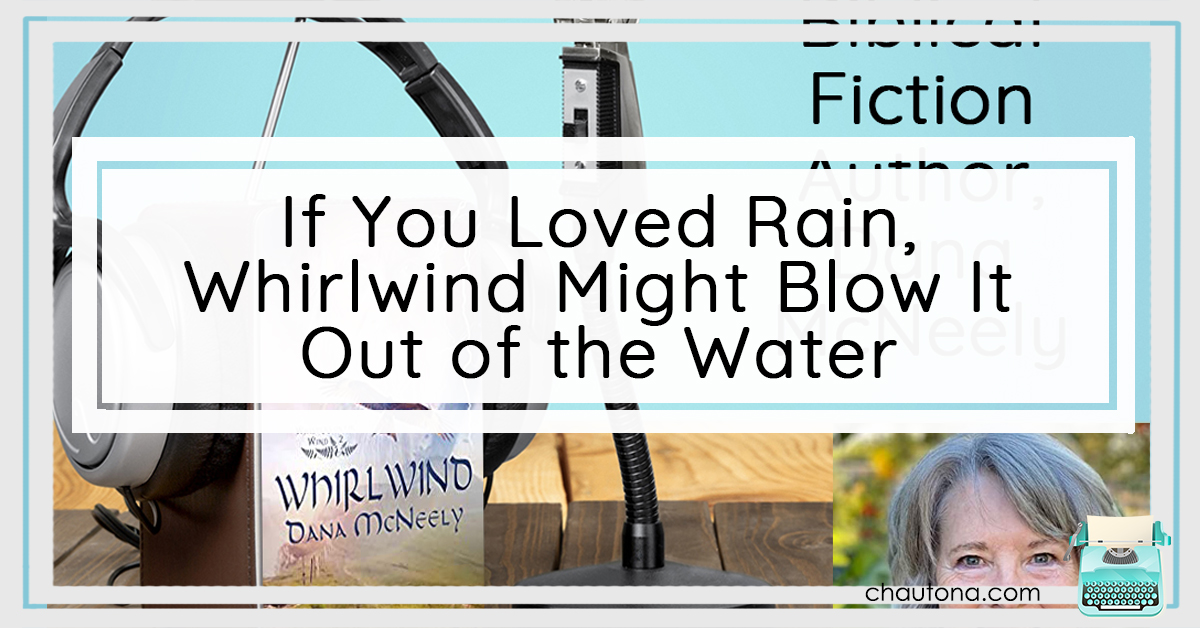 Remember 2020? No not for that reason. I'm talking to Christian fiction readers here. You couldn't blink without seeing a cover–one specific cover–and hearing people rave about the book. Rain by Dana McNeely. Yeah, I was one of those people, and I kept ignoring it. Why? Because I'm an idiot, that's why. Well, and because I thought it was about Noah, and I just didn't want to read Noah. Well, I was an idiot. Wait, we've established that. Forget Noah! Dana McNeely's Rain is all about Elijah and his attack on the prophets of Baal. So to speak.
Note: links may be affiliate links that provide me with a small commission at no extra expense to you.
If You Loved Rain, Whirlwind Might Blow It Out of the Water
Dana McNeely's story of how she started writing, gave up writing, and then God rained literary blessings down on her (and her readers!) is nothing short of beautiful. She talks about the critique group member who listened to section after section until one asked to have a Bible study with her because she thought she was "becoming a Christian." I LOVED that.
From her writing and publishing story to the books she loves to read and even her take on not finishing books if they aren't your thing, Dana was a delight to chat with. Her love of God, His Word, and story shines through the interview, and I for one am anxious to read the book that started it all… Rain so I'll be ready in time to read her second book, Whirlwind.
Whirlwind by Dana McNeely
A king's downfall and a love that transcends war
Spurned by potential suitors, Miriam travels to Jezreel to care for her cousin's son. There, the precocious seven-year-old works his way into her heart. When Arameans swarm the land like locusts, Miriam focuses on the safety of her young ward but promises adventures beyond the city walls when the war ends.
Gershon, a quiet and kind vintner, is happily building a life for his wife, son, and aging parents. But when his wife dies during childbirth and war looms on the horizon, he must make a decision—will he take a new wife before his heart can mend?
Meanwhile, Dov, a young officer crosses paths with the "bird girl" he remembers from the past. That she is a beautiful woman matters not, as he is a career soldier. Unexpectedly charged with leading Ahab's army against the Arameans, Dov anticipates death and defeat in Samaria, but when a prophet pledges victory, Dov vows to fight to the end.
When an unlikely victory brings freedom, a bright future seems imminent. Then one afternoon Miriam witnesses a tragedy and must flee with the boy to keep them both safe. With henchmen on their trail, will they find refuge—and her heart the home she's longed for?
You can learn more about Dana and her books (and sign up for her newsletter for a free book!) on her WEBSITE.