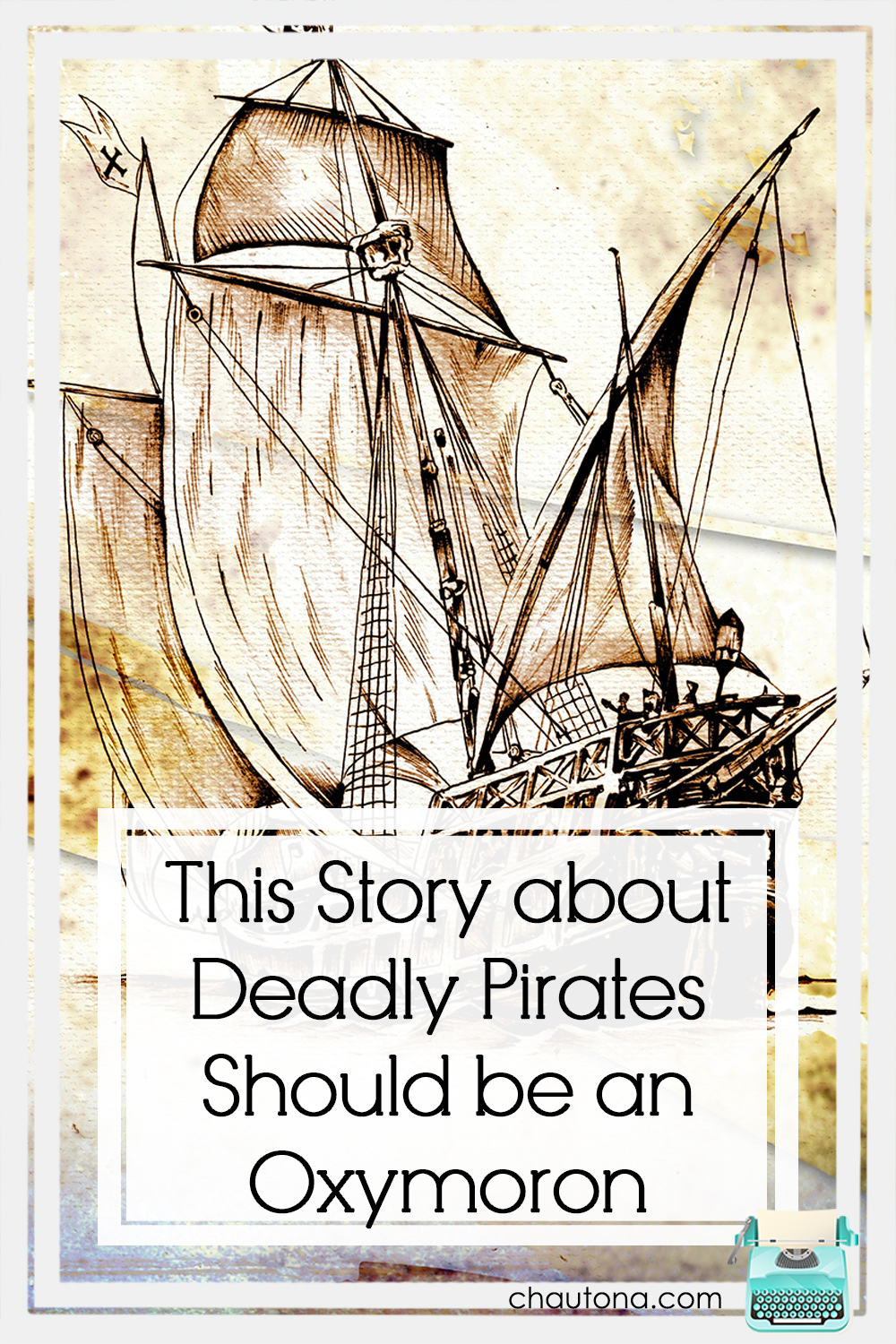 I get my best ideas while driving, in the shower, or (and this is totally my favorite way), over Chinese food.
Way back in the dark ages when people actually went and sat down together in restaurants, a friend of mine and I met up at our local Chinese place, The Golden Dragon, and sat in their French blue vinyl booths (yes, I appreciate the irony of French blue with Victorian floral backs in a Chinese restaurant), Oriental music twanging in the background, and discussed what we'd write for Camp NaNoWriMo.
She was going to do a semi "finding yourself" and semi "romantic something… but not too much" story about a girl named Cassidy. I'd had an idea mulling for a while, but I didn't know how it would work. So, I laid it out there.
"Is it even possible to do Christian fiction and…" I swallowed and prepared myself for a burst of laughter. "Deadly pirates?"
Without blinking an eye, she said, "Sure."
I threw out the idea that might kill the whole thing. "What about if the pirate was bent on revenge? What if he never repented of that?" (remember here… I was just brainstorming at this point).
"Is there redemption anywhere?"
There would be, of course. I knew it. I just didn't know how or where. I mean… redemption. Deadly pirates. Redemption… Deadly PIRATES!
One by one, we created and discarded ideas as the story took shape. I had a ship. The Vengeance. I had a protagonist—a twelve-year-old boy named Sebastian. Hey, we even came up with a plausible reason the boy's dad was bent on revenge in the first place but…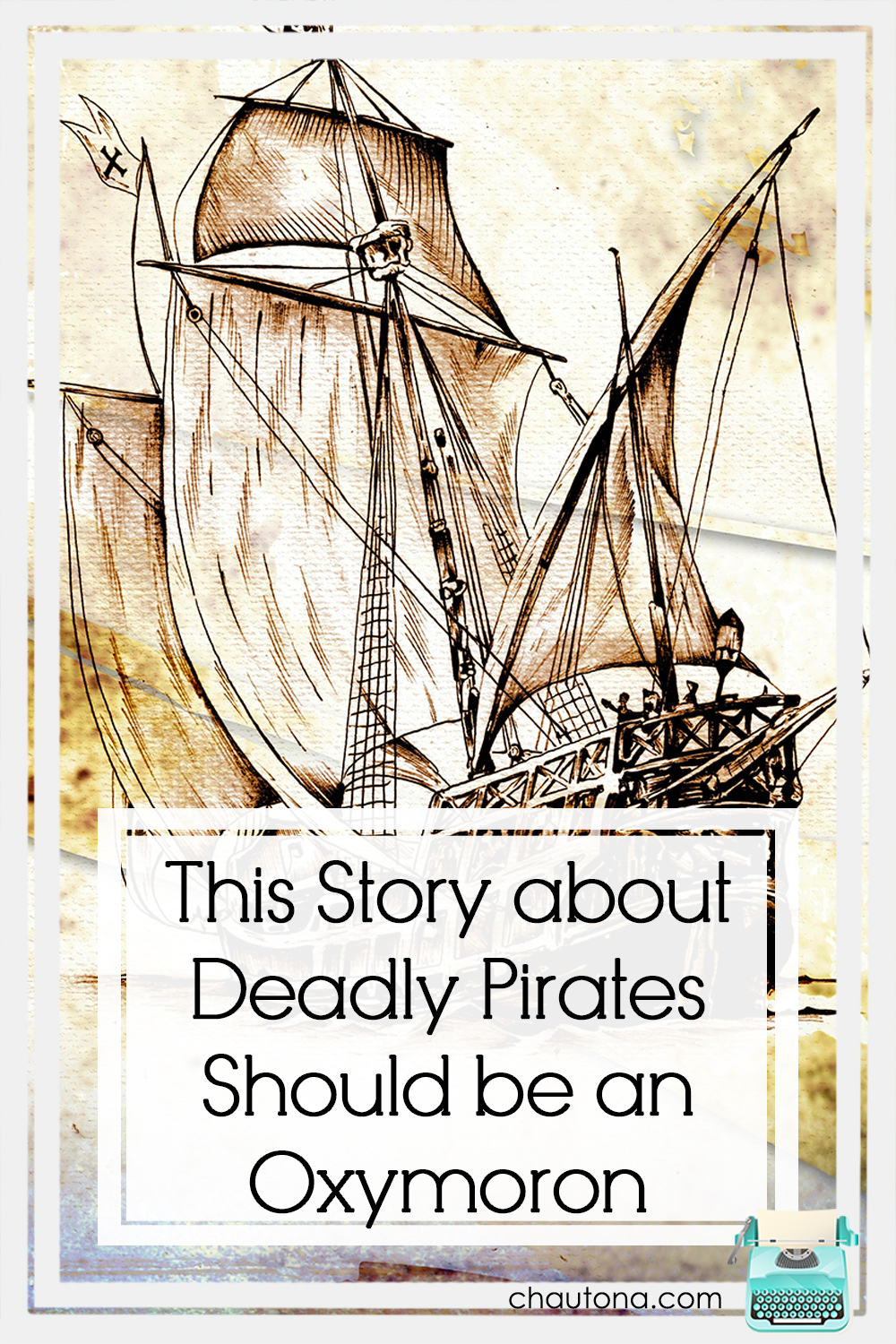 Note: links may be affiliate links that provide me with a small commission at no extra expense to you.
This Story about Deadly Pirates Should be an Oxymoron
Right?
What is "Christian" about vowing revenge on those who have wronged someone? After all, "Vengeance is mine, I will repay," says the Lord. Right? Right?
Confession, I have prayed a few times in my life (I so should not admit this) that I was willing to be the instrument of God's vengeance. I'd do the dirty work for Him if He just gave the okay.
He never has. Thought you oughtta know.
That afternoon, we sat there and hashed out a ton of ideas. Originally, I'd planned to do twists on pirate tropes (and I have and will do some), but what I'd originally begun as kind of a farce—a mockery of all things pirate—became a deep story of pain, love, and redemption.
A legend formed… just a story that one man tells on the deck on becalmed evenings or when there's a rare moment for a break. This sweet Catholic boatswain tells of the fleeing of a Jewish family from London during King Edward I's reign after his "Edict of Expulsion" and during the time of the Spanish Inquisition, no less.
Weaving two stories together wouldn't be easy—not to keep younger readers interested and also not be confusing. However, I imagined the sailors needing that sort of entertainment, and I wanted it to be more than a mention of, "Joe sang and Frank told a few jokes that night." #becauseboring
The only way I could do all of it justice (hmm… interesting word there) was to have backstories for each person—motivations for who each one was and why they joined the ship. Why they were loyal to Nicolo Sorrano. And most of all, why they'd put their lives on the line for a mere pirate's son.
Let me introduce you to a few.
Sebastian Sorrano~
Just twelve, Sebastian hates his life. He wants to live in a village, play with the other boys, learn how to draw and paint—anything but seek out Dutch, Spanish, French, and English ships and capture them before sinking them. It may have something to do with the fact that his father makes him dress up like a girl in case they're captured. But mostly it's the whole killing thing. Can you blame him?
Nicolo Sorrano~
Unlike the "Dread Pirate Roberts," of The Princess Bride fame, Nicolo wouldn't even bother to wait until morning to kill you if he thought he had reason to. He's sailed the Mediterranean waters for ten years, driving away even the Barbary Corsairs at the mere mention of his name (he's more like Mococco in the Gene Kelly and Judy Garland, The Pirate). Deadly pirates? You better believe it.
He has two goals in life—three if he can manage it. First, keep Sebastian alive. Second, stay far away from the feared El Cazador. And wherever possible, be the Robin Hood of vengeance—taking from those who took from others and sealing their fates. He has no use for God, religion, or anything connected to either.
Nicolo has his reasons, of course, and they're rooted in love, pain, and grief.
Jaime~
This sweet young man isn't that much older than Sebastian, but he's as dedicated to the boy as Nicolo. However, he is even more dedicated to the Lord Jesus Christ. He might be under orders not to "share that vile nonsense" with Sebastian, I suspect somehow his stories will get that old story across just fine.
You know, I made a mistake publishing the first one when I did.
I wanted to have something fun for my birthday one year, so I went ahead and published it (I think it was for my birthday!). But I knew my publicist wasn't keen on me working on my youth stories and should have realized she'd steer me from them in the future. Don't get me wrong, she was right about what she told me and when. I really should have stuck with my original plan not to release the first until the third was done and the fourth in progress.
It's been a few years now. Sigh. These need to be DONE. I miss Sebastian and his friends. I want to tell their stories. Instead, I only have a few thousand words (under twenty) into book two. I have all the series plotted out, but plotted doesn't do anyone but me any good.
Want to know something else? There's a certain amount of guilt involved with this book. See, I have lots of series. Spin-offs? "I have twenty! I have whozits and whatzits galore." (Isn't that the song in some Disney movie? Some kid sang it at an audition once, and I've never been able to get that line out of my head. I just can't place it).
How can I write about vengeful pirates when I have Seaside, Madeline, Agency Files, and even other youth books like Tales of the Ashdowne to write? When I have CASSIE to write?
I'll confess, though. I want to write about deadly pirates that have now moved to the Caribbean.
You know, like most of my "youth fiction," these books tell a story most adults enjoy. Some of the plot points are going to go over younger kids' heads. I don't care. When I was a kid, I loved rereading something a few years later and going, "Ooooh!" I want that for my books, too.
If you've not given Legends of the Vengeance: The First Adventure, a try, it's free through Tuesday, May 12. If you already have it, please delete and redownload. I changed the formatting so I could get rid of all those italics for the story sections. It'll be so much easier to read now.
And as for that oxymoron thing?
Well… maybe it should be. But then isn't that what we are? Oxymorons? We're dirty rotten sinners who, because of the blood of Jesus, appear pure and spotless before a holy and almighty God. If that's not an oxymoron, I don't know what is. And if my little pirate story can show that paradox in some small way, well… praise the Lord for that, too.