See that gal ^^^ up there?
Yeah. Her. I've been her. I've scrolled through Amazon and found a great-looking book. The synopsis gripped me, the cover looked crisp and inviting, and the negative reviews (that's where I start) said things like, "It didn't download right" or "The author thinks people actually listen to disco today. What an idiot!"
So, I downloaded the book, started reading, and kicked back… Then, just as the story began to really ramp up, that sinking, sick feeling hit my stomach. I knew it was coming, and with the turn of a page or the swipe of a screen, there it was. My Christian fiction book just went from "on the edgy side" to "smut 101."
Smut in fiction is a pet peeve of mine. I don't care if it's Christian or mainstream.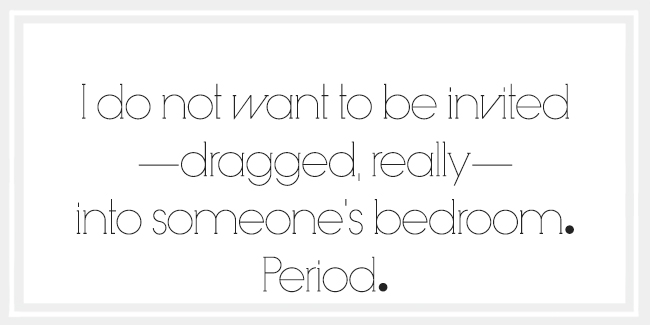 I don't want to be intimately familiar with some fictional guy's lips, body, or his girlfriend's either. If the story has premarital sex, well, it better have a reason, and it better not be whitewashed or glossed-over as if it's perfectly okay for Christians, even fictional ones in a novel, to ignore God's explicit commands. In a word, I don't want to paint my mind with smut.
Look, I get that Christians often read the same books of the Bible and get seemingly opposing ways to apply it. And, half the time, that makes sense. We're given principles to follow but the methods (thank you Douglas Wilson for that differentiation) are often left to our discretion.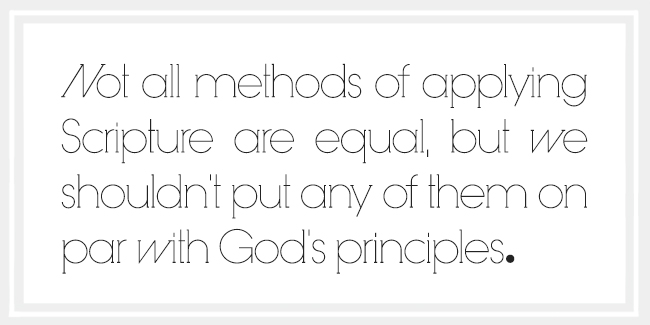 So, when Scripture forbids sexual immorality, forbids sex outside of marriage, forbids physical and emotional fornication and adultery, there's not a whole lot of leeway for making these things acceptable. We can't rewrite scripture to our purpose.
But what's an author to do? I write Christian fiction. I write it to encourage the body of Christ as I stated in THIS post. And sexual immorality is rampant in the church today. People live together, unmarried, and the people they sit next to on Sunday treat it as absolutely normal–okay even. So to pretend this isn't happening around us doesn't do much to "stimulate" my readers to "love and good deeds" a la Hebrews.
Therein lies a quandary.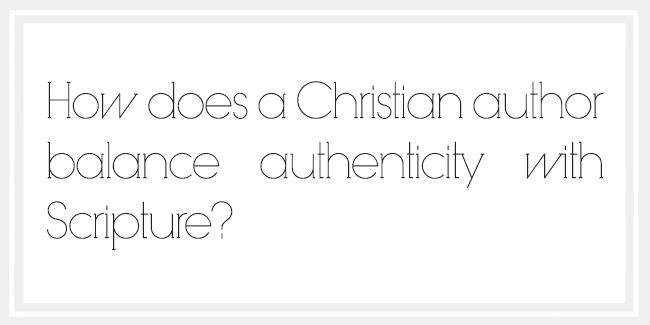 How does she keep her books clean enough–free of smut enough–to pass the "if a kid picks it up, it won't give them an education they should only get from parents" test while still "keepin' it real"?
I doubt you'll like my answer. I know I don't. But, I'll tell you anyway. Because I think it's important. So how am I supposed to keep that precarious balance?
I haven't a clue.
I just keep going and praying the Lord will stop my fingers if I head the wrong way.
There is a clear, delineated line for me as I write. Sometimes, to keep things authentic, I deliberately move extremely close to it–well, in my opinion anyway. Most consider my ideas of what is risque to be pretty tame. However, I have to write within my comfort zone. After all, I'm going to be the one who answers for what words I put on a page. (James 4:17 fits here nicely).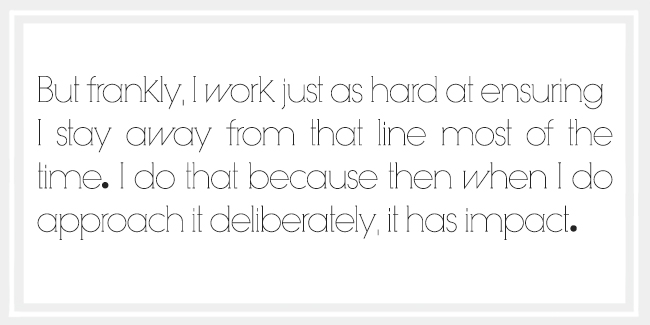 If I'm always edging one toe closer… and another. If my little toe slides right onto it half the time, then when I stand solidly on it, you'll hardly notice.
I try to think on Philippians 4:8 (after all, it says to, right?) I don't discard truth (that people do ugly things) because it's not lovely. I just want to make sure that I keep them balanced. I want to write books that, while authentic and show the frailty of humanity, never glorify when men or women wallow in the muck of sin. I want to show that muck for all it's worth, but I never want to drag the reader through it.
So, 95% of my books I'd hand to any person of any age without a wince. But I do have two or three that I always offer a caveat for. Why? Well, because they include hard truths that aren't always age appropriate. I considered not writing them, but there was a strong point to it each time–a reason. And, I guess that's the point, isn't it?