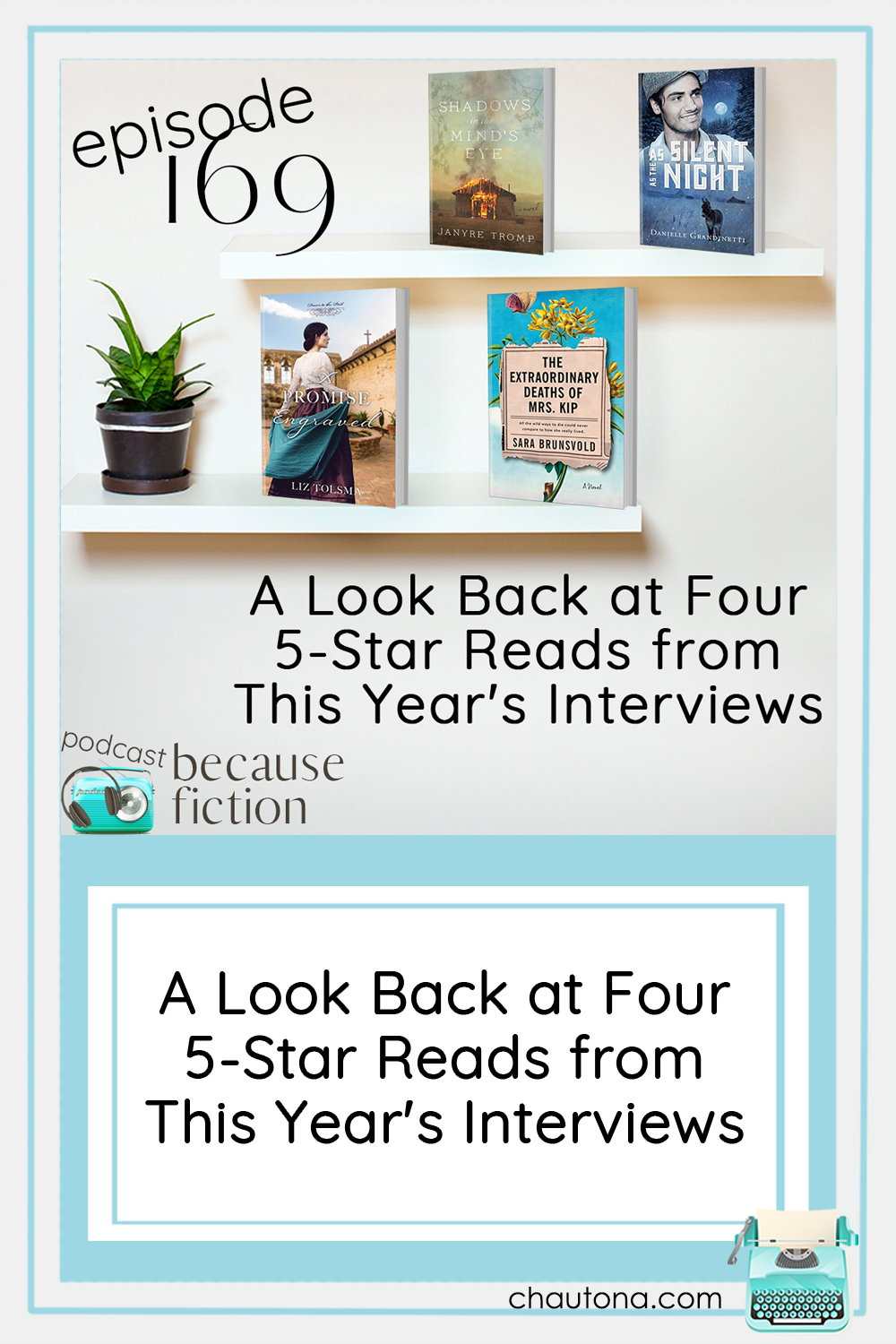 When I started this podcast, it was a way for me to just get to chat about books, especially 5-star reads) with anyone who would listen. I pictured occasional interviews with authors or reader chats (still don't have any of those… sigh), but I wanted a place to just gush about all the bookness.
Well, interviews have taken over quite a bit, but I keep pushing back a bit because I still want to talk about the books I loved and why I loved them. I've had some great 5-star reads this year–more than any other year, I think. And so I decided to start a "series" of episodes where I revisit some of the books from author interviews and give my double coppers on them. The first four–total 5-star books, but I doubt they always will be. Maybe so, though.
Christian fiction gets better every year. EEEP! Just the way it should be.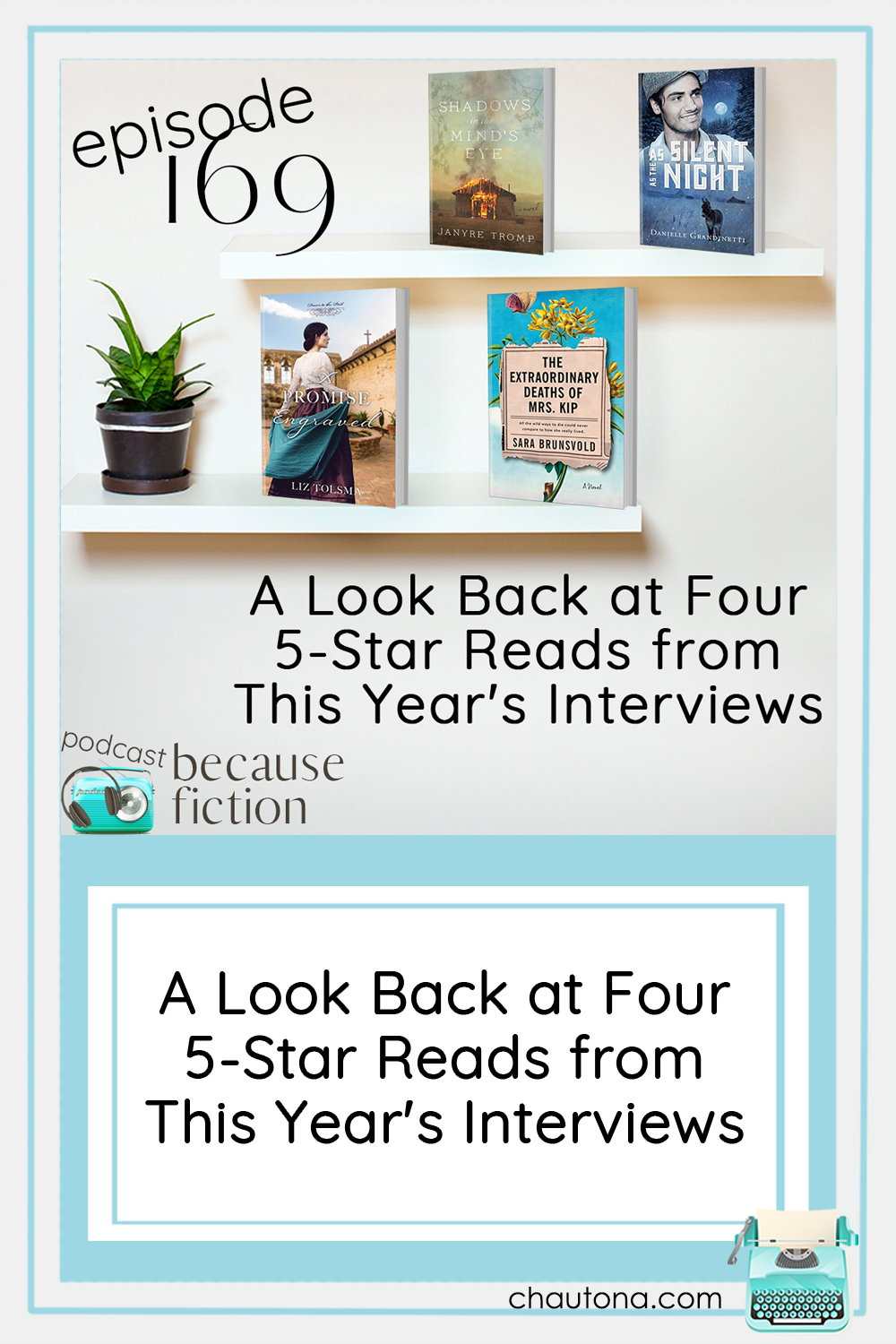 Note: links may be affiliate links that provide me with a small commission at no extra expense to you.
A Look Back at Four 5-Star Reads from This Year's Interviews
I just want to point out that these are not the ONLY reads from this year's interviews. There have been more before and after these, but I realized too late that I chose the first four that I'd read that followed my "Favorites of 2022 so far" episode. The interview JUST before that is another one I need to do. So take these out of order just because they're great books and you need to know more about them!
First up: Janyre Tromp (Episode 129)
Post WWII, a soldier returns home to find the corrupt town that he left is even more corrupt than before. Add to that PTSD the twists and turns, the making me doubt… it's a wonderful debut novel (one of TWO on this list, btw!)
One thing I didn't mention in the interview was the brilliant DEEP POV of the characters. It was definitely an un-putdownable book. I cheated on "how I usually read books" and um… yeah. Read a few more a time or two.
If you'd like to read my review, you can find it HERE on Goodreads.
After that, I did a "How I choose five-star books" bit so you'd understand how I pick a 5-star read."
Next: Danielle Grandinetti (Episode 131)
While Episode 131 focused on A Strike to the Heart, which I haven't read yet, Danielle Grandinetti also discussed her Christmas novella As Silent as the Night.
Mob-controlled Chicago in the 1930s is a dangerous place for many reasons, and for Lucia–terrifying ones. This is Christmas fiction "with a bite."
Suspense, crime, romance… it's got it all and in a novella that doesn't feel rushed (although I did not want it to end. Nope. Nope.
My Goodreads review.
Then came Liz Tolsma (Episode 142)
I've loved all (I think) the Doors to the Past split-time novels that I've read, and this was definitely my favorite. The Alamo isn't always my favorite story, but Liz Tolsma really did a phenomenal job writing both time periods.
Her contemporary story focuses on border patrol and the terrible position the workers are put in as well as how hard it is for all persons involved.
But the historical part… it completely overtook things. One thing I thought was great was that both stories were complete in themselves but all the richer by adding the element that tied them together.
You can read my Goodreads review HERE.
The Extraordinary Deaths of Mrs. Kip
So far, I think this is my #1 book of the year–the second 5-star DEBUT novel so far. I'm so impressed by the depth and richness of this story. Mrs. Kip was an amazing woman, and her life inspires readers in amazing ways.
I'm not a crier. Rarely cry, actually. But I actually teared up a few times in this book, which I think is pretty impressive.
In the words of Kathleen Kelly's mother (from You've Got Mail), "Read it with a box of Kleenex."
To read my Goodreads review HERE.
I suggested that for more information about Mrs. Kip and the other books I've mentioned, you visit Avid Readers of Christian Fiction on Facebook.
Stay tuned for Tuesday's interview with Amanda Wen!