It was one of those books. The ones that you see everywhere. When someone says, "What should I read next?" it was the first recommended. Almost every day someone said, "I'm reading A Rumored Fortune and it's sooooo good!"
I had Joanna Davidson Politano's first book, Lady Jane Disappears. It'd been sitting on my TBR shelf for months. But, when I saw people raving about A Rumored Fortune, I took a chance and snagged a copy of it, too.
I just hoped I wasn't setting myself up for disappointment. That had happened before, you know. I was probably the only "book dragon" in the world that didn't like that one, but the worst part of it was that the author could write. I'll say it again. Bethany Turner can write.
But could Joanna Davidson Politano?
That question kept the book on the shelf for months. Every time someone asked if I'd read it, I'd say the same thing. "I'm afraid to."
Then it was time to choose my next "fun read." I gave that job to #7daughter. She picked A Rumored Fortune. I'll admit it. I almost said, "I should start with the first one." But I didn't. Since I asked and she picked it, it was time. As stand alones, I didn't need to read one before the other.
By the third chapter, I was done. It wasn't that I disliked the book, but I was disappointed. Again.
The only thing that kept me going was a nagging feeling that I wasn't being fair. And it reminded me of something.
I tend to avoid the popular.
As a girl, it was because I never liked what was popular. I just had differing tastes from what the crowd loved. It became a habit, that avoiding the popular stuff.
Then it became a self-righteous choice. As if somehow avoiding what others liked was somehow spiritually superior. Yeah. I know how stupid that is.
Trust me, I know.
Like most thunderpuppies, I grew up. And I learned that popular doesn't equal "not my taste" nor does it equal sinful. But something else came that I hadn't expected.
Disappointment. Because you see, when I learned that some of the popular things in life are great, I began to expect things to live up to their hype.
Big mistake. Huge.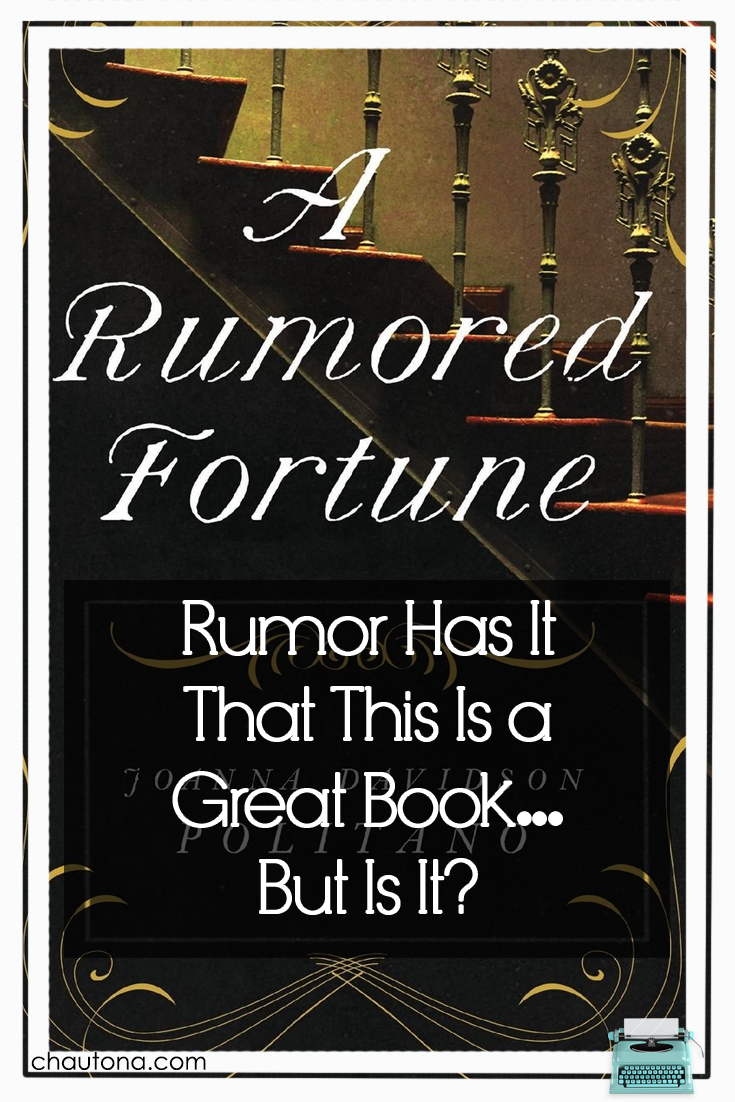 Note: links may be affiliate links that provide me with a small commission at no extra expense to you. This book was NOT a review copy. I purchased and chose to review because I love to read. 🙂
Rumor Has It That This Is a Great Book… But Is It?
Up until one-third of the way through the book, I would have told you no. Unlike the stories of "not able to put it down," I was able to walk away for days at a time while I did other things. However, it did call me back.
And then I hit that one-third mark or so.
Look, I don't know if the book just got better, or if my expectations became more realistic, or some combination of the two. What I do know is that at some point, I hated having to walk away. I loved guessing things and being right… and wrong. The characters called to me, the setting was perfectly, delightfully creepy (without being overdone) and the result…
A book that (mostly) lives up to the hype.
Plot? Excellent.
Characterization? Spot on for every last one.
Description? Never too much or too little.
Twists and turns? Enough to please the most discriminating reader.
But the best part of this book?
The deep, heart-pricking, soul-searching spiritual lessons that kept me aching to turn the page for one more nugget.
Each chapter opens with a "note" from a vintner. Those nuggets read much like what you might expect the Biblical Solomon to share if he wanted to leave a book of proverbs inspired by the vines.
Watching others live out their faith—making mistakes and holding fast when waves threaten to dash them against the rocks of life's shore… achingly beautiful.
Look, until I started writing this review, I'd planned on giving it a solid four stars. I liked it. A lot. But I just "liked" it. I thought.
Yeah, not so much. The more I ruminate and ponder those lessons, those characters, those nuggets in my heart, the more I love it. Like Tessa, it's a slow-growing love, but it's solid. Real.
I'm so thrilled I wasn't disappointed again. Because this book? This one lives up to the hype. A five-star hype after all.
Recommended
for anyone who loves historical fiction, suspense, mystery, and deep, spiritual lessons that don't get preachy.
Title: A Rumored Fortune (link to the paperback because it's less than .50 more than the Kindle)
Author: Joanna Davidson Politano
Synopsis: Tressa Harlowe's father did not trust banks, but neither did he trus
t his greedy extended family. He kept his vast fortune hidden somewhere on his estate in the south of England and died suddenly, without telling anyone where he had concealed it. Tressa and her ailing mother are left with a mansion and an immense vineyard and no money to run it.
It doesn't take long for a bevy of opportunists to flock to the estate under the guise of offering condolences. Tressa knows what they're really up to. She'll have to work with the rough and rusticated vineyard manager to keep the laborers content without pay and discover the key to finding her father's fortune–before someone else finds it first.
Award-winning author Joanna Davidson Politano welcomes readers to Trevelyan Castle, home of the poorest heiress in Victorian England, for a treasure hunt they'll not soon forget.
So tell me.
Did you read A Rumored Fortune? Did you like it? Should I read Lady Jane Disappears next? Well, after Caught by Surprise by Jen Turano, which is the book that my husband chose next.