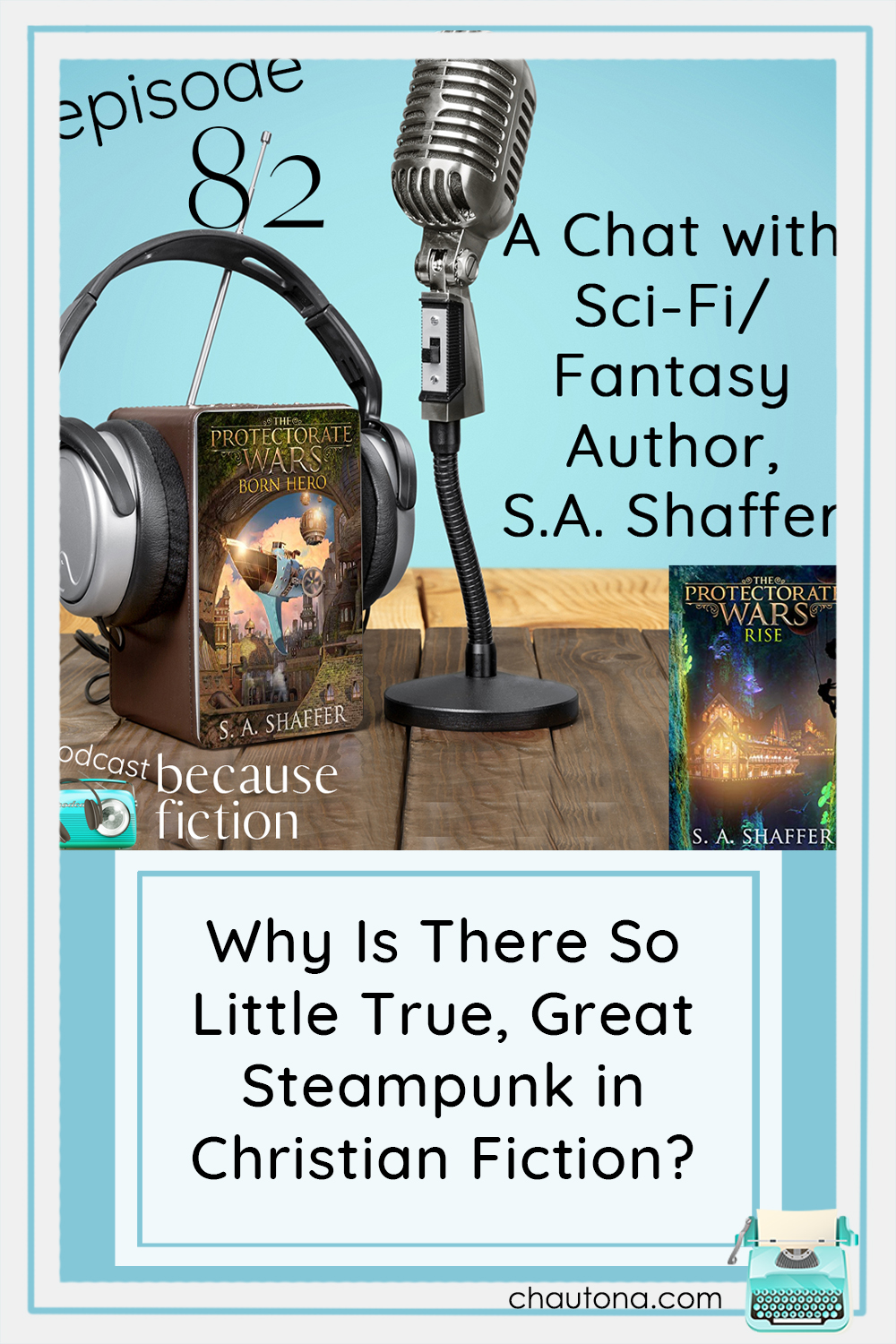 S.A. Shaffer writes what some would call "classic steampunk" adventure, but as we discussed in the opening of our episode, that genre has shifted since the days of Jules Verne. So while his books fit the classic definition of the genre, he classifies them as "sci-fi/fantasy" to ensure readers find what they're really looking for!
And his books are AMAZING. Available in print, on Kindle, and audiobook with a brilliant narrator, The Protectorate Wars features rich characterization, fabulous settings, and the adventures and changes of a lifetime. You don't want to miss this discussion OR the giveaway for audiobooks at the end!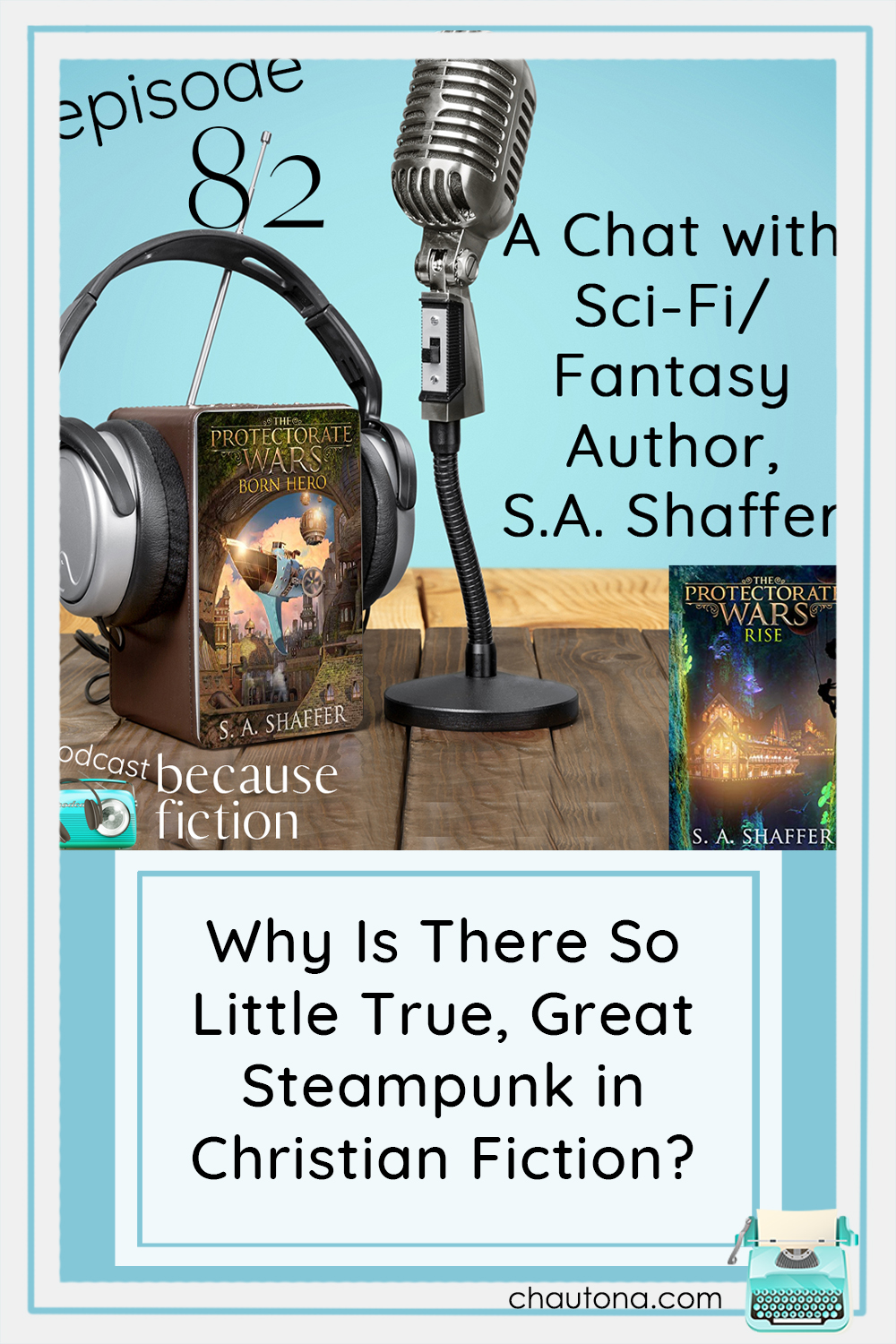 note: links may be affiliate links that provide me with a small commission at no extra expense to you. Thank you Michelle Griep and her book Lost in Darkness for sponsoring this episode.
Why Is There So Little True, Great Steampunk in Christian Fiction?
S.A. (Stuart) Shaffer and I discuss why and Stuart offered several valid points. Between the uncomfortable use of the word "punk" and the glut of sensual romances set in a steampunk setting, Christian authors may not like to have their books classified as such. In fact, Stuart puts his under sci-fi/fantasy for that reason. I had to throw out there that author Tabitha Bouldin has an Alice in Wonderland and Frankenstein mashup coming next year. STEAMPUNK!!!
I began reading Born Hero before our interview, and man! I LOVE what this book is doing. I'm not done yet, but I know what the grandkids are getting for Christmas. Since book three in the series is slated to release by then (crossing fingers and saying prayers!) I figure the series will be a perfect gift.
Especially if I get the game Scythe to go with them. Stuart says it is a great fit for people who love his books. What a combination, eh?
In addition to the genre in general and his books in particular, Stuart talked about another book he recommends (especially in the audiobook!) Dawn of Wonder by Jonathan Renshaw.
He mentioned it because of the brilliant show of how faith impacts characters' lives in that book.
Let's just say that after talking to him about faith in fiction, I suspect he does a fabulous job himself in The Protectorate Wars.
Oh, and mini, itty-bitty spoiler? Book one, Born Hero ends on a cliffhanger. Have book 2 ready to go!
About S.A. Shaffer's Steampunk/Sci-fi/Fantasy series:
#1 Bestseller in STEAMPUNK FICTION and RELIGIOUS SCIENCE FICTION & FANTASY
It's an uncertain time in the Fertile Plains. Sixty cycles have passed since Alönia won The Protectorate War, but time and conflict have eroded the security gained through that great struggle. As Alönia wades through internal squabbling, David rises above his tragic childhood and earns a place as an aide to a powerful politician. Only time will tell if he can overcome petty disputes and uncover a hidden enemy before everyone he knows is dead.
Embark on an airship adventure. Feel the wind in your hair as you soar through the clouds. Solve mysteries, forge friendships, and watch an ordinary boy become the hero he was born to be.
Learn more about S.A. Shaffer on his WEBSITE.
And we have a WINNER for the audiobook! Andrea Conner!
I'll send your code as soon as I find what I did with them!
If you'd like to be on the Because Fiction Podcast, please go HERE and submit your topic idea! I'd love to hear about it.