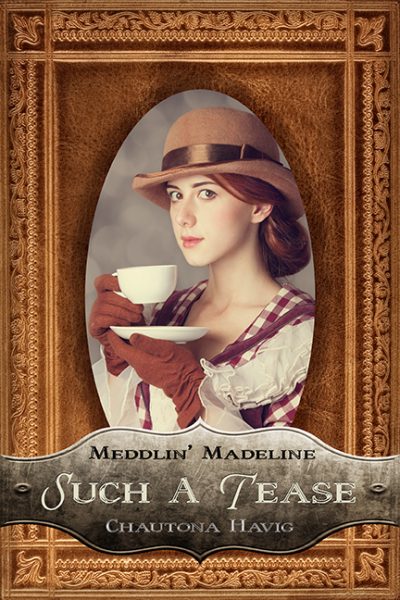 In Such a Tease, Madeline, with a little assistance, discovers her old adversary is gaining a following in Rockland! Can she expose him for the fraud she's sure he is?
About the Book
Such a Tease

:
In book two of the Meddlin' Madeline series, Madeline Brown has a new endeavor to occupy her time. But is it to keep her out of the way or a reward for her work in Sweet on You? With the help of her young friends, Madeline discovers her old adversary from Sweet on You is gaining a following in Rockland! What's a girl to do?
However, her new position also gives her opportunities to observe. And what she sees sets more than one new investigation in motion. What does her old suitor, Delbert Jackson, know? Why is Mr. Merton giving important papers to that scoundrel, Vernon Smythe, and whatever happened to poor Abigail Cooper?
Add to these intriguing questions Henry Hardwick's continued attentions, Edith's newfound devotion to the temperance movement and Madeline's determination to find her a more reliable suitor, and strange behavior from her Aunt Louisa and things heat up as summer fades from Rockland.
Unfortunately, her dear friend, Russell, busy with an important project at work, finds himself unable to help keep her out of trouble and away from danger. Is Madeline going too far? Will her meddling get her in serious trouble this time, will it destroy her reputation irreparably, or will she rid Rockland of a scoundrel once and for all?
** I recommend that those outside the US consider purchasing through Book Depository. They ship worldwide–FREE! **
Other Books in "Meddlin' Madeline"