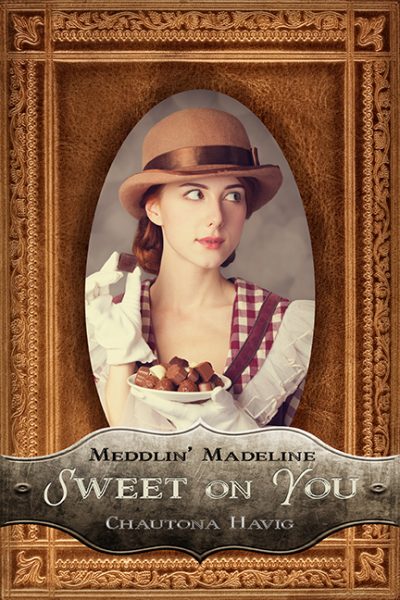 Sweet on You--Madeline Brown discovers that despite the best of motives, meddling in the affairs of others isn't always appreciated.
About the Book
It is my hypothesis that social conventions are created to test our fortitude.
Rockland circa 1900-
As the mayor's daughter, Madeline Brown enjoys a rich social life that many might envy. But a sharp mind but a growing talent for observation leaves Madeline torn between avoiding social censure and exploring the world around her.
With an aunt who considers higher education and employment equally unsuitable for the mayor's daughter, there is little to amuse her save endless committee meetings, evening socials, and her favorite pastime: curling up with an exciting detective novel. The temperance and suffrage movements hold little interest for a young woman who has just endured the rigors of her father's mayoral campaign.
So when a young man shows interest in her friend, Madeline's interest piques–until his actions hint that he might not be the upstanding gentleman everyone presumes him to be. Unable to ignore her concerns, Madeline finds herself in the middle of an investigation into his character and discovers a side of Rockland she's never encountered.
Will her new hobby reduce the tedium of her life, or will her "meddling" create tension for herself and her father? Will she be forced to squelch this budding skill of hers or has Madeline finally found her calling in life?
Meddlin' Madeline: Sweet on You.
Welcome to Rockland's infancy.
Sweet on You is the first book in the Meddlin' Madeline Mysteries. Watch for the second book in the series, Such a Tease, in winter 2016/2017
Madeline has a new endeavor to occupy her time, but is it to keep her out of the way or a reward for her work in Sweet on You? With the help of her young friends, Madeline discovers her old adversary is gaining a following in Rockland! What's a girl to do?
Russell, busy with an important project at work, finds himself unable to help keep her out of trouble and away from danger. Is Madeline going too far? Is her meddling going to get her in trouble, or will she rid Rockland of a scoundrel once and for all?
Other Books in "Meddlin' Madeline"