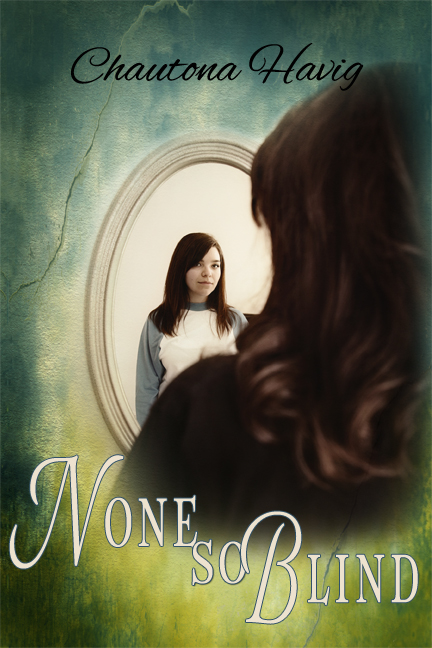 Lost in a mind without memories, Dani Weeks fights expectations, desires, and doubts to rise above her unusual and heartbreaking situation. Fully aware that she could walk out on her family with no regrets, her husband, David, must fight to save his marriage and get to know the woman he vowed to love until death.
About the Book
None So Blind:
Dani and Ella Weeks–two women who share one thing in common. The same life, the same family, and the same body.
When Dani wakes with no knowledge of who or where she is–no memories of her life at all–David and Dani Weeks discover that "til death do us part" takes on an entirely unexpected meaning. Practically speaking, Dani died. But she didn't.
What's a gal to do?
In a desperate attempt to separate the old life from the new, Dani insists on a new name, a twist of her old one–Ella.
Ella's doctors can't explain what happened. Her children can't understand why she doesn't know them. David, her husband, finds himself torn between admiration for the "new" version of his wife and missing the woman he's known for over fifteen years.
Will Ella ever regain her memory? Why does their pastor suspect it's one great hoax?
What readers had to say:
The characters draw you into their story. It feels so real, I'm ready to pack up & move. 😉 in this book, NONE SO BLIND, you get a good, understanding look a counseling & counselors – secular psychiatric, Christian ministerial, the struggle for wise Biblical, some not so wise, and being a faithful friend when you see someone heading in the wrong direction. I enjoyed the depth of the characters (move over Mr. Darcy, David Weeks is pretty amazing!), getting to better know & spend time with 'friends' from Ms. Havigs' other Rockland/Fairbury/etc. books, and of course, the story itself. I have yet to read a book by Chautona Havig that hasn't uplifted & encouraged me personally & spiritually.  ~Sarah

How did Chautona Havig even come up with this scenario? To wake up one morning to see some heavyweight, frumpy person in the mirror and know that it wasn't you must have been an awful shock. To not remember one's children, husband, parents or anyone else is mind boggling! To see Dani (Ella) come to terms with herself and relearn most of her skills and at the same time learn to love and trust her husband and children was amazing to watch unfold. All of the work she put into remaking herself into the person she originally saw in the mirror made me think about remaking myself as well.

I think many of us would like to wake up one morning with the ability to remake and rebuild who we are. We could all take a page from Ella's book and start working on exercising and eating healthfully in order to become new and better selves. I highly recommend this book to people who enjoy something out of the ordinary. The plot is one-of-a-kind; never have I read anything quite like it before and I have read a ton of books! Thanks, Chautona, for writing a book that made me think about my own life and how I can make it better.   ~Knitting
The Book Trailer:
And the Book Chat video… why I wrote it, about the cover, and all that cool stuff.
** I recommend that those outside the US consider purchasing through Book Depository.
They ship worldwide–FREE! **
Other Books in "Sight Unseen Series"