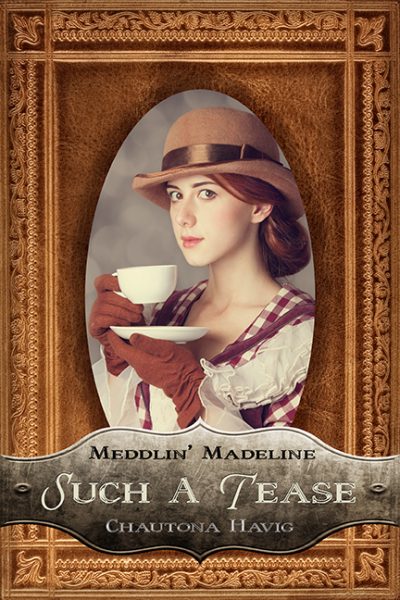 In Such a Tease, Madeline, with a little assistance, discovers her old adversary is gaining a following in Rockland! Can she expose him for the fraud she's sure he is?
More info →
Excerpt:
With its marble floors, elegant gas chandeliers, mahogany woodwork, and hushed tones of patrons and employees, Merton's Bank & Trust possessed an air reminiscent of a library rather than the most prominent and prestigious financial institution in Rockland. Madeline Brown stood at her post behind the high counter of her teller window and recorded a transaction in her best penmanship before passing the booklet back to her customer. "Thank you, Mr. Ellison. Have a lovely afternoon."
A smile formed at observing her aunt step back and insist that the elderly woman behind her take her place at Madeline's counter. Avoiding me, dear Aunt Louisa? How passé of you. And after such a lovely month together up at Lake Vienna.
The elderly woman offered her passbook and withdrawal slip. "Good afternoon…" Madeline checked the signature on the slip. S. L. Devon. "Mrs. Devon. How may I help you today?"
"I'm here for the monthly housekeeping." The woman dropped her voice to a hushed whisper. "I attempted to get it yesterday, as I always do, but the streets were impassable—parades and I don't know what!"
As she worked to record the slip, stamp the book with the date, initial the proper box, and count the half-eagles and silver dollars into the woman's hand, Madeline sympathized. "I found it rather loud and stuffy—stifling! Did you know that it was recorded at ninety-two! I almost wish we'd stayed up at Lake Vienna."
"Now that does sound rather lovely. Harold used to take us up there for a week each year."
"Coming home, we could feel the heat the closer we drew to the city, and then two days later, the streets are packed with people for this new Labor Day parade."
Mrs. Devon tucked her coins and the proffered passbook in her bag and shook her head. "I don't understand the need for the noisy band and crowding onto the streets just to watch a bunch of men march past."
"I did attempt to join in the spirit of the thing, but the heat…" Madeline leaned forward and added, "But after the men passed, it was a lovely parade. There was a little circus, and Papa rode in a motor car with buntings and everything!"

Louisa Farnsworth passed the window just at that moment and gave a decided sniff. Madeline understood her meaning as if it had been shouted and echoed through the bank lobby. "You are making a ridiculous fool of yourself behind that counter. No man worthy of your notice will consider such a modern and unladylike girl!"
"Worthy of my notice." She truly believes that. Sometimes I think she reads too many novels about the British aristocracy.
Despite her mental mocking, and the expectations she'd placed on her new position, Madeline had learned one thing in her five hours as a bank teller. The work was decidedly tedious. She had, however, discovered three more interesting tidbits of information. Confirmation of the first came when the bank manager appeared to check her work—again. At first, she'd suspected—and frankly, still did—that he didn't approve of young women working in a financial institution. His frequent checks of her numbers had driven her almost to sarcasm.
But further inquiry had taught her a bit of the Canadian banking practices, and Mr. Selkirk did, most definitely, hail from the Canadian provinces. By way of Edinburgh, if his thick, rumbling brogue signified anything. It did, therefore, only make sense that he would find a young woman—the first since he'd been employed there, no less—unsettling.

But each time he examined her receipts and checked her work, the man's face pinked swifter. He must be at least ten years Russell's senior, but there can be no mistaking it. The man either can't work with a woman without injury to his pride and he is angry, or dear Mr. Selkirk is… well, smitten with me. How unexpected.
"Mr. Selkirk, I did have a question, if you don't mind."
The man positively stammered as he spoke her name. "Yes, M-Miss Brown?"
"Am I taking too much time with my transactions? It seems as if Mr. Dyer and Mr. Burke both finish with their customers much more quickly."
"They have experience, and well, the masculine mind is suited for rapid calculations." Mr. Selkirk's flush deepened from a faint pink to a rather startling shade of raspberry. "Although, you have demonstrated a keen mind yourself."
Mr. Dyer took that moment to lean over and interject his opinion. "I think it's a matter of familiarity, Miss Brown. After a few days or a week, you won't need to consider what to do next. I was slower than you when I was first moved to a teller window."
"An excellent, if unrequested observation, Mr. Dyer. Have we no customers waiting?"
Madeline gave John Dyer a sly smile before turning her attention to Mr. Selkirk again. "Is everything… 'up to scratch' as they say?"
One of Aunt Louisa's greatest objections, or rather one of her greatest purported objections, was the probability of being treated with little respect and too much familiarity by the men she would work with. However, Madeline need fear nothing from Mr. Selkirk. The man stood nearly a foot from her, scrupulously avoided touching even the same article of paper, and held an extremely stiff manner at all times.
Then again, it is only my first day.