December
Chapter One
"I have a feeling I'm not going to like this." Adric Garrison's relaxed posture shifted as he leaned forward and watched his brother-in-law with more than a little suspicion.
"Because most people don't like difficult things that are designed for their own good. It's human nature. It's sin half the time, but hey."
"Stop preaching, brother, and spit it out."
Tom Allen passed a stack of file folders across his coffee table, visibly ignoring the "I told you so" expression on his wife's face. "Remember that profile we filled out?"
Adric stifled a groan. He sent a panicked "save me" look to Lily as she left the room. Tom's sister-church's matchmaking service. They were at it again. "That was two years and one new business ago. I don't have time to invest in a relationship right now."
"So, you've changed your mind?" Tom challenged. "You're not interested in finding someone and starting a family?"
Without speaking a word, Adric informed Tom that he could stuff it. He glanced at the files and said, "What are those? The deep, personal files of desperate women?"
"I heard that." Lily Allen's voice chastised him from the kitchen.
"I meant for you to."
Lily's voice held a trace of amusement now as she brought bottles of root beer and a can of Sprite in from the kitchen. "Liar."
"Had to try."
Once Adric flipped through a few folders, Tom nudged him. "I picked out the first three. The rest are yours. The first one, Shelby, arrives January third."
"That's three weeks from now! Tom!" Adric's voice rose a few notches.
"You told me—you sat on that very couch two years ago and promised me that you'd give it a fair shot, if not for your own sake, then for Lily's."
Tom had him there. He had made those promises, and he hadn't been adverse to the idea of pastors meeting and matching their members in a prayerful and logical way. He had no obligation; he could go out with a girl one time—his mind froze mid-thought. What did Tom say again?
"Wait. What? Coming? First of three?"
"No, first of twelve."
"Lily?" His eyes darted from sister to interfering brother-in-law and back again.
Lily Allen beamed at her little brother. "It's really a brilliant plan. I—"
"What is? Just spill it."
"You don't have to get belligerent about it. Have you ever seen that TV show, Bachelor House?"
"Yeah…" he began tentatively. His eyes widened, shocked. "You wouldn't submit my name to something so—"
"No!" Lily stared at Adric, hurt clouding her features.
"At the last minister's retreat, I talked to everyone about this idea that show gave me," Tom began, sounding quite confident of Adric's agreement. "Every month, for one year, a new girl moves in with you. They live in one of your grandmother's spare rooms with their chaperone—" Tom emphasized the word chaperone in an obvious attempt to quell the horror on Adric's face, "—and at the end of the month, if you aren't interested in continuing a friendship, that's ok. If you are, you can email, write, call, send flowers, propose… whatever sounds good at the time, as long as it's appropriate, of course."
"Of course."
"After a year of living with twelve different women, it's likely at least one will spark some kind of interest. At that point, we back out, and you take over. Simple really, but I think it's perfect for someone so…"
Lily interjected before Tom could find the right words, blatantly trying to prevent her husband from saying the wrong thing. "He just means that you're a little stuck in your ways and need a bit of shaking up."
"Gee, thanks." Adric wanted to say no. He nearly did. He prepared for a mule-like refusal to budge in any romantic direction and then stuffed it back down at the sight of Lily's face. That soft spot of his would ruin him someday. She sat across from him, her eyes hopeful, and her eagerness bubbling over uncharacteristically. "Do you think anyone is really going to want a short, gray mechanic living in a musty old farmhouse eight miles outside of a tiny town like Fairbury?"
Tom nudged the files closer. "Thirty-two women in these files know that and wanted the chance to get to know you anyway."
He picked up one of the folders again and glanced at the inside where a 4" x 6" picture of a bobbed blonde smiled back at him with perfect teeth and too much hairspray. Every folder revealed the same thing. A picture of the person, a basic fact sheet, an extensive list of essay questions about themselves, and then a page or two of information about their impression from his profile and questions they had for him. "Did these women all get something like this about me?"
Tom reached into his briefcase and pulled out one final folder. "This is what we filled out two years ago. I made a couple of slight changes—you know, address, age, number of gray hairs…"
Adric sighed and reached for the profile. Just what had Tom shared? Furthermore, if three girls already counted on coming, did he have a right to cancel it? Flipping open the folder, he read the profile that they'd sent out for him.
Adric's face twitched as he read the portions that Lily had obviously changed to fit his current situation. As he read it, he thought it sounded both incredibly arrogant and too boring for any woman to take seriously. "It's interesting. I'll say that for it."
"You'll do it?" Lily's excited face beamed at him from across the room.
"You really want me to?"
"Definitely. You're too alone and it hurts to see it."
Adric smiled at his sister. "I'm here now. With you. Who could call that alone?"
"'It is not good that man should be alone. I will make an helpmeet suitable for him,'" Tom quoted in that aggravating way that rankled—as it always did.
For the next hour, Adric passed files back and forth asking questions and requesting suggestions. From the first one he read, a small but steady pile grew in front of him. Finally, the last one dropped on top.
"Those are out. I can't believe you left some of those in there."
"I left everything returned to me for you to choose," Tom explained. "I pulled out the three that I thought you needed to give a fair chance but wasn't sure you would, and then the rest were up to you."
"What's wrong with those three," Adric asked warily.
Tom laughed and pushed them across the table. "Nothing is wrong with them. I just saw things in them that I thought might turn you off and blind you to the other good things in them."
"When does the first one come?"
"January third," Lily stated excitedly. "She's bringing her mother."
"Where is she from again?"
"Their family relocated from New Orleans about ten years ago. They live in Westbury and go to Chad's family's church."
"And Chad is…"
"Oh, my. Welcome to Fairbury, Adric."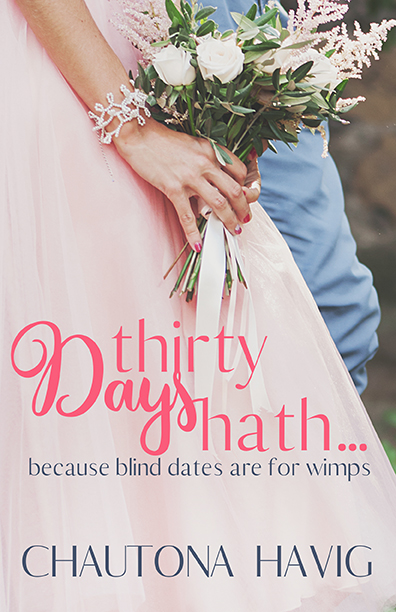 Thirty Days Hath
Fairbury's new "most eligible bachelor" Adric Garrison, gets set up on a year's worth of month- long
"blind dates."
About the Book
Blind Dates Are for Wimps!
At least, that's what Adric Garrison thinks.
Can you blame him? Thanks to his sister and brother-in-law, Adric is about to embark on a year of month-long, chaperoned, blind dates. Awkward.
He didn't ask for it. But Adric still finds himself living what seems more like a bad TV reality show than a new life in Fairbury.
Once an ordinary (if prematurely gray and vertically challenged) guy, Adric is now Fairbury's newest "most eligible bachelor," and dreams of permanent bachelorhood loom on the horizon.
Will he call it quits before the year is out, or will one of his "girls of the month" change his mind?
One man, twelve women, one happily ever after

** I recommend that those outside the US consider purchasing paperbacks through Book Depository.
They ship worldwide–FREE! **
Other Books in "The Rockland Chronicles"