Of all the princesses, in all the kingdoms, of all the lands, in all the world, Princess Paisley of Jackalopany was, by far, the most unique. While other princesses concerned themselves with exquisite gowns, proper etiquette, and, of course, waiting for their prince to come, Paisley had better things to do. Listen. It may surprise you just how unprincessy some royal daughters are.
"Has anyone seen my boots?"
Lilalina, who thought her name was the most beautiful one in the land, glanced at her cousin Paisley with disdain dripping from her dark lashes. "A princess shouldn't even own such hoydenish things!"
Now Paisley had a different opinion of Lilalina's name. Like many of her opinions, she was not allowed to express it. Each time she hinted that it was the most ludicrous name ever invented, her governess Mary offered a gentle reminder. "If your opinion is uncharitable, charity demands you not speak it."
Therefore, Paisley never voiced her dislike of Lilalina's name— not that it did any good. There are other ways of expressing yourself without speaking a word, and Paisley was a natural at keeping her mouth shut and allowing her thoughts to show through her expressions. To be fair, she considered her own name, Paisley, just as obnoxious as Lilalina's, so her distaste had no particular bias.
"I can't go check my sheep in dancing slippers," Paisley replied with the air of infinite patience she had cultivated to hide her revulsion for the kind of life her cousins enjoyed.
"Princesses shouldn't be concerned with nasty, smelly sheep in the first place!" Juliette entered the argument discussion as quickly as she entered the room. Juliette never walked; no, Juliette practically skipped from one task or room to the next as if bouncing off fairy bubbles.
"Well, this princess happens to like sheep."
With those words, Paisley grabbed her boots from under the dog's cushion and marched from the room. Lilalina's voice trailed after her quite predictably. "You will never entice a prince while wearing such ugly clothes, boyish boots, and reeking like a milkmaid…"
While her cousins discussed her deficiencies as the princess of Jackalopany, Paisley hid in her favorite window seat and jerked her boots onto her feet. She didn't have time for silly arguments. The cousins tried, almost every day, to turn Paisley into a proper princess, and each time Paisley ignored them. Her parents were satisfied with how she occupied her time, and that was good enough for her.
"Silly ninnies, getting all worked up over walking through a field with some sheep. Where do they think we get the lovely cloaks, the warm blankets, and the lining for our silken coverlets? Do they assume wool drops from heaven like fluffy white clouds, all ready to be spun into whatever they fancy next?" I have a secret to tell you. Paisley had an amusing habit of talking to herself when bothered by things—something that brought constant amusement to the servants and stable boys.
As usual, the walk through the sheep pasture included soaking her hem in mud, stepping in piles of dung, and perspiring profusely as she dragged yet another stubborn sheep out of the stream. As much as she loved her sheep, she did have to admit that they weren't the most intelligent creatures. "I wonder if God remembered that when He called His people sheep," she mused, brushing the mud splatters from her skirt.
Thundering through the fields, over fences, and across the stream, came an unfamiliar man on a black steed. Now, I must tell you, Princess Paisley— wait. I think I'll quit calling her Princess all the time. She finds it truly annoying, and who could blame her? Furthermore, I must explain that choice of word—steed. You see, when telling a fairytale, simple wholesome words like "horse" are utterly unimaginative. No self-respecting prince or princess in a fairytale would ride such an ordinary animal as a horse, necessitating the use of the word steed. I hope that clarifies things a little.
Regardless, Paisley was highly irritated. You see, once the man arrived, he whirled his horse at the sight of her. Apparently, he wasn't familiar with shepherdesses, or perhaps he was merely surprised to see one staring at him with a haughty expression. Regardless of why, he whirled his horse (as I already stated), and the sheep scattered. They thought the horse's flying hooves were signals for "run like crazy," and so they did. Sheep can be very obliging creatures.
"Oh, now look what you've done!"
"Are you addressing me?" The man's astonishment was only slightly greater than Paisley's.
"I'd like to address you back from where you've come. Where would that be? I'd like to make sure you are not misdirected."
Now, if one were looking very closely, one would have seen a smirk form around the corners of the man's mouth. Do you like how I wrote that? I did it because that's how fairytales are worded. I thought you might need that information because the "one" thing will probably come up again, and I don't want you to think I'm being pretentious. It's just the genre, and I fear there is nothing I can do to prevent it.
"I'm Rupert of Froggilandria—"
"Well, go home to your lily pad. You're not welcome on this land. My—"
"I've been invited—"
"I don't—" Paisley remembered her infinite patience lessons and tried again. "Excuse me. I apologize for my rudeness."
I think you should know: Rupert assumed that her apology was regarding who he was. He was not accustomed to peasants speaking so rudely to him. Paisley, on the other hand, just wanted him out of her pasture and didn't realize he'd been affronted by her address. She presumed his distaste was due to her dress alone— no ads necessary.
"I," Paisley continued, "recommend that you ride in that direction." She gave a dismissive wave toward the south. "You'll find a road, and I'm sure someone can offer you directions to your destination. Do please avoid my sheep. You've just trebled my work for the day. My father will be so annoyed by how late I'll be."
"I would be happy to help. Perhaps if I ride around and drive them back in this direction?" Rupert, for all his faults, wasn't a bad sort of man. He did feel quite sorry for creating more work for the shepherdess, and peasants were so harsh with their children; weren't they?
"No, thank you." Horror flooded Paisley's expression before she could stop it. The last thing she needed was a meddler sending the sheep even further away in his attempt to "help." "I'll do just fine by myself. You aren't the first person to frighten my sheep. You won't be the last."
This statement was followed by Paisley's brightest, most genuine smile. Now, Paisley wasn't exactly a beautiful princess. She wasn't homely or anything as disappointing as that, but as princesses go, she was a little ordinary in the appearance department. Her father said, when they joked about it at mealtimes, it was to balance her extraordinary personality. However, with all of that ordinariness, when she smiled, it transformed her face. Her eyes twinkled merrily, her cheeks blushed with the slightest pink tinge, and the flash of pearly teeth had just one slightly crooked tooth on the side that gave her an impish look. Truly, she was stunning in the first few seconds of a smile or laugh.
This was the smile that flashed at Rupert Frogg of Froggilandria moments before the young shepherdess, whose name he did not know, strode through the pasture, up a hill, and after the sheep that now stood grazing under a few large trees.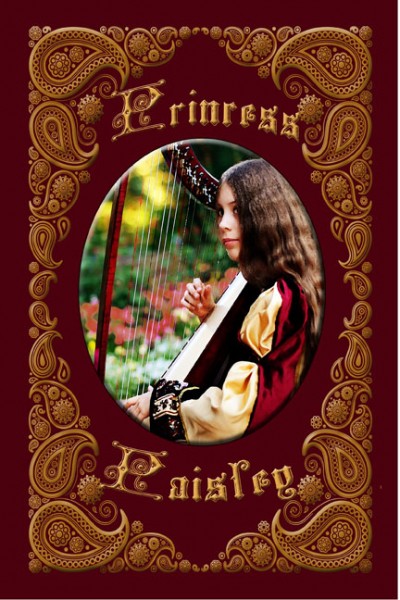 Princess Paisley
The story of an unusual princess and the threat to the crown of her kingdom.
About the Book
Fairytales aren't just for children anymore!
Welcome to Jackalopany! Meet King Jack and Queen Felicia and their estimable children, Paisley and Jackson. Paisley has reached the year of her majority and is about to endure her "Majority Ball." She's unique, prank-loving, and not ready to change her life. She'd rather continue her days herding sheep, playing her harp, and avoiding the responsibilities associated with the Jackalopian throne.
The shepherd Henry, Prince Rupert of Froggilandria, Kyle of Kaiandra, Marcus of Wellsbiundia, and the amusing Cletus of Rednecky all battle for the hand (and possibly the rest) of Princess Paisley. Will Darius of Griffinlund foil the plans of so many? Will tragedy leave the Jackalopian throne bereft of an heir? And last but not least, will the narrator ever stop yammering about the rigors and rules of the fairytale genre?
** I recommend that those outside the US consider purchasing through Book Depository.
They ship worldwide–FREE! **
Other Books in "The Not-So-Fairy Tales"