Chapter One
Jarred from sleep, duct tape stretched over her mouth, muffling Erika's gasp. She struggled, but someone swiftly bound her hands, before wrapping rope around her body twice to keep her arms at her sides. The man with the rope wore nothing to hide his face, and the woman with him worked quickly and silently, pulling clothes from her closet and drawers before dumping them in Erika's duffel bag.
Zip ties bound her feet together, and she wondered, illogically, why they hadn't used the duct tape for that too. Instinctively, she wanted to scream, fight, and flee but Erika knew it was useless. No one was home to hear, and she could never overpower two people while bound and gagged. Despite the utter ridiculousness of the idea, regardless of her mind fighting her to try it, her body screamed for her to try.
Emotions ranged from fear to confusion to anger. What would they do with her? Could she hope that the presence of the woman meant she wouldn't be physically assaulted? How dare they break into her home and take her like this! What could they want anyway? Her family wasn't wealthy; she didn't have a top-secret government job. Why would anyone want to abduct a coffee shop manager? She shuddered at the logical answer.
As the questions raced through her mind, the man pointed toward the door and threw her over his shoulder. Craning her neck to see what was happening, Erika watched as the woman nodded, grabbed Erika's bag, purse, and jacket, tousled her spiky hair, and walked calmly from the house swinging her things. Through the sheer curtains of the window, she stared fascinated as the woman tossed everything but the purse into the trunk of Erika's 1992 Honda Prelude. She started the car, pealed out of the driveway, and raced down the residential street presumably toward the interstate.
"So much for keeping quiet," Erika thought to herself.
Silently, the man carried her out the back door, locking the door after rearming the alarm system that obviously hadn't been much of a deterrent for him. He opened the back gate, slipped into the narrow walkway between back fences, closed the gate carefully behind him, carried her three houses down, and opened a gate to the backyard of the next street over.
The man moved quickly—each step a deliberate movement without any hesitation or strain—as if he carried bound women on a daily basis. Human trafficking? That thought made her shudder—again. He hurried across the back yard, slipped into the garage from a side door, and loaded her gently onto the floor of a small mini-van with the first bench seat removed.
Once inside, he buckled himself, turned on an eighties rock station, and punched the garage door opener. Slowly and casually, he backed into the street and drove off into the night. "I just want you to know, Erika; we're not going to hurt you."
She couldn't see him. She couldn't answer. However, his words did little to reassure her. Who was "we?" How did "we" know her name? What did they want with her? And why did she have a sickening feeling that she'd never see her family again?
***
They drove for hours. For a while, it felt as if they were climbing—possibly into the mountains—but it leveled sooner than she expected. Light slowly filled the sky outside the windows, giving her hope. With light, perhaps people could see her and help. The van stopped for gas, and Erika banged her feet against the floorboard, hoping to attract attention, but the sound of the man's chuckle told her they were alone—no one near to hear.
As he jumped back into the vehicle, her abductor spoke. "We'll be there soon. Just hang tight."
Suddenly, every foul word she'd ever heard in her life bubbled up inside her. Erika rarely used coarse language; she considered it evidence of a weak vocabulary and lack of imagination, but at that second, had she been able to, she would have sworn enough to embarrass the toughest biker or gang banger. For the next forty minutes, she ran through every filthy word she could remember, created a few of her own, and decided that the language she'd created as a child needed a few obscenities as well.
Eventually, the van stopped. As the van door opened, the pungent scent of pine and earth filled her nostrils. Carefully, the man pulled her from the floor, snipped the zip tie around her ankles, and helped her walk into a small log cabin that seemed completely surrounded by trees. She couldn't even see where they'd entered the tiny clearing of a yard. Her green car sat near a pine tree, and Erika wondered—some sort of defense mechanism, she supposed—if sap would drip on it and ruin the paint. As if paint on a ten-year-old car was a concern anymore.
"You took long enough!" The woman's voice sounded impatient. "Her stuff is in there—food on the counter. Better get the perishable stuff in the fridge. I'll call when I have news."
Without another word, the woman grabbed the keys from the man, hurried to the van, and seconds later, shot between trees that looked too close together to drive through. The man sat her on a chair and stared at her as though frustrated. "I don't know how to get the tape off without hurting you."
Erika glared at him. There, lie one. He said they weren't going to hurt her. She tried jerking her head telling him just to tear it off, but he stared at her confused. Carefully, he tugged at one corner but stopped when she winced.
"I'm sorry, I don't under—" He paused, watching as Erika jerked her head toward the bathroom. "Do you need in there? Let me get your hands."
That was too easy. He was really going to untie her? Erika ran through her self-protection course in her mind. Jab the nose, kick him into opera, and run. The sight of him placing a gun on the table next to him stopped those thoughts. She probably shouldn't irritate someone who could likely run faster and shoot straight.
"I have to keep you here, so the gun is out when you're not secured. You can go in the bathroom and stay there as long as you want, but I'll be out here with the gun to keep you from running. Understand?"
Erika nodded. As much as she tried to hide it, fear crept into her eyes and then washed over her face. For a split second, she thought she saw him wince. That could be a good angle. If he didn't like this job, she might be able to talk him into letting her go.
The ropes fell from her hands at approximately the exact moment he picked up his gun. "Bathroom's in there. Take your time. We've got more of it than either of us want."
Erika reached for the tape and jerked it away from her mouth. "Ow!"
"You didn't have to do that! I was going to get vegetable oil—"
"You steal me from my house, drag me out here bound and gagged, hold me at gunpoint and you're worried about getting the tape off me gently? You've got some nerve!"
Erika stormed into the bathroom and slammed the door. He could just sit out there for a while. She intended to stay in the bathroom for as long as humanly possible. Her stomach rumbled. Great. Her hypoglycemia wasn't going to let that happen. She'd need some protein and soon.
The bathroom was surprisingly well lit. She had expected a dark place with a tiny window for ventilation where her chance for escape was slim to none. Instead, glass blocks between the shower and ceiling and a long narrow window on the opposite wall let in all the light you could need—and none of the space she wanted. She tried to measure the window but knew she'd never get her body through it.
Resigned, Erika finished, washed her hands and face, grabbed a new brush lying on the sink, tore off the package, and tamed the snarls in her hair. Time to face the ogre-in-training. She opened the door and glanced around her hesitantly. Where was he? Could she make a run for it?
"Don't even think about it, Erika. I've got cold cereal here. Clamp that thing by the doorway around your ankle, and I'll put away the gun."
"You know my name," she began as she looked for the thing, "but I don't know yours." The thing was some kind of shackle—well-padded enough to avoid rubbing her skin. What was with this sadist? Keep her in a pain-free prison? Seriously?
"Keith. Keith Auger. Sorry we had to meet like this…" his attempt at humor failed miserably.
"Well, you could let me go and then it wouldn't be so bad…"
She clamped the shackle around her ankle and tried to open it again. It wouldn't budge. There seemed something seriously wrong with making a person tie themselves to their captor's house. "All snapped. This is a really long chain."
"It'll let you go anywhere in the house or on the front porch. Your room is that one in there." He pointed to the room to the right of the bathroom.
"My room? How long will I be here? You know, we don't have any money. No one can pay any kind of ransom, and my dad is the kind of man who wouldn't even if he could."
Keith passed a bowl and a box of cereal across the breakfast bar. "Eat up. We don't want money. You're here for your own safety."
"You kidnapped me for—what the heck? My own safety?" The derision in her tone would have cut a weaker man.
"Something like that. Eat up. Your blood sugar is going to give us fits if you don't."
"How did you know—"
"I know a lot more than you want me to. Let's just leave it at that."
Erika frowned. The man was awfully curt for a guy who had the upper hand. "When is your partner coming back?"
"Karen?"
"Whatever her name is." Erika poured the cereal, noting that the gun was out of sight.
"She'll be back on Saturday with more food."
So, she'd be here for at least the week. Who would handle the bank drops, get change, make orders, schedule the crew? What did her mom and dad think? "What happens when my parents report me missing?"
"You left a note saying you needed to get away. You'll call in a couple of days to assure them that you're fine, but you haven't decided when you're coming back."
"You're going to let me call?" This seemed odd. How did he know she wouldn't scream or say something to give away her situation?
"Eventually. We can't have them getting too worried. This has to look like your choice."
"Why?"
"For your own protection."
There was that word again. Protection. What did it mean? "Why do you keep saying that?"
"Look, Erika, the less you know, the better. All I'm allowed to tell you is that it's for your own protection."
"You're d—"
Keith wrinkled his nose almost imperceptibly. "Swearing won't change facts. You're here. You're here for your own good. I'm here to protect you. That's all you need to know."
She eyed him curiously. What kind of guy kidnaps women for their "own good" and takes special care to see that they're as comfortable as possible in that situation? What kind of guy is he if that same man obviously doesn't like women to curse?
"Ok, let me try that again. Maybe you can't appreciate this from your vantage point, but I am petrified, furious, and bordering on maniacal." The look on his face hinted that she might have crossed over that maniacal line. Exasperated, she threw up her hands. "Can you tell me who you work for?"
"Eat." The word accompanied the negative shaking of his head.
She took a bite. "Ok, so why are you here instead of the woman—Karen?"
One eyebrow rose. As it did, she sighed. He stayed because he had the strength, and possibly the speed, to ensure that she didn't escape.
"Eat some more."
"You sound like an Italian mama."
With a perfect hyperbolic imitation of an Italian accent, Keith passed her a plastic cup of orange juice. "Drink-a your juice-a."
"Very funny."
"You're awfully calm."
Keith sounded annoyed by it. His frown irritated her. "I'll fall apart later. Right now, I'm still hovering on disbelief followed by a little bit of 'I must be dreaming.'"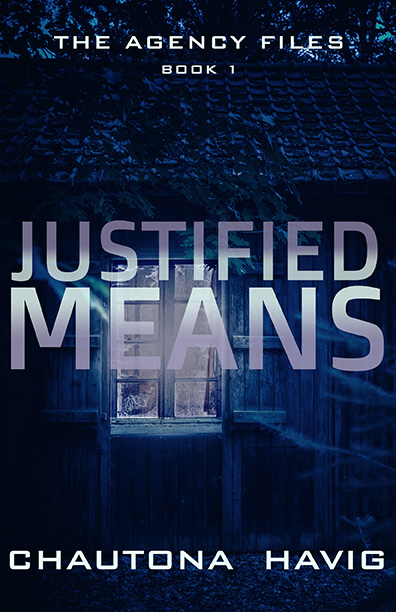 Justified Means
"You steal me from my house, drag me out here bound and gagged, hold me at gunpoint, and you're worried about getting the tape off me gently? You've got some nerve!"
About the Book
How could she not be terrified?
When Erika Polowski is abducted from her bed and held captive without explanation, she has one goal. Get away before they kill her.
Keith Auger's job as an agent is to keep Erika safe—even if it means keeping her locked in an abandoned cabin in the middle of nowhere. At gunpoint.
What should be a routine "involuntary extraction" goes south when someone finds out where they're hiding. Add to that a coworker with a chip on her shoulder and too many unexplained "accidents," and it all adds up to one unlikely, terrifying explanation.
There's a mole in The Agency.
He's promised to protect her, but can Erika trust a man whose job it is to hold people against their wills? Does his deep faith make it any better or just a whole lot creepier.
And just who wants Erika dead anyway?
The Agency Files: They'll do whatever it takes to keep their clients safe. Period. Grab this first book in the series today.
** I recommend that those outside the US consider purchasing through Book Depository.
They ship worldwide–FREE! **
Other Books in "The Agency Files"