Chapter One
The hiker, clearly a novice, stopped mid-stride as the sight of large horned-sheep with odd black faces, captured his attention. While the sun shone overhead, Matt Rushby climbed the pasture fence in an attempt to snap a better picture to show his parents. His feet chafed. The new boots he wore had been amazingly comfortable when he bought them, but now, his feet felt battered. He set his camera on the ground beside him and unlaced the stiff hiking boots. Pulling them off, he saw holes in his socks, the edges tinged with blood. Skin was rubbed raw and bleeding on the sides of both feet and the top of his large right toe.
He stood, wiggling his sore toes and relishing the soothing feeling. As he reached for his camera, his eyes grew wide. A large flock of horned sheep was slowly closing in on him. He rose, and backed cautiously away from the herd. His feet protested vehemently. Nettles stung, stones pricked, and with each step, he moved farther from his boots.
The sheep followed as though stalking him. For every step he took backward, the flock advanced toward him; he felt trapped. Eventually, the lambs gamboling nearby gave him an idea. Matt decided to run with the hope that he could put enough distance between him and the sheep, and that the ewes would feel compelled to return to their lambs.
He turned, already prepared to bolt, and stopped cold. Half a dozen sheep blocked his flight path. In seconds, dozens of bleating horned-sheep surrounded him. Matt glanced at his watch. Twelve-thirty. How long would it be before the sheep ate all the grass around him and moved on to graze elsewhere? How long would he stand encircled by those animals before they ate his new boots? Matt was ignorant enough of sheep that he didn't know that unlike some unprincipled goats, sheep are singularly uninterested in leather or rubber. Yet, he now knew how intimidating and fearsome sheep look when they are eye level with your belt buckle.
Feeling somewhat helpless and completely trapped, Matt pulled a battered copy of Shakespeare's sonnets from his jacket pocket, opened to number eighty-five, and then laughed as he read, "My tongue-tied muse in manners holds her still— "[i]
The sheep bleated as he laughed, sending nervous chills up his spine. Their curved horns looked menacing. Matt remembered something about animals sensing or smelling fear, chose to feign nonchalance, and forced his breathing to remain regular. He knew he'd perspire less without his jacket, so he removed it and tied the sleeves around his waist. The sheep gazed at him curiously. He dragged his eyes from the circle of sheep and forced himself to read the unfinished sonnet.
Minutes ticked by, but each one felt like an hour. His feet ached, his lips were parched with cracks in the corners, and his mouth felt like cotton. The sun slowly moved across the sky, but Matt stood still, his heart resolute. He'd stand there until someone found him or he dropped from exhaustion and was trampled by crazed sheep. How ironic, they'd say at his funeral, that he'd survived the dangers of the inner city only to be killed, alone, in the wilds of Montana, by a flock of fluffy, but not so white, sheep.
---
[i] Sonnet 85; Shakespeare, William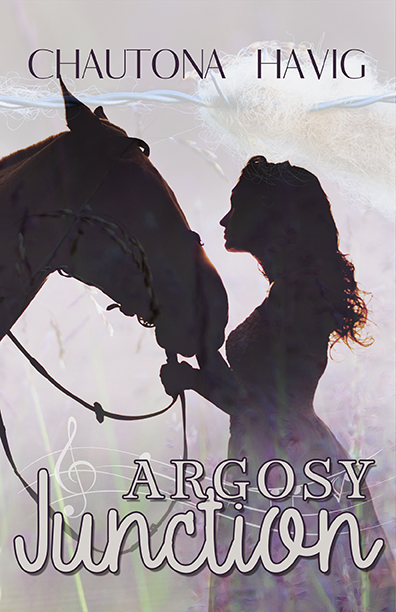 Argosy Junction
The romance of the Montana Rockies has a pull on Matt Rushby that he's never fully understood. Sheep, mountains, and a family wounded by the spiritual abuses of a cult capture his heart on his first vacation from the metropolis of Rockland. While he learns how destructive the church can be to its own, the Argosys discover a Jesus they forgot.
About the Book
Argosy Junction, Montana
Lane~ Five years after her family broke ties with The Brethren, the cult-like church still has firm ties wrapped around her heart and soul. The more she rejects them, the Lord, and anyone who claims a relationship with Christ, the more she realizes how empty life can be.
Matt~ Fresh from the inner city, Matt arrives in Argosy Jct. ready to explore the Montana countryside. He's prepared for anything but sheep, cults, and a rancher's daughter with a chip on her shoulder.
Not until she saves Matt from assault by sheep does Lane begin to understand that Christianity is a relationship rather than a checklist to godliness. Before he met Lane, Matt never understood how damaging the body of Christ can be to its own.
They say that love conquers all, but Matt knows better. Without faith, love hasn't got a chance.
** I recommend that those outside the US consider purchasing through Book Depository.
They ship worldwide–FREE! **
To learn more about Argosy Junction, you can read about the unintended symbolism in the book.
Other Books in "The Rockland Chronicles"