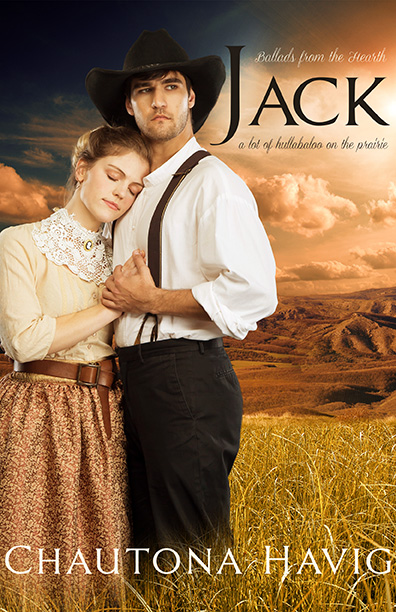 Women are trouble—lying, cheating, untrustworthy bundles of trouble.
About the Book
Jack Clausen doesn't need anyone but his horse and a boss who won't interfere in his personal life—or lack of one.
Sure, he's a lonely cowboy, but better lonely than brokenhearted.
If only he hadn't met a girl who made him hope that honest and true women do exist. Maybe he wouldn't be riding off into a snowstorm with a fresh determination to avoid women—indefinitely.
When Hazel Meissner sees a cowboy risk life, limb, and horse to save a child, she knows he's someone special. When he finally gives her his heart, she considers herself the most blessed woman alive.
However, when he rides off without a word, she wonders if her heart will survive the loss.
One broken man. One trusting woman. One orchestrated misunderstanding that tears them apart. What'll it take to bring Jack home again?
It's Shakespeare's Much Ado about Nothing mashed up with the old ballad, "Cowboy Jack." Don't miss a cast of characters inspired by the Bard himself—especially Dirk and Deborah (Benedick & Beatrice).
Jack: a lot of hullaballoo on the prairie.
What reviewers have to say about Jack:
The wild west will come alive for you in Jack and Hazel's story. This will bring you to a time where things were simple and the lives were lived to the fullest. Chautona once again brings her characters to life so that you feel like you are right there with them living on the ranch and experiencing first love. This is one of her books that you will not want to miss out on! ~Marleen

Jack is the latest book by one of my favorite authors. It is a different genre than she has done before but it engaged me right away. Jack is an honorable man but badly wounded by his past. He doesn't trust easily and has has little faith in women. He expects to always be single. Hazel is the daughter of a wealthy man and somewhat spoiled. She sees Jack heroically rescue a child and that leads to their friendship. There are obstacles to get past but everything goes well until an event is set up by an enemy to convince Jack that Hazel has been unfaithful and dishonest to him. This starts Jack's path to emotional and spiritual healing. Hazel's friend Deborah also has a lot to learn on forgiveness as she has trouble forgiving the hurt that Jack caused Hazel. There are a lot of spiritual lessons in this book. I'm glad I bought it and hope for a sequel. ~Joy